LIST: Where to Celebrate Chinese New Year 2020 in the Metro
Thought the holidays are over? The looming Lunar New Year begs to differ!
On January 25, celebrate the official entrance of the Year of the Metal Rat together with the whole Chinese community through a variety of luncheons and promos prepared by hotels in Metro Manila.
Okada Manila
One doesn't need to go far to get a taste of different cultures and cuisines, particularly that of the Cantonese. Just drive to Okada Manila and you'll surely be in for a day of gastronomic adventures, especially during this Chinese New Year wherein set and à la carte menus will be offered by Catch by the Bay!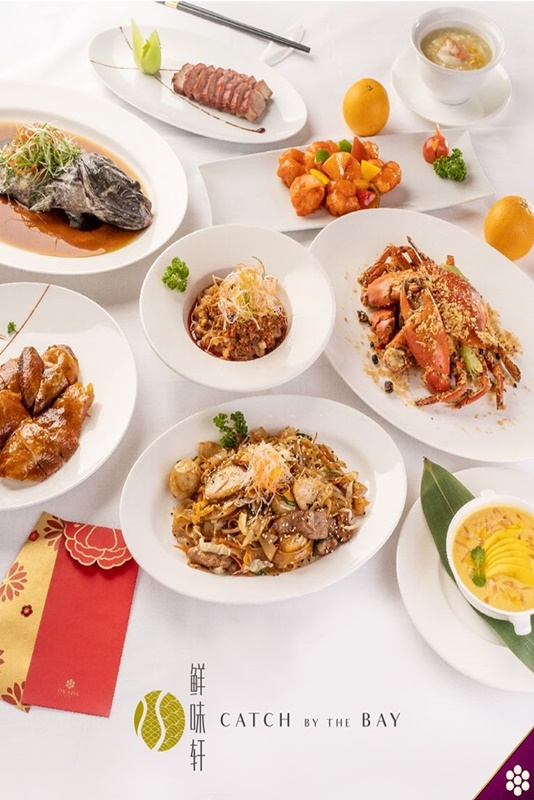 And adding to the restaurant's amazing food selection is the scenic view outside the windows and a chandelier-lined hall that boasts a touch of elegance, giving the guests a chance to slow down.
Also read: Catch by the Bay at Okada Manila Offers Cantonese Eats and Breathtaking Views
It will also be the grand opening of The Sole Retreat Foot Spa, where guests can take pleasure in either a one-hour session of Asian or Ingham Foot Reflexology.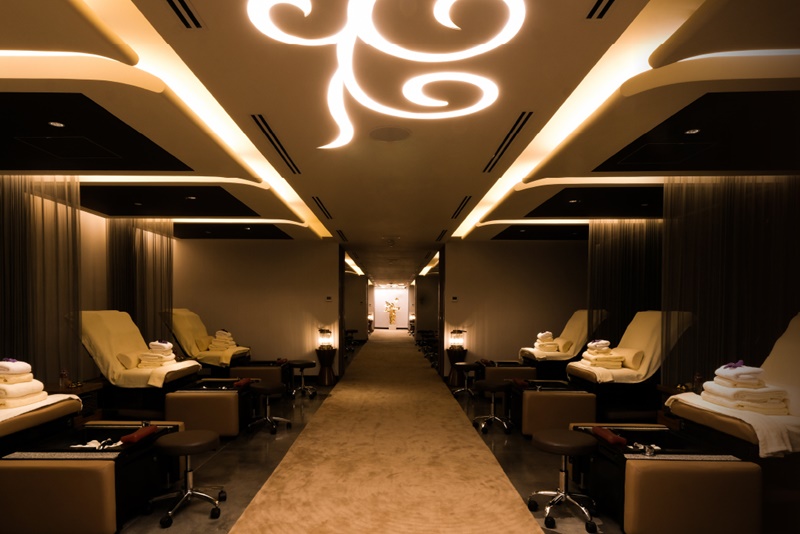 The Sole Retreat Foot Spa / IMAGE from Okada Manila
 This is by paying a greatly discounted price of Php 888 from the original price of Php 2,750!
Also read: The Retreat Spa at Okada Manila: A Tranquil Holistic and Spiritual Spa Experience in the Metro
New World Makati Hotel
Inside New World Makati Hotel is a culinary destination dubbed as Jasmine⁠—the hotel's popular Chinese restaurant. From January 24 to 26, you may take delight in its Chinese set menus starting at Php 12,880+ either for lunch or for dinner.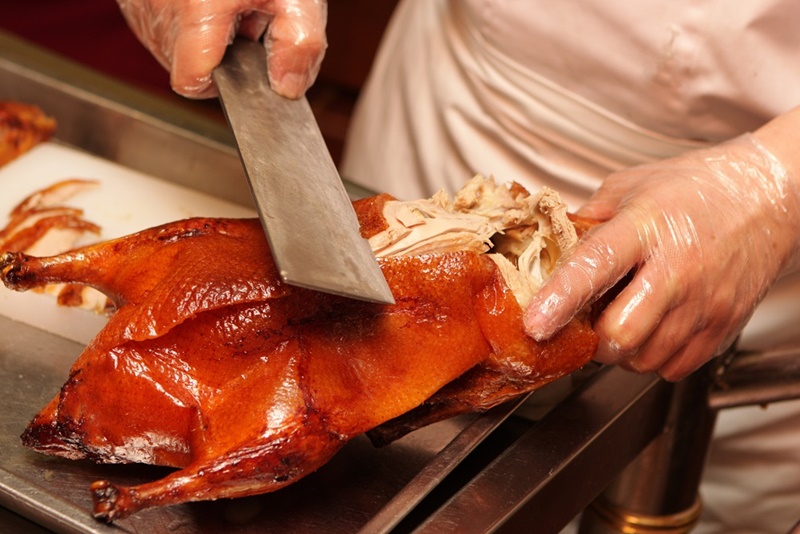 Moreover, a Chinese New Year yum cha for lunch is also to be expected from January 25 to 26, wherein a limited selection from Jasmine's a la carte menu will also be available!
IMAGE / New World Makati Hotel
Partake in this special dining event for only Php 1,988 per person,
Also read: Jasmine in Makati: A True Cantonese Tradition at New World Hotel
Sofitel Philippine Plaza Manila
Together with its numerous in-house, luxurious restaurants, Sofitel Philippine Plaza Manila is all set to ring in the Lunar New Year with nothing but a broad range of the finest Chinese dishes!
Spiral's Chicken with Kung Pao Sauce (L) and Peking Goose (R)
For one, Spiral's Chinese Atelier led by Chinese Master Chef Eddie Chu will indulge its guests with different Chinese cuisines every week. The highlight of the first week will be the Peking cuisine; Szechuan cuisine in the second week; Guangzhou cuisine in the third week; and Shanghai cuisine in the concluding week.
On January 25 itself, rates are set at Php 3,588 nett for lunch and Php 3,888 nett for dinner.
Barbeque Seafood Laksa Soup (L) and Char Siu Pork Asado (R)
Still at the matter of Spiral, guests will be allowed to take home any of the following dishes—Roasted Duck Quarter, Seafood Laksa Soup, Assorted Dimsum, and Barbecue Char Siu Pork Asado—just for the celebration!
But if you want a more laidback dining experience, Sunset Bar has its own festive offerings as well! The poolside restaurant will feature festive Chinese specials as part of the barbecue buffet on January 24 and 25 (Php 3,000 nett).
And for a truly festive celebration, book one of Sofitel's event destinations and treat your family and friends to an 8-10-course Lauriat spread that features truly promising Chinese menu. Package rates start at Php 161,890 nett for the first 50 persons.
Also read: Sunset Bar in Sofitel Manila: Alfresco Dining with a Breathtaking View of Manila Bay
City of Dreams
What better way to spend a holiday than to simply lounge around, right? But City of Dreams is making it a whole lot better by letting its God of Fortune roam around its expanse!
Reach prosperity and success this 2020! We're giving you lots of reasons to celebrate this Lunar New Year with us at…
Whether you make an effort in finding your luck that day or you stay put to let it find you, there's surely room for prosperity as the said God of Fortune brings his iconic red packets with him!
Moreover, you may visit City of Dreams' Melco Club booth at Ayala Malls Manila Bay on January 25 and 26 at 4 p.m. where you can acquire great discount vouchers for DreamPlay and exclusive deals for the hotel's amenities, as well as watch special live performances.
Diamond Hotel
With its released line up of activities for the Chinese New Year, it is no doubt that there's one perfect event for everyone at Diamond Hotel!
IMAGE / Diamond Hotel
Feast on a variety of good food at the hotel's Corniche restaurant to your heart's extent as a lunch and dinner buffet will be prepared on January 25 (as well as on the 23rd and 26th) for Php 3,180 nett per person.
Apart from this, you may either partake in a Live Noodle Pulling Demonstration or in a showcase of Dragon and Lion Dance by Philippine Ling Nam Athletic Federation and the performance of Chinese instrumental music by the Kim Hwa Ensemble.
RED Hotel
Starting at 6 p.m. on January 25, you may enjoy the dinner buffet prepped by RED Hotel's La Muse Restaurant for only Php 599 per head!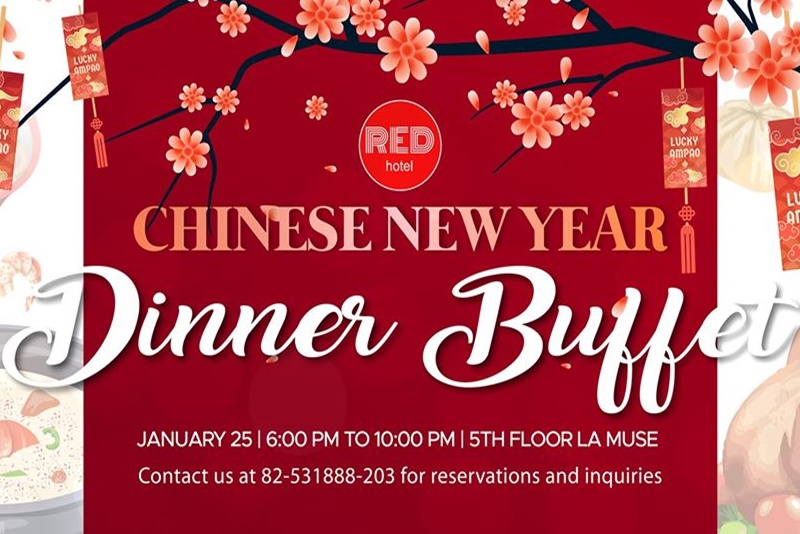 Delight in some Deep Fried Tikoy Wrap and Chinese Potato Dumplings as your appetizers, and then enjoy the restaurant's main course selection that includes Braised Vegetable with Oyster Sauce, Paella Negra, Hainanese Chicken, Honey Glazed Pork Legs, and Breaded Porkchop with Chinese Wine Sauce.
Of course, they will be serving desserts as well!
Where do you plan to go this Chinese New Year? Share with us your plans in the comments below!