Your Guide to Divisoria, the Bargain Hunter's Dream Destination
Divisoria may well be described as the land of the cheapest bargain. This retail destination located right next to Chinatown is the hub of several malls and shopping streets, with shops that carry almost everything—things you need and didn't know you needed.
Over the years, Divisoria paints a picture of a chaotic space of makeshift stalls, interlacing traffic, and a sea of shoppers. Some even say that this is part of the overall charm of the place.
However, thanks to the efforts of the new city administration, Divisoria is now less intimidating for first-timers and fainthearted shoppers after the clean-up operations. It has become easier to navigate and the roads now offer more space to walk around.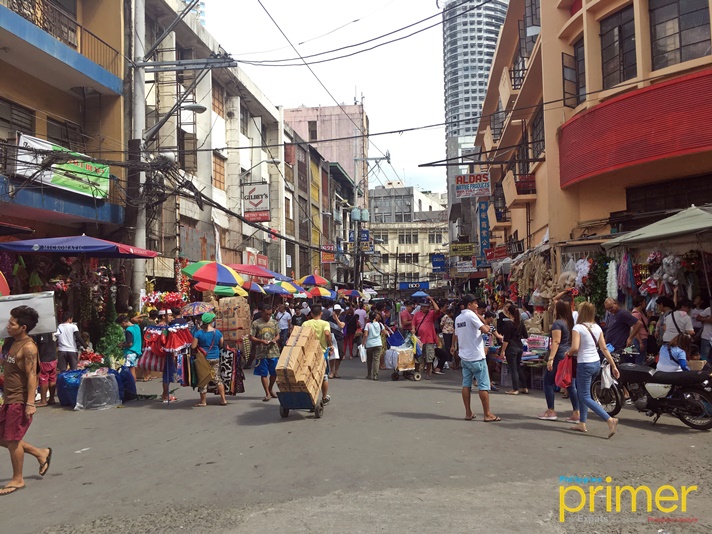 In time for the holidays of Christmas and the new year, many people visit Divisoria to shop for cheap gifts and new items to replace old ones at home or office. Visit it not just to score cheap goods yourself but also to experience the haggling culture in the Philippines.
Where to shop
It is said that literally anything that you might need, you will find in Divisoria. Now the only thing you need to know is the right places to look for them. You can head to the numerous shopping malls and centers in the area like 168 Mall or 999 Mall for general merchandise and RTWs.
However, you can also scour the streets of Divisoria for some great and cheaper finds! Here's a quick rundown of the prominent streets and what you can buy from them!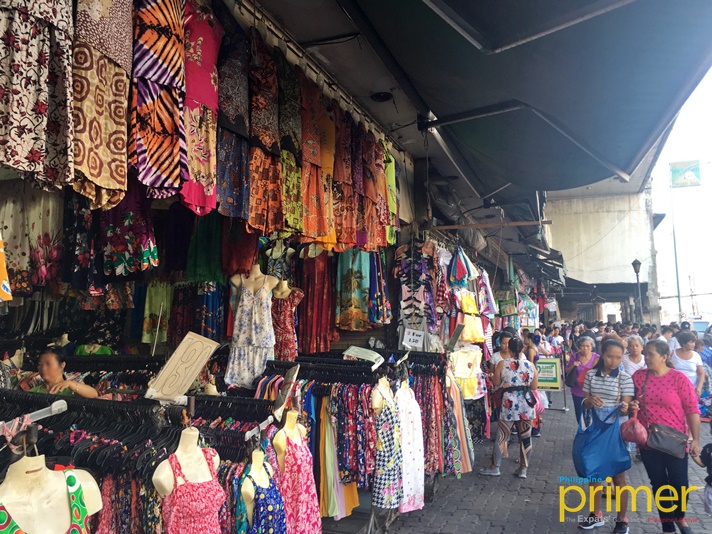 Juan Luna Street
Industrial plastic products (fishing nets, PVC pipes, and styrofoam products)
Upholstery, linoleums, and vinyl products.
Candles from Gody Wax Center
Soler Street
Tabora Street
Party needs and supplies
Personalized giveaways
Costumes for kids
Sewing needs
Ilaya Street
Textile
RTWs, footwear, and bags
Costumes
M. De Santos Street
Christmas decorations
Local handcrafts
Sta. Elena Street
Commercio Street
Plastic wares and merchandise
While Divisoria has everything and anything you might possibly need, it's better to hold off buying items like food, gadgets and electrical supplies, perfumes, cosmetics and toys for babies and toddlers since it's hard to ascertain if they have passed quality control measures from government-mandated institutions.
Important tips
Take Divisoria as a battlefield of sorts and always come ready. The following tips may come in handy!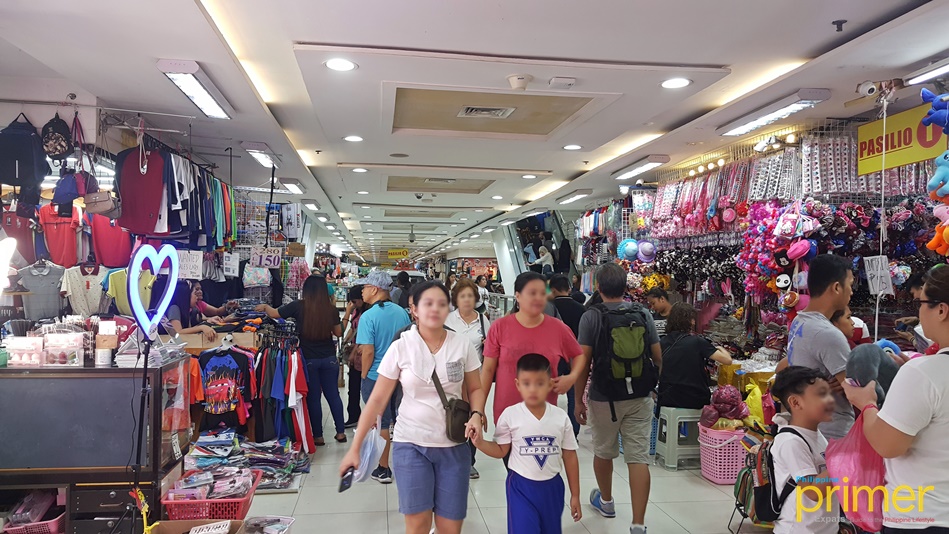 Come early. If you are bringing your own vehicle, you can park on pay parking located at vacant lots. There are also parking spaces within malls like 168. Double-check if your vehicle is locked and there are no valuables inside.
Leave your valuables at home and avoid wearing jewelry. If you must bring your phones, make sure to keep them closest to your body.
Carry your shopping money using a body bag or belt bag—as long as it's kept closest to your body, the better for you. Avoid flashing large sums of money.
Bring your eco bags to carry your shopping finds–this lessens the need to carry plastic bags. It's more convenient for you and more environment-friendly.
Dress accordingly. Wear something comfortable. For ladies, leave the heels and wedges at home because you will walk around a lot. Comfy flats or sneakers are best.
Eat before you shop and stay hydrated. Divisoria is a crowded place where people can push and shove you as you walk, you'll need the energy to stay afoot and walk from one shop to another. Food courts and stalls are easily accessible in malls.
Try to schedule your visit on weekdays when there are fewer crowds.
Haggle if you must—most vendors are willing to offer discounts, so ask before you buy.
Divisoria is busy and packed with people especially during the Christmas season. And while it teems with amazing cheap finds you will enjoy, it is always wise to add an extra layer of vigilance whenever you are in a crowded place to avoid any hassle.
They say shopping in the city is not enough if you have not set foot on Divisoria, so we say grab your shopping bag, put on your most comfy footwear, and head on to this shopping adventure where your small bucks can take you places.