Sharp PH Launches Better Solutions for A Better Life for 2020
Sharp Philippines Corporation (SPC) recently introduced its new line of products aimed to provide ease and convenience into the household. 
This 2020, you can have smart appliances you can turn on and off from anywhere! We were able to attend the press launch where they demonstrated many of their new products and technology.
Demonstration of the Healsio Hotcook wherein they were able to cook pasta by simply placing all the ingredients into the machine.
Categorized into four sections—the Entertainment Solution, Clean and Comfort Solution, Health and Beauty Solution, and Business Solution, Sharp's new range of products all seek to address the needs of their consumers.
"In the late part of 1990, most of the Japanese companies were making products without concern of the consumer needs," said Mr. Kazuo Kito, President and General Manager of SPC. 
"Lately, many companies are now making products for consumer needs which is a very good thing," he added.
Mr. Kazuo Kito led the opening remarks of the press event
Sharp started to incorporate the newest technology they call the Artificial Intelligence of Things (AIoT) that marries both Artificial Intelligence and the Internet of Things to enable users to interact with their devices.
In a demonstration, they were able to turn on and control the settings of their AIoT J-Tech Inverter (AH-XP15VF) using their phone via the internet connection.
Another AIoT-capable product is the Plasmacluster Ion Air Purifier (FP-J80EP-H), which can also report to the phone the analysis of air quality and the status of the filter.
Premium Inverters equipped with AIoT technology
From their Entertainment Solution line, they introduced the Android Google Assistant that accepts voice commands hands-free. Other features include Comfort Mode that reduces 50% of blue light and the Advanced Bluetooth technology that allows Sharp's Full HD and 4K HDR Android Televisions to connect to external Bluetooth speakers.
Android and EasySmart TV with built-in Chromecast and Google Assistant
Sharp continues to produce products that promote healthy living. One great way is through their Healsio products such as the Hotcook that is able to seal in the natural moisture and original flavor of your dishes. Cooking becomes hassle-free with automatic control and cooking programs.
Other Healsio products include Water Oven and Vacuum Blender.
Sharp's new line of Healsio products that promote healthy cooking!
One product line to look out for in the coming year is Sharp's Beauté A series equipped with Plasmacluster technology that lessens dirt and prevents further hair damage. Though yet to be sold in the Philippines, Sharp demonstrated the Hair Iron and Hair Dryer during the event.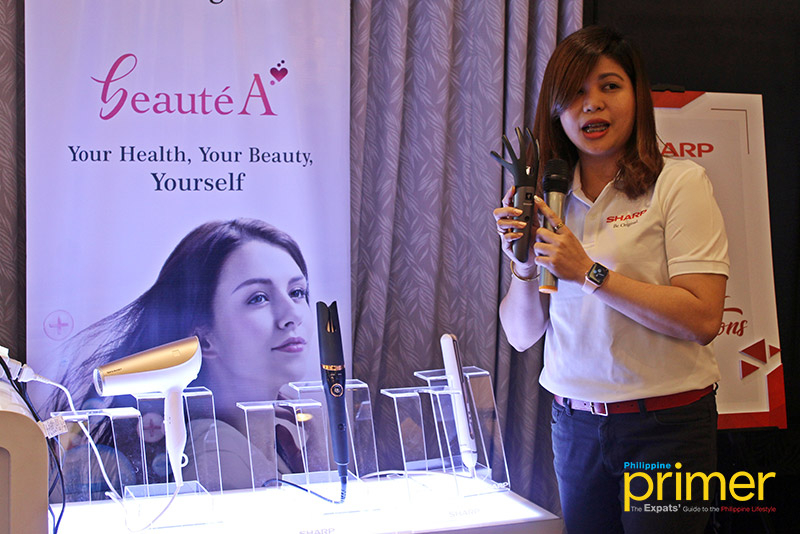 The Beauté A series will be available in the country by the first quarter of 2020.
Sharp also introduced a top-load fully automatic washing machine made in the Philippines with the same Japanese technology that the brand is committed to continuously develop to ensure quality. 
The washing machine is made with a durable plastic body to avoid the common problem of rusting.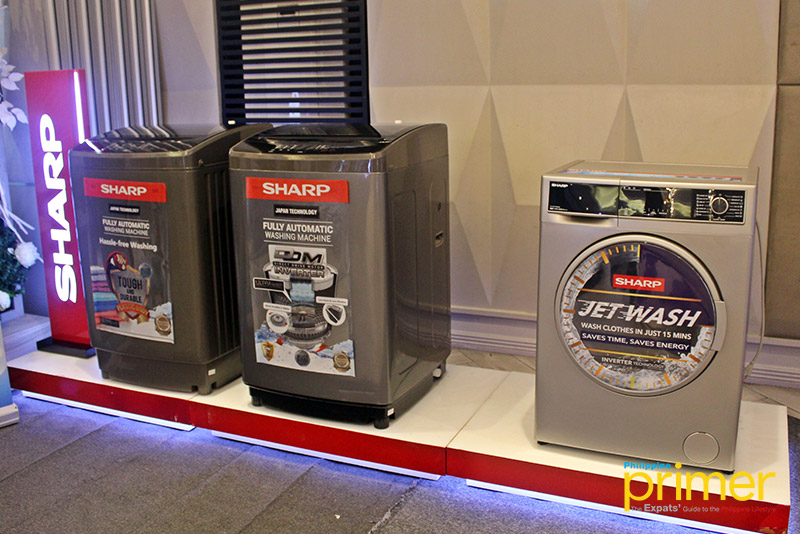 The top-load fully automatic washing machine made in the Philippines (far left) beside equally powerful washing machines from Japan.
"Most of the products you see today are packed with technologies that give efficiency, comfort, and good on health," said Amor Golifardo of Sharp. "We are extending our products not just for [the] home but also for all avenues of business."
All of Sharp's new products are now available in major appliance centers around the country except for the Beauté A series.
---
Written by Heloise Diamante