JINS Philippines Brings the Perfect Pair to SM Megamall Flagship Store
Japan's biggest and leading eyewear retail brand JINS just opened its 5th store in the Philippines—and this flagship store is their biggest one yet!
It is located on the 2nd floor of SM Megamall, and as part of their opening promo, the first 40 customers who will purchase any JINS product in this newest branch will have a chance to win freebies like tumbler, frame with lens, and Php 500 off on the next purchase.
JINS is known for pioneering the all-in-one package pricing in the Japanese eyewear industry. Here in the Philippines, JINS stores carry over 800 styles of glasses that are priced Php 3,000, Php 5,000 and Php 7,000 inclusive of single vision graded lenses.
Another great thing about it is that you can get your new eyewear from the store in a matter of 30 minutes!
During the opening, one of the optometrists in the store, Dr. Carl Bernabe, walked us through the different types of frames and lenses available at JINS in SM Megamall, so let us walk you through them as well.
Frames
Fashion and function—these are the two factors that make up JINS' vast line of fashion-forward frames that are designed in Tokyo. And apart from the trendy selection, the brand has also patented the Airframe line that utilizes new, lightweight material for glasses.
Under the Php 3,000 price range, you can avail of frames made with TR-90, a pliable and heat-resistant kind of plastic ideal for humid and hot environments like that of the Philippines.
These frames notably come in different colorways for variety.
TR-90 Frames (Php 3,000)
Frames made with metal alloy, whereas, are priced at Php 5,000. These are lightweight, hypo-allergenic, and less likely to corrode.
There are also frames made with the combination of TR-90 and metal alloy that are ideal for acidic people priced at Php 5,000 too.
Metal alloy frames (Php 5,000)
Titanium frames (Php 7,000), which are known to be super flexible and light, are also available at JINS. Amazingly, the temples of these glasses can be bent without breaking.
JINS carries smaller-sized frames for kids 3 years old and above as well, indeed offering the perfect pair for everyone.
Titanium frames (Php 7,000)
Lenses
Apart from its array of frame selection, JINS is also known for its blue light canceling lenses called JINS Screen. The technology in these lenses protects your eyes from blue light emitted by computers, smartphones, and other devices that you encounter every day.
Just add an additional Php 3,000 to the cost of your frame to avail of the JINS Screen.
The Blue Light Cut lenses also come in ready-to-wear glasses.
The JINS Screen comes in 20% and 40% variants
Other optional lenses available in the store are Color Lens (Php 3,000), Performance Lens (Php 4,000), Progressive Lens (Php 3,000-6,000), Photochromic Lens (Php 3,000), Transition Lens (Php 5,000), and Polarized Lens (Php 5,000).
Another exciting feature of JINS that was introduced in the opening is the JINS Brain, an application to help you find the most suitable glasses for your face shape and size!
The suitability of glasses is measured with an original AI system based on the photographic evaluation of over 300,000 images by around 3,000 JINS staff members.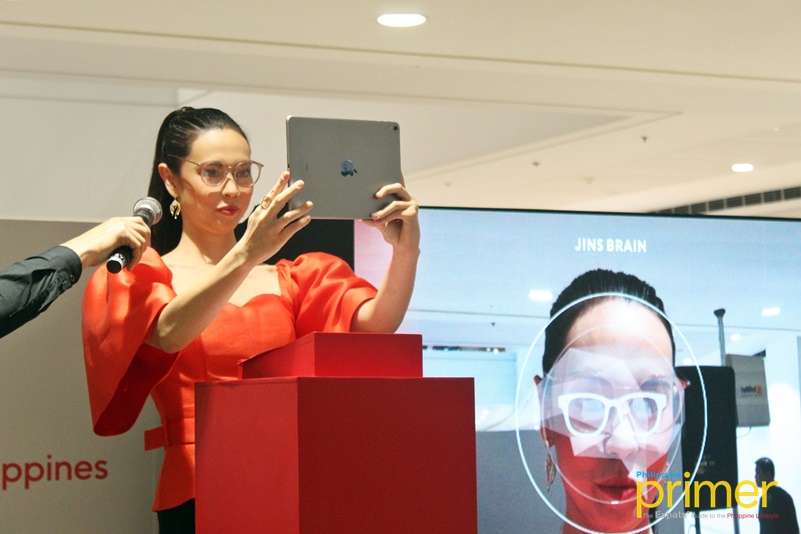 Host Laura Lehmann trying out the JINS Brain
You can download this app on your own device or approach any JINS personnel at a store to assist you.
The flagship store was officially opened last November 14, 2019, with a short program featuring executives of JINS and BENCH/, JINS' partner in the Philippines.  His Excellency Mr. Koji Haneda, Ambassador of Japan to the Philippines, and Mandaluyong Councilor Benjamin Abalos III also graced the opening.
Executives of JINS and BENCH/ with His Excellency Mr. Koji Haneda and Mandaluyong Councilor Benjamin Abalos III 
For more information on JINS' products and services, visit www.jins.com/ph/.