European Higher Education Fair 2019: A Journey Towards Higher Education
Filipinos have been known to excel in sports, the arts, and entertainment but it is also equally important to highlight their marks in the field of higher education. Recently, two Filipino scholars, Kent Tangcalagan and Katy Macaso graduated summa cum laude in Europe. Both of them earned honors with the help of the European Union's (EU) advocacy for higher education.
Held last October 26, 2019, at the Grand Atrium of Shangri-La Plaza, Mandaluyong City, The European Higher Education Fair gathered 1,500 students and members of the local academe who are looking to start their own journey to excellence. The fair featured 49 EU universities and higher education institutions from 12 EU member states.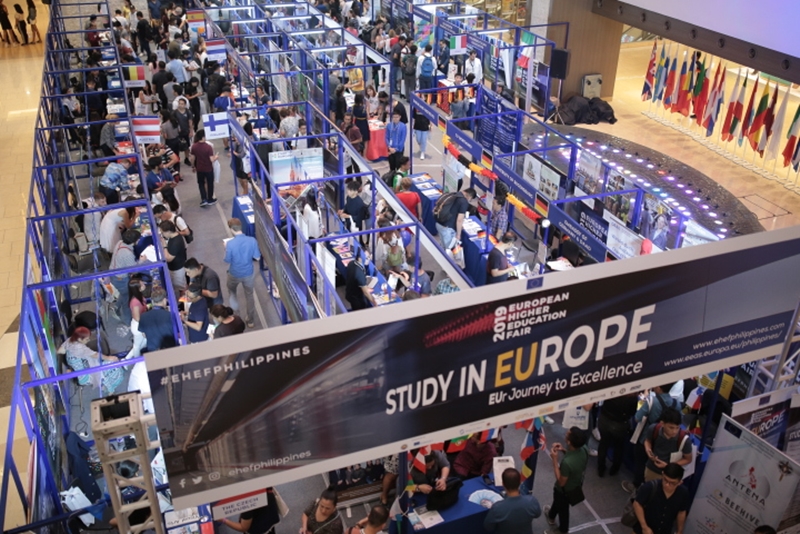 The First Counsellor of the Delegation of the European Union to the Philippines, Rafael de Bustamante Tello led the event opening with an inspiring message for Filipino students. He also puts emphasis on the EU as the ideal destination for students with its reputation as a center of excellence, cutting-edge technology, multi-cultural diversity, and innovation.
Rafael de Bustamante Tello, the first counsellor of the Delegation of the European Union to the Philippines opened the fair
CHED Commissioner Aldrin Darilag also gave welcoming remarks and encouraged the students to continue upholding the value of seeking excellent higher education.
Apart from its main exhibit, a highlight of the fair includes country presentations from educational and cultural groups – giving students a glimpse of life and study in the EU.
Also read: 'Journey to EU' introduces European Culture to Filipino Children
Ambassador Saskia de Lang of the Embassy of the Kingdom of The Netherlands
The European Higher Education Fair was also a day of reunion for EU graduates. Some of the alumni served as Goodwill Ambassadors. Erasmus+ scholars where also present to promote the EU's premier scholarship program.
The European Higher Education Fair was also held at the Lyceum University of the Philippines in General Trias, Cavite on October 28.
Also read: Goethe-Institut Philippinen: The Only German Language Exam Provider in the Philippines
---
This is an official press release from EHEF. Minor revisions were made prior to publishing.
Images courtesy of EHEF.