What to Expect at the Van Gogh Alive Exhibit in BGC
The most-awaited Van Gogh Alive multi-sensory exhibit officially launched last weekend, and both artists and art enthusiasts could not get enough of the amazing experience.
If you haven't seen it, you can still visit until December 8, 2019 in One Bonifacio High Street, Bonifacio Global City. 
Also read: Van Gogh Alive Takes You to An Artistic Journey in Time and Space
You'll be greeted with various artworks upon passing by the ticket booth, just before the exhibit inside. Witness the legendary artist's painting—Vincent's Bedroom in Arles—come to life, where you are free to step inside and take a photo.
Entering the exhibit proper is like piercing through Vincent Van Gogh's little heaven. His artworks are projected all over the place, and if you pay attention to the details, you'll be flooded with all sorts of mystical emotion.
For a moment there, you might find yourself lost in a dreamy world where everyone is but a silhouette.
Van Gogh Alive uses SENSORY4™ to provide everyone a unique way to experience art.
Developed by Grande Exhibitions, SENSORY4™ is a system that combines multichannel motion graphics, cinema-quality surround sound, and up to 40 high-definition projectors to provide viewers a breathtaking display.
There are over 3,000 images that are accompanied by classical music, which is carefully curated to get a grasp of Vincent Van Gogh's story. Some of the music to expect include Antonio Vivaldi's Le quattro stagioni, Erik Satie's Gymnopedie No. 1, Franz Schubert's Six Moments Musicaux, and so much more.
Apart from the calming music and beautiful artwork, there are also little excerpts from Vincent Van Gogh's own letters, completing the hauntingly beautiful experience.
Regular ticket is Php 750, while children and students up to college is Php 450. Children two feet and below are free of charge. Note that as of this writing, tickets are sold-out until November 18. Better book yours via The Mind Museum to secure a slot.
Alternatively, you may grab your tickets at The Mind Museum ticket booth from Tuesday to Sunday, 9 a.m. to 5 p.m. On-site tickets are also available at the Van Gogh Alive ticket booth from Monday to Sunday, 10 a.m. to 9 p.m.
Tickets are strictly non-refundable and are not valid for another time-slot or date.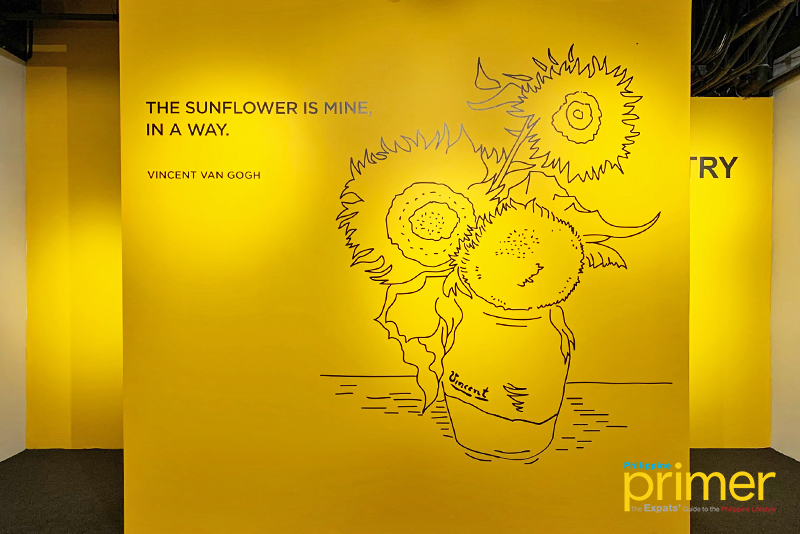 Van Gogh Alive is presented by The Bonifacio Art Foundation Inc., One Bonifacio High Street, and Globe.
Details
What: Van Gogh Alive
Where: 4th floor, One Bonifacio High Street, 5th Ave, Bonifacio Global City, Taguig
When: October 26 to December 8, 2019
Contact: 02-7909-6467
Ticket information:
Regular – Php 750
Children/students (up to college) – Php 450
Website: vangoghalive.ph
Email: info@vangoghalive.ph
---
Written by Yana Bautista