Harry Potter and the Sorcerer's Stone in Concert: A Symphonic Adventure to the Wizarding World
Harry Potter and the Sorcerer's Stone in Concert: A Symphonic Adventure to the Wizarding World
For many Potterheads, the recently concluded Harry Potter and the Sorcerer's Stone in Concert was a night of adventure and fond memories. It was staged last September 14 to 15 at The Theatre at Solaire.
The film's musical scoring, written by John Williams, was brought to life by the ABS-CBN Philharmonic Orchestra with Maestro Gerard Salonga.  
Also read: LIST: Theater Productions to Watch This 2019!
The concert allowed Potterheads to not only reminisce Potter's first year at Hogwarts but also their first ventures into the Wizarding World. The night was filled with cheers and laughter as a show of house pride, something that was encouraged by the maestro himself before the concert began.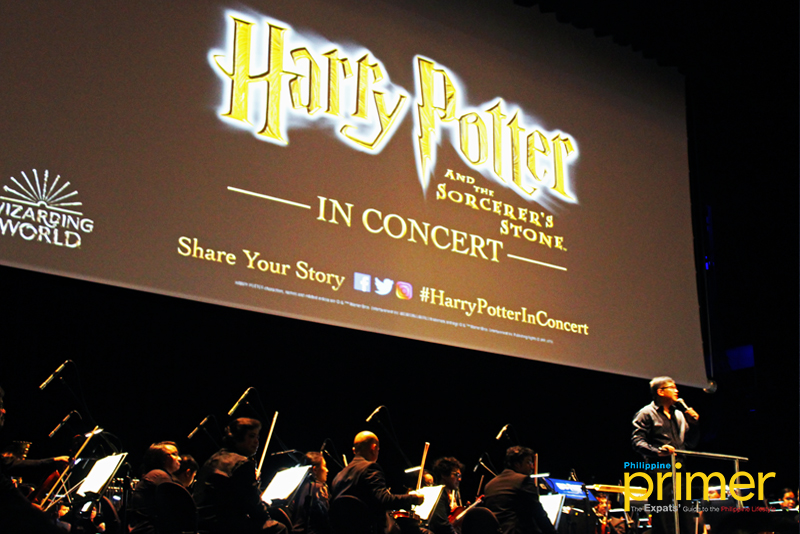 Maestro Gerard Salonga converses with the audience before the show begins
Harry Potter and the Sorcerer's Stone came to life with the live orchestra that fully immersed the audience. The concert also brought the audience on a journey that made them feel as though they were a part of the story themselves—as if they were also students of Hogwarts who had just begun their venture into the Wizarding world.
To add to the spectacle, guests were able to watch the entire film through a high-definition 40-foot screen while the orchestra performed its unforgettable score.
Further, The Theatre at Solaire was well-decorated for the occasion. The lobby displayed stills from the movie that served as a backdrop for fans who want to have their photo taken.
One of the stills showcased Hogwarts' Great Hall, which is the banquet hall and the main gathering area of the school. 
Also read: 5 Musicals to Look Forward to This 2019
At the entrance were tapestries of the Four Houses of Hogwarts namely: Slytherin, Hufflepuff, Ravenclaw, and Gryffindor. Said tapestries served as the perfect backdrop for fans to show their respective houses. 
It was a night of symphonic mastery and Wizarding pride that a Potterhead won't forget anytime soon!
Produced by CC: Concepts, Harry Potter and the Sorcerer's Stone in Concert is a part of the Harry Potter Film Concert Series.
Also read: CATS at The Theatre at Solaire this November 2019!
Harry Potter and the Sorcerer's Stone in Concert ran from September 14 to 15, 2019, at The Theatre at Solaire. For more information, you may visit their official website and Facebook page. 
---
Written by Feliz Grace Bueno