Solaire's Culinary Masters Series Brings Singaporean Top Chef Justin Quek to the Philippines
Solaire's Culinary Masters Series Brings Singaporean Top Chef Justin Quek to the Philippines
Singapore's top celebrity chef Justin Quek known for his internationally-acclaimed "Franco-Asian" fusion dishes recently visited the Philippines as part of Solaire's Culinary Masters Series.
A curated menu and special lunch and dinner offers, with Chef Quek's most popular culinary creations, are served at Solaire's Lucky Noodles and Red Lantern from September 3 to 8, 2019.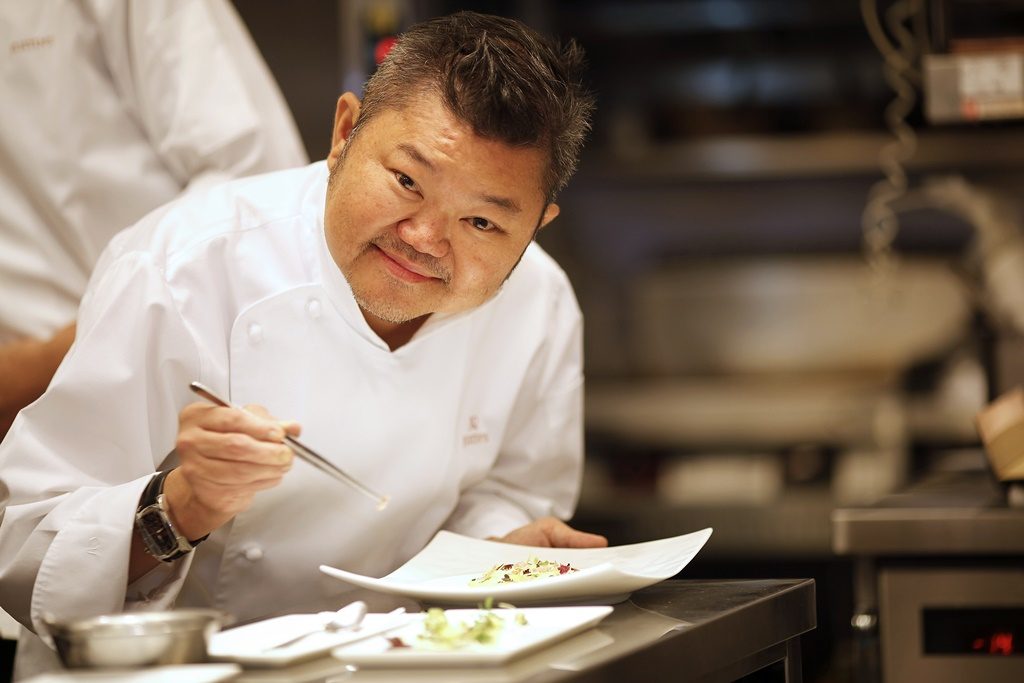 In an exclusive media event, he shared how he discovered his love for and prowess in cooking when he first started working as a sailor. Since he had not finished school before boarding the ship, he could not be a mechanic or an engineer so he was assigned to be a cook at the catering section of the ship.
"I said, okay! As long as I can go see the world, I get paid, I go to sleep, I got food to eat," said Quek.  The captain recognized his talent and encouraged him to attend a hotel school. From there, he worked hard as a trainee and eventually ascended through the kitchen ranks until he reached the top.
He was appointed as the first Singaporean chef to serve the French ambassador and later became a partner and the opening chef de cuisine for the famed French fine-dining restaurant Les Amis in Singapore.
Currently, he is pretty much occupied with his two latest restaurant ventures in Singapore: JustIn Flavours of Asia, a relaxed and laid-back restaurant that elevates the Singaporean comfort food experience; and Chinoiserie Modern Asian, an exclusive fine dining restaurant which only serves the best French-Asian cuisine. Both restaurants are located in Marina Bay Sands, Singapore.
Chef Quek gave us in the Philippines a taste of his Franco-Asian flair starting with his signature Duck Foie Gras Xiao Long Bao with Hokkaido Scallop Ceviche and Mushroom Cappuccino. The lightness and balanced flavors of everything included in the appetizer made it a win. What a way to start an amazing gastronomic journey!
Duck Foie Gras Xiao Long Bao with Hokkaido Scallop Ceviche and Mushroom Cappuccino
This was followed by Wok-fried Maine Lobster Hokkien Noodle and Crepinette of Pig Trotter, Wild Mushroom, True Jus for the entree.
For the Hokkien noodle dish, Chef Quek had slow boiled 200 lobster heads to extract the natural umami flavor of the crustacean. The result is a rich—but not too intense—taste. Even though the dish is not sprinkled with lobster meat, the flavor is present. You can also add sambal and calamansi depending on your preference.
Wok-fried Maine Lobster Hokkien Noodle
The crépinette, on the other hand, is not for the weak-hearted. The bold and strong flavors of the wild mushroom and truffles are met by the soft texture of the tender pig trotter that, according to Chef Quek, is from the front part of the trotter, which explains its melt-in-the-mouth quality.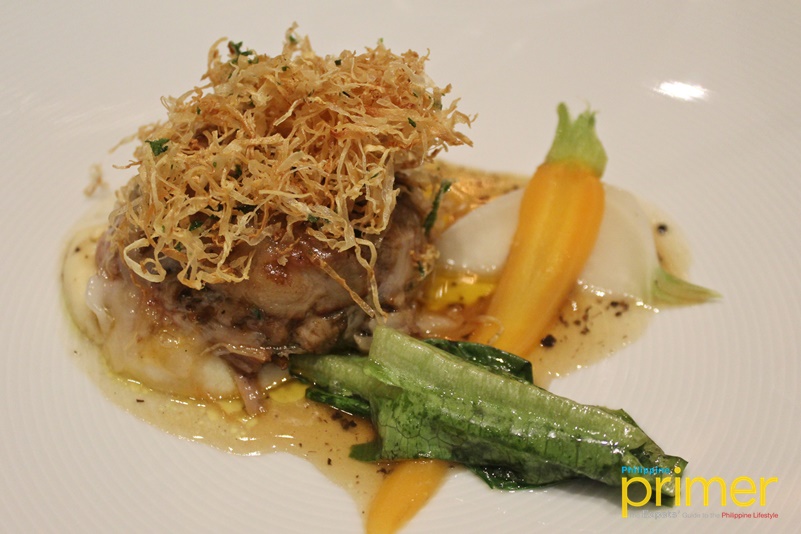 Crepinette of Pig Trotter, Wild Mushroom, True Jus
The lunch was concluded with a traditional Singaporean dessert, Chendol in Fresh Coconut. What really made this special is the homemade gula jawa (a kind of palm sugar) used in the ice cream. To keep the sweetness at bay, Chef Quek added a little bit of sea salt to it.
Through the Culinary Masters Series, Solaire brings some of the world's most acclaimed chefs for special dinner events and promotions that highlight their culinary prowess and ingenuity. Japanese 3-Michelin Star Chef Jun Yukimura was the first one to be invited in the series.
"By bringing in renowned and internationally-decorated chefs from all parts of the globe, Solaire gets to share the fascinating ingenuity and creativity that are behind some of the best gastronomic creations that have garnered praise and recognition, and at the same time, widen the culinary horizon of our patrons," said Knut Becker, Solaire's Vice President for Food and Beverage.
---
Photos courtesy of Red Lantern, Solaire