Starbucks Reusable Cup Now Comes in Four Exciting Colors
Many will agree that Starbucks' line of merchandise, composed of mugs and tumblers, is always aesthetically pleasing. Some of their collections are in partnership with different companies for design and usability while some were launched for a cause.
Also read: New Starbucks + Stanley Collection Will Hype the Outdoor Person in You
One great example is the reusable cup they released for this year's Earth Day. This cup resembles the plastic one used in-store complete with the signature green straw—except that you can reuse both the straw and cup over and over again.
Plus, you get a Php 5 discount when you bring and use your reusable cups in Starbucks stores. You get to help save the environment and save money at the same time!
Well, if you loved these reusable cups then you'll be happy to know that Starbucks released a limited edition that comes in four colors: purple, pastel pink, blue, and orange. Definitely a perfect cup for the new Teavana beverages!
You can get these baddies at Starbucks stores once it is released on July 23.
Just like the original reusable cup, they sell it for only Php 100 and you get a Php 5 discount when you use it for your next Starbucks drink. This collection is so affordable and stylish—you might just want to get one for each color.
Also read: Reusable Cups Now Available in Starbucks for Only Php 100!
Starbucks also launched three new beverages that will make you #TakeALittleBreak! Introducing the Double Ristretto Blended Cream, White Chocolate Matcha Cream, and Teavana Frozen Mango Hibiscus Tea with Pomegranate Pearls!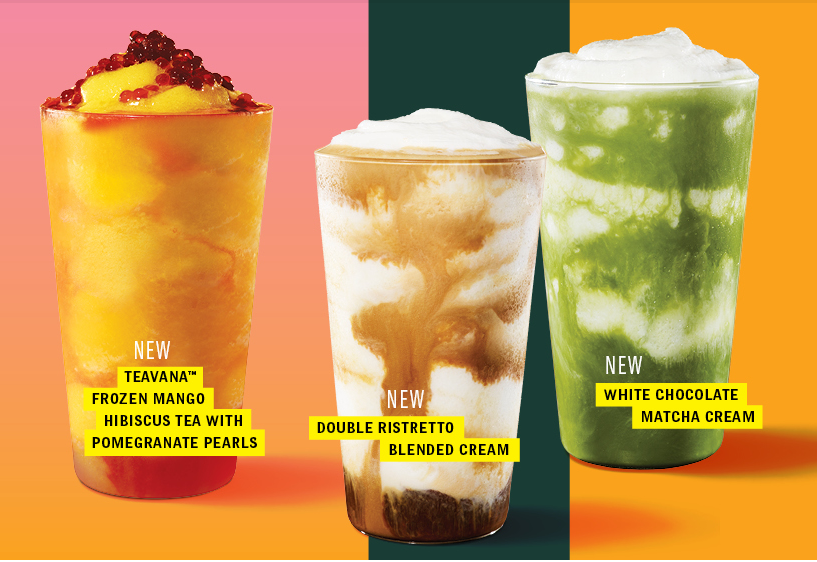 Want to pause and indulge during your afternoon break? Try the Double Ristretto Cream! This drink takes inspiration from the Italian coffee-based dessert Affogato and is made with two ristretto shots, melting over smooth ice blended milk and cream.
If you are looking for a calming beverage that will soothe your nerves and taste buds, the White Chocolate Matcha Cream is perfect for you, where aromatic pure matcha is perfectly balanced with the ice blended cream.
Lastly, if you need a kick of fruity energy in the middle of your long workday, the Teavana Frozen Mango Hibiscus Tea is a must-try. The frozen tea blended with aromatic mango puree and citrus mint green tea is enough to reinvigorate you. Adding to that is a dose of hibiscus tea and pomegranate pearls to complete the refreshing drink!
Head now to the nearest Starbucks near you, and try these new offerings!
---
Source: Starbucks PH
Images grabbed from Starbucks PH