Dalareich, Auro Win Gold in London Academy of Chocolate Awards
There's a new reason to celebrate the Filipino pride as two local chocolatiers were once again recognized in the international scene this year.
Bohol's Dalareich Food Products and Davao's Auro Cacao win the first prize, for the first time, in the Academy of Chocolate Awards (AOC) 2019.
London's prestigious Academy conferred gold prizes to both chocolate-makers with their own 100% unsweetened chocolate entries under the "Drinking Chocolate: Plain, for milk-based drinks" category.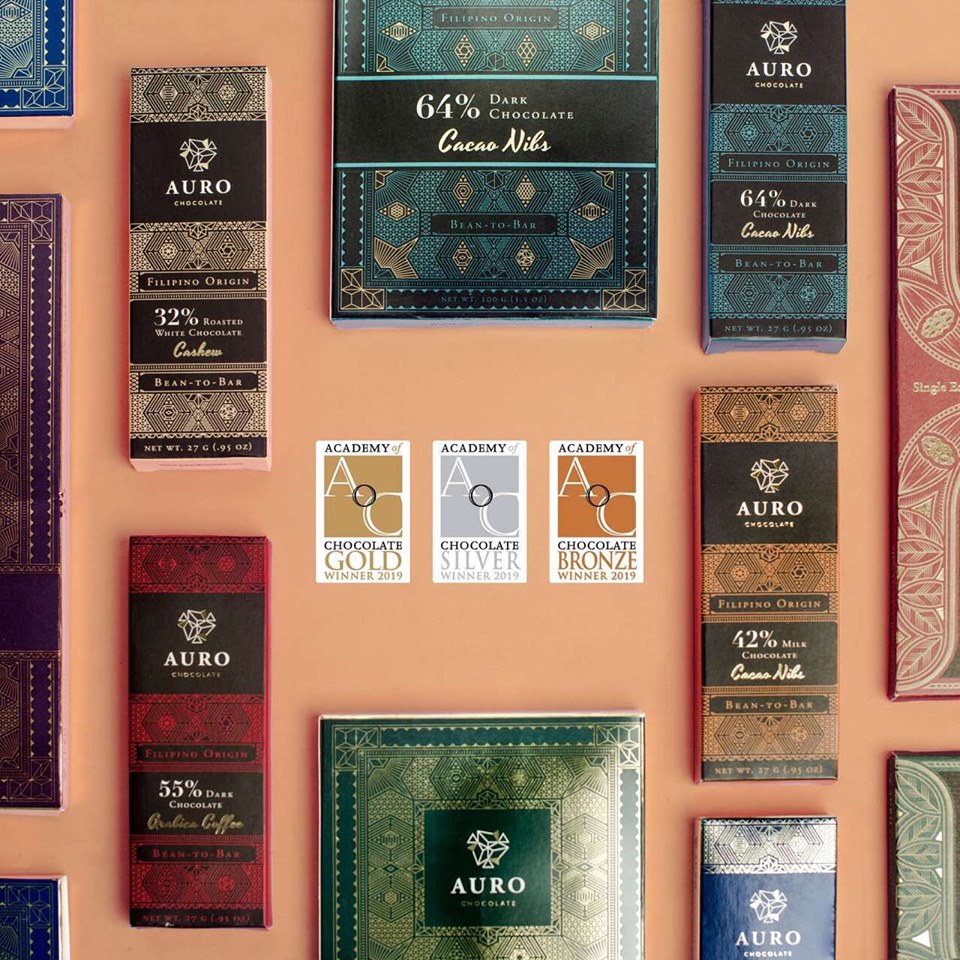 IMAGE fb.com/aurochocolate
"A lot of people might think that 'tableya' is just 'tableya' but that's the purest chocolate that you can have, since it's the 100% cacao," Dalareich Polot, the proprietor of Dalareich, wrote on Facebook after receiving the recognition. "This is one of the products that Filipinos should be proud of and bring to the world."
Listen to your heart and feel it because if it's already time.. it's time and you'll know it! (i was in Japan last…
Auro Chocolate, which also obtained 2 silver and 7 bronze awards, is likewise elated at what they've just achieved. "We are always proud to showcase the persistence of everyone involved when it comes to making great chocolate. It definitely doesn't come easy but we are eternally grateful to having such amazing farming partners who work so hard with us as we continuously strive to make better cacao and chocolate," the company said.
Other Filipino chocolate brands Malagos Agri-Ventures Corp., MS3 Agri-Ventures, and Theo and Philo Artisan Chocolates also brought victory to the country, impressing the board of judges, which includes leading chocolatiers and prominent food writers and bloggers.
Five bronze awards were given to Malagos' chocolate entries, while three bronze awards and one silver to MS3.
Seven entries of Theo and Philo—which are mostly 65% dark chocolates with healthy add-ons like black sesame, green mango, cashew—also received bronze and silver awards.
Winners were recognized among over 1,000 entries from different countries. All entries were evaluated based on the appearance, aroma, flavor, length, and complexity in a thorough deliberation that took over 12 weeks.
The Academy of Chocolate was founded in 2005 by five of Britain's leading chocolate professionals, united in the belief that eating fine chocolate is one of life's great pleasures.
Also read: Dalareich Chocolate House in Tagbilaran City is Bohol's First Chocolate Factory
---
Source: academyofchocolate.org.uk