Royal Air Philippines Opens Cebu Hub Monday
Staying true to its goal to become Philippines' fastest growing airline, Royal Air Philippines officially launched its five additional domestic flights to and from Cebu.
During the airline's media launch last Friday, May 17 at Dusit Thani Hotel in Makati, CEO of Royal Air Philippines Ed Novillas, shared one of the airline's biggest milestone yet.
CEO of Royal Air Philippines Ed Novillas
The inaugural flight from Cebu to Manila and vice-versa is set to take place on Monday, May 20. Travelers can also begin flying via Royal Air from Cebu to Davao, Puerto Princesa, Cagayan de Oro, and Caticlan and vice-versa beginning the same day.
Flights from Clark, Pampanga to Lal-lo, Cagayan, on the other hand, is set to begin operating on May 22. This is in addition to the airline's current flights from Clark to Caticlan and Puerto Princesa.
The Cebu to Manila flight also happens to be the first Manila flight of the Clark-based airline as Novillas explained how difficult it is to get a slot in Manila.
"It's hard really to get a slot in Manila, that's why I promised my team if we get the second slot, we fly Manila-Caticlan right away," he furthered.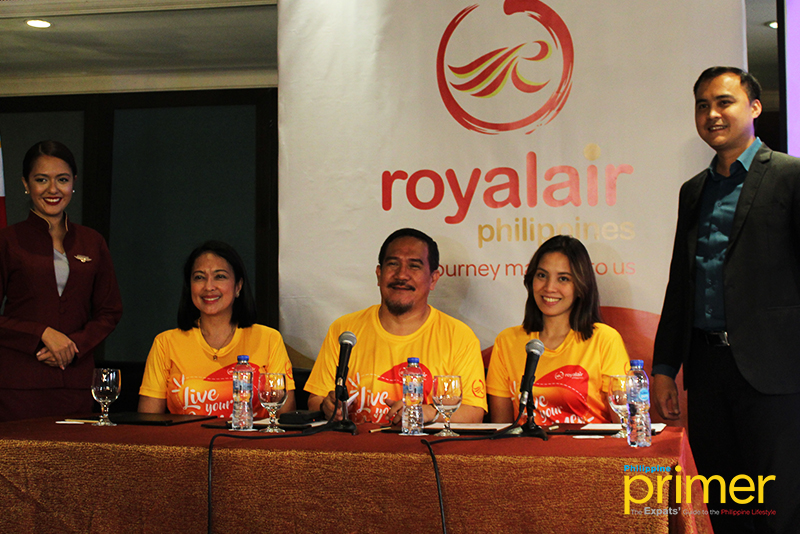 (L-R) Royal Air VP for Commercial Meg Hayo-Obejas, CEO Ed Novillas, and Marketing Manager Joana Garcia
Royal Air started out as an air charter service in 2002. It debuted in the commercial operations market in December 2018 through its inaugural flight Clark to Caticlan.
The boutique-type airline also has more competitive prices compared to their local counterparts, to which Novillas explained is due to the fact that they are a Clark locator. This means that they pay fewer taxes to which they translate to keeping their fares at a lower rate.
Aside from introducing more Manila flights, Royal Air also eyes to flying international in the future. The airline is looking into Clark to Bangkok, Kuala Lumpur, Hong Kong, and Singapore flights soon.
Royal Air also introduced its partner SAPPHIRE which will provide for the travelers' in-flight entertainment from movies to music and even social media.
Flight bookings can be done at Royal Air's official website at ibe.flyroyalair.com.
---
Written by Faye Almazan