Meet the Living National Treasures of the Philippines
It is important to keep traditions and ingenuity alive for future generations to see the culture and identity of any nation. In the Philippines, there are individuals who have gone beyond to preserve their practice and art.
The National Commission and Culture and Arts (NCCA), since 1992, have been awarding exemplary Filipinos for the Gawad sa Manlilikha ng Bayan (GAMABA). The award is in line with UNESCO's criteria of Living National Treasures who are persons with high degree of knowledge or skills to perform or recreate elements of intangible cultural heritage.
In addition to the qualifications of UNESCO, recipients must possess a mastery of tools needed in the craft and ties to the indigenous cultural community. Furthermore, they should have revitalized the community's artistic tradition and are recognized in their community as a master and teacher.
Aside from plaques and medals, an awardee will be given an initial grant of Php 100,000 and receive Php10,000 per month for life.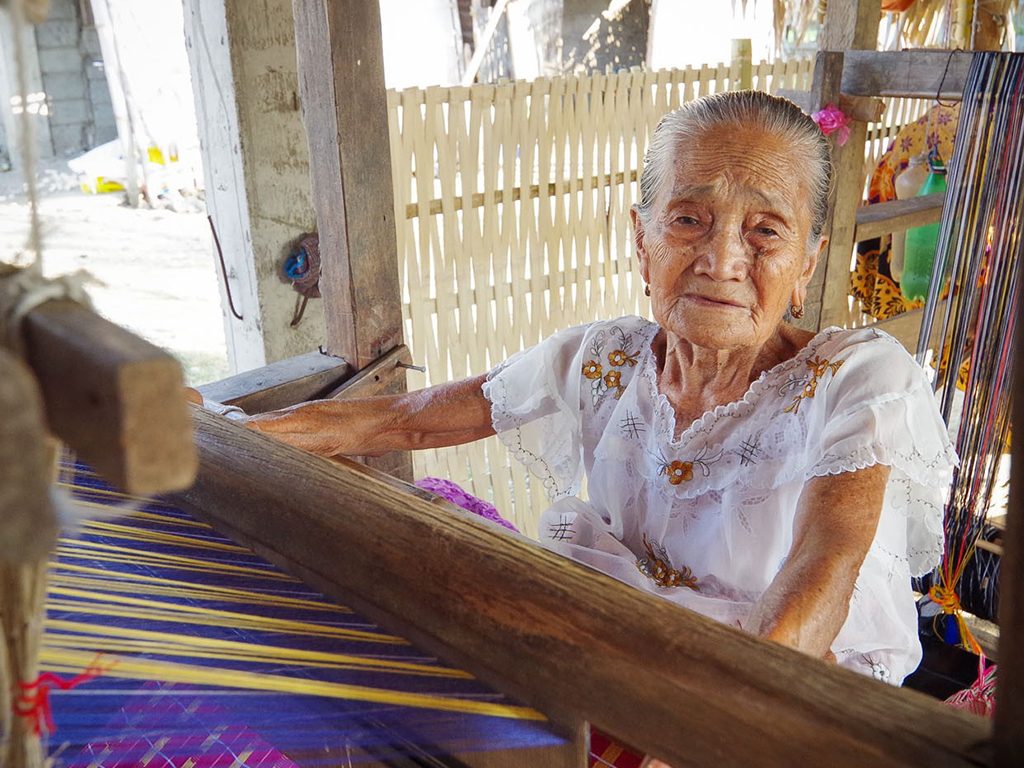 Magdalena Gamayo, Abel Weaving – Pinili, Ilocos Norte, 2012
Weaving since she was 16, Magdalena Gamayo or "Lola Magdalena" is a master weaver who not only weaves traditional Ilocano textile but also designs new patterns. One of her designs employs a difficult weaving technique called pinilian meaning partially. The weave produces a unique pattern that resembles a string of flowers thus its name, inubon a sabong. This aided in her nomination to the GAMABA award in 2012.
Source: ilocosnorte.gov.ph
Alonzo Saclag, Music and Dance – Lubugan, Kalinga Province, 2000
He created a cultural village and park called Awichon and campaigns for the promotion of the Kalinga culture in their local schools. He is Alonzo Saclag, an artist with an unwavering passion for the traditional arts of his province. He taught himself to play traditional Kalinga musical instruments and the Kalinga ritual dance movements.
Source: philippineculturaleducation.com.ph/saclag-alonzo/
Frederico Caballero, Poetry/ Epic Chant – Sulod, Bukidnon, 2000
From a family of epic chanters, Frederico "Tuohan" Caballero quickly fell in love with the art of suginadon or epic. He helped pioneer the first School of Living Tradition (SLT) in the Visayas. He continues to pass on the tradition by authoring books, recordings, and teaching the next generation of epic chanters.
Source: press.up.edu.ph/project/derikaryong-pada-sugidanon-epics-of-panay-book-3/
Teofilo Garcia, Casque Making – San Quintin, Abra, 2012
As a farmer, Teofilo Garcia makes use of every part of his crops. One of these is the upo or bottle gourd that he turns into tabungaw, conical helmets traditionally used by Ilocanos. He has also invented a gadget to precisely process rattan to use for decorating. He established a training program of raising gourds and tabungaw-making in his area.
Source: philippineculturaleducation.com.ph/garcia-teofilo/
Uwang Ahadas, Yakan Music – Lamitan, Basilan, 2000
To the Yakan people, serenading the rice crops is believed to caress the plants, rousing them from a deep sleep, encouraging them to grow and yield more fruit. Uwang Ahadas is a master of this agricultural tradition of playing the kwintangan kayu. He also taught himself to play other traditional music of his people, the Yakan.
Source: philippineculturaleducation.com.ph/uwang-ahadas/
Eduardo Mutuc, Metalwork – Apalit, Pampanga, 2004
Eduardo Mutuc is the artist of many religious pieces of silver, bronze, and wood seen in churches. His works could be as large as forty feet tall or so small and delicate that it requires detailed craftsmanship. Eduardo became a master in silver plating, a skill required to make the gold decorations of many secular decorations.
Source: philippineculturaleducation.com.ph/mutuc-eduardo/
Wang-Od Oggay/IMAGE Jeric Tugaff
The NCCA screens for Manlilikha ng Bayan when there are nominations by other government offices. This year, Senators Juan Edgardo Angara and Nancy Binay nominated Wang-Od Oggay, a tattoo artist of batek (spelled and pronounced as batok in the lowlands) or the traditional skin inscriptions of the Kalinga tribe. On June 25, 2018, the NCCA bestowed her the Dangal ng Haraya Award or Intangible Cultural Heritage.
---
Images by Renato S. Rastrollo for the National Commission for Culture and the Arts unless stated
Written by Heloise Diamante