5 Reasons to Go to Mabuhay Germany 2019 in BGC
The bi-annual trade fair Mabuhay Germany is coming up this May 25 to 26, 2019, at the Bonifacio High Street Central, Taguig! Come to the free event and meet with German companies, find job fair companies, dine at the food and drink concessionaires, or win at the many raffle prizes to be given away!
Mabuhay Germany is the flagship event organized by the German-Philippine Chamber of Commerce and Industry, Inc. (GPCCI) every other year. This year's theme is "New Heights" to replicate the maibaum tradition of erecting a pole decorated with ribbons, emblems to symbolize a tree in spring.
Also read: Mabuhay Germany Trade Show Returns this May 25-26, 2019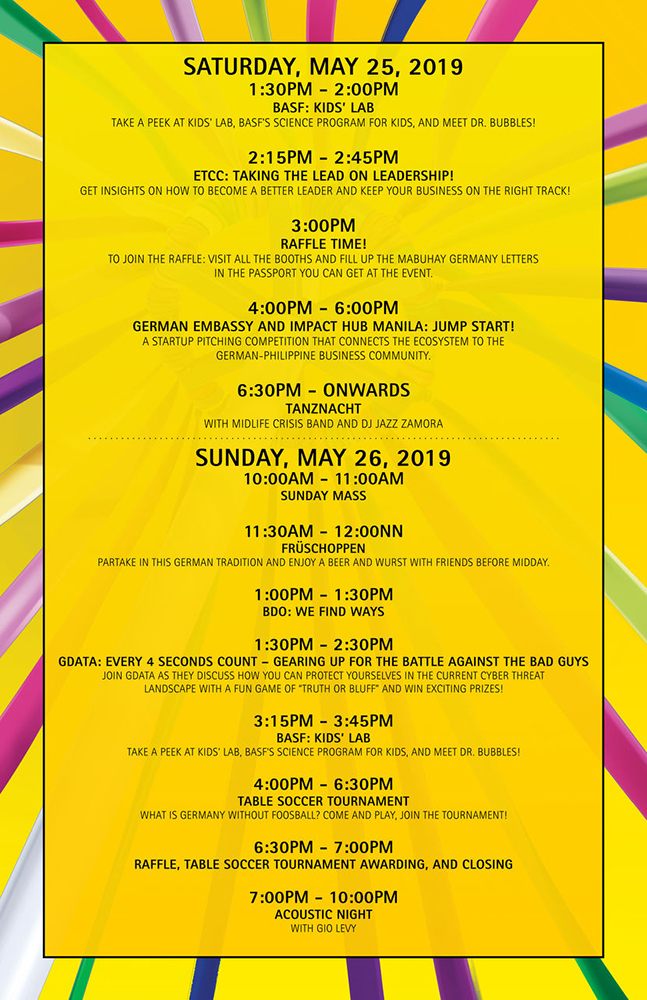 Food
When we think of Germany, we'd almost always associate it with sausages and beer– and those are exactly what will greet you at the event! You can also learn about other German dishes such as a black forest cake, the pretzel, sauerkraut, and gummy bears!
Exhibitor Booths and B2B
Over 30 brand exhibitors will be in attendance to showcase German innovation and manufacturing, culture and lifestyle to build even more relationships between Germany and the Philippines.
Dr. Bodo Goerich, Vice President of GPCCI, stated during the press conference, "Mabuhay Germany is a 'Thank You' from the German community to our host country, the Philippines and the Filipinos…it is a bit of giving back, showing our industry, products, and culture."
BASF's Kid's Lab
Let your children explore chemistry at Germany company BASF's Kid's Lab where they can experiment in a playful manner and discover many of the world's marvels.  This free interaction event is open for free to children 6-12 years old on both days of Mabuhay Germany 2019.
On Stage Activities
The stage of Mabuhay Germany will be teeming with exciting and insightful activities with talks and panels with partners such as Volkswagen Philippines and G DATA.
Join to play for fun at the Table Soccer Tournament on Sunday. Then at night, the party gets electric with the Tanznacht or dance night on Saturday and acoustic night on Sunday.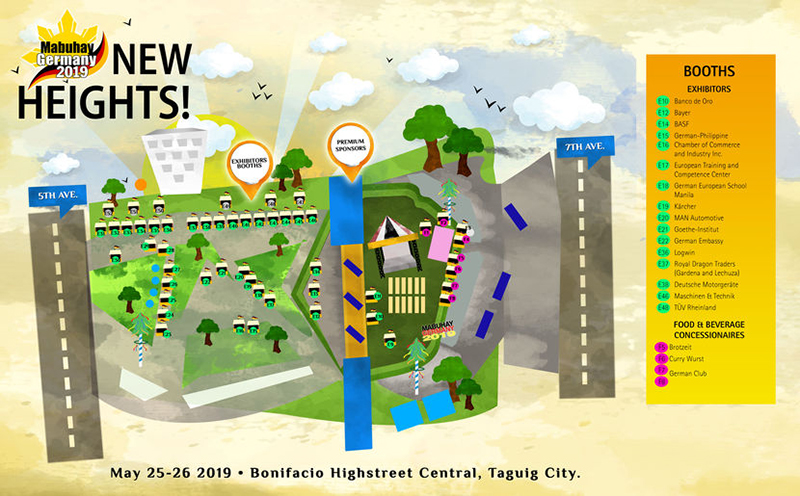 Jump Start
Don't miss 'Jump Start', a startup pitching competition where the day's winner will represent the Philippines in Germany on a startup mission. Dr. Roland Schissau, Charge d'Affaires a.i., of the German Embassy Manila, told Primer that they will be looking for unique ideas that have not been made public before.
"This is a bright country with cool, innovative ideas… I am positive that there will be something that none of us has thought of will come out of this competition," says Dr. Schissau. "The Ambassador (of Germany in the Philippines) will participate as a panel member."
Save the date and see you at the Mabuhay Germany 2019 this May 25-26, Saturday and Sunday, from 10 a.m. to 10 p.m. at the Bonifacio High Street Central, 5th Ave., BGC, Taguig. Prost!
For more information, visit their website or you may call them at +63(2)-519-8110.  For updates and announcements, follow them on Facebook, Instagram, and Twitter.