Duterte Approves HIV, AIDS Policy Act 2018
President Rodrigo Duterte signed a new HIV/AIDS policy which establishes a stronger campaign against the growing number of Human Immunodeficiency Virus (HIV) and Acquired Immune Deficiency Syndrome (AIDS) cases in the Philippines.
RA 11166, also known as the Philippine HIV and AIDS Policy Act 2018, aims to provide a comprehensive policy on the education, prevention, and treatment of HIV and AIDS through strengthened services and programs. It will also allow more access to HIV/AIDS education and health services.
The HIV/AIDS Policy Act is one of the new laws signed by Duterte /IMAGE Philippine Communications Operations Office
The act reformed the existing RA 8054 (Philippine AIDS Prevention and Control Act of 1998) to further strengthen the government's response in ceasing the concerning rise of HIV/AIDS cases.
It also reconstitutes the Philippine National AIDS Council (PNAC) to take charge in overseeing the development and implementation of the AIDS Medium Term Plan (AMTP), a 6-year prevention plan which includes proper care, safe treatment, and support to Filipino HIV/AIDS patients.
Also read: Battle in the Blood: First Anti-HIV Gaming App in PH
Voluntary HIV testing is also encouraged by the government, especially among the youth. With the new law, young people from ages 15 to below 18 who are pregnant or engaged in high-risk behavior, will be allowed for testing and counseling without the need of consent from their parents. 
In terms of confidentiality, the HIV/AIDS Policy Act continues to protect the privacy of persons who have been tested, exposed, infected, or treated for HIV-related illnesses.
The rapid rise in HIV and AIDS cases remain to be a huge health concern in the country. A report released by the Department of Health (DOH) in 2017 shows that the Philippines has the highest increase of new HIV cases in the Asia-Pacific region from the period of 2010 to 2016.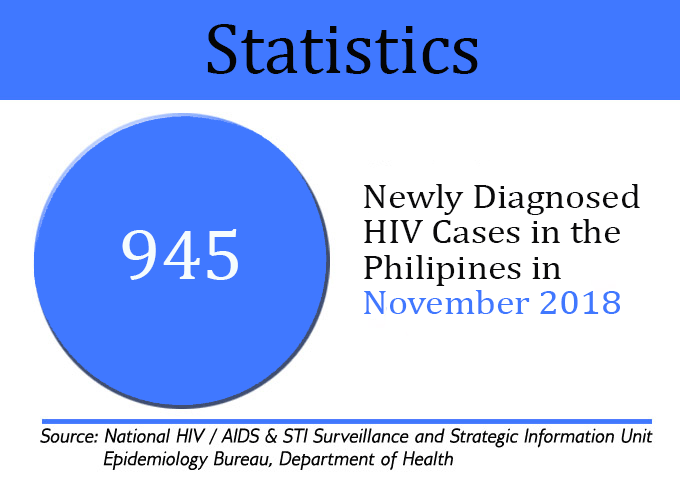 The number of persons infected with HIV/AIDS in the Philippines continues to grow /IMAGE Department of Health
Also read: Tobacco Tax Hike Certified As Urgent by Duterte
Philippine HIV and AIDS Policy Act 2018 is among the newly enacted laws signed by Duterte last December 20, 2018.
---
Written by Deneca Ordinanza
Sources: Official Gazette, Department of Health, and Philippine News Agency