NLEX-SLEX Connector Road Project to Link C3 Road Caloocan to Santa Mesa and Skyway Stage 3
NLEX-SLEX Connector Road Project to Link C3 Road Caloocan to Santa Mesa and Skyway Stage 3
Almost three years into the infrastructure plan "Build, Build, Build" of President Duterte's administration, projects including roads, bridges, and mass urban transportation are continuously being built for the benefit of the people in the country.
Included in the infrastructure plans of the administration is the NLEX-SLEX Connector Road Project, featuring an expressway extending the NLEX southward and connecting to the Skyway Stage 3. The said project is set to begin construction this January 2019. 
Also read: PH to launch biggest infrastructure plan "Build, Build, Build"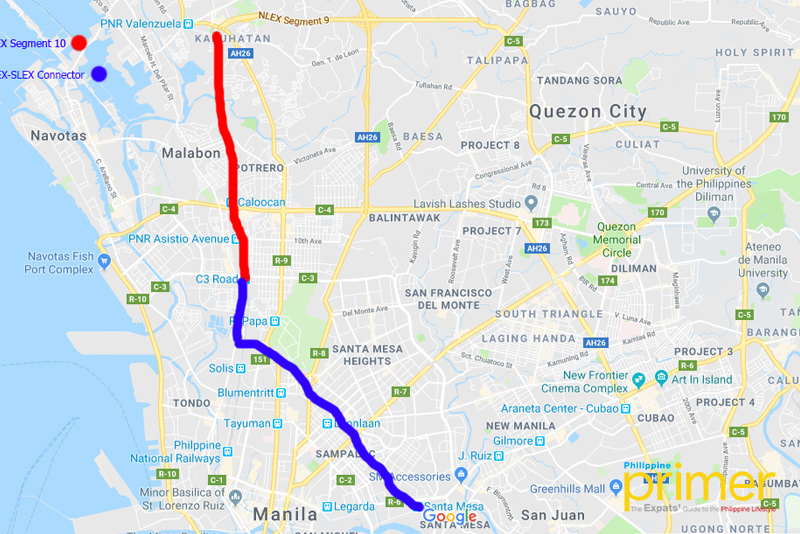 NLEX Segment 10 from Karuhatan to C3 Road
According to the Department of Public Works and Highways, the NLEX-SLEX connector project aims to decongest Metro Manila traffic and reduce travel time from the north and the south that would benefit at least 35,000 motorists a day.
The eight-kilometer, all elevated 4-lane toll expressway will extend the NLEX from the end, which is NLEX Segment 10 to C3 Road Caloocan City to PUP Sta. Mesa, Manila, and connecting to the Skyway Stage 3. The project includes two interchanges located at C3 Road in Caloocan and España in Manila.
From C3, it will traverse mostly from the PNR station and will end at Santa Mesa
From C3 Road in Caloocan, the road will traverse along Solis and España and will end at Santa Mesa.
The road will be connected to the Skyway Stage 3, which has eight access ramps/interchanges all in all. Five of which are exits before the NLEX-SLEX link connector: Nagtahan in Aurora Boulevard, E. Rodriguez Avenue, Quezon Avenue, Sgt. Rivera St. in Quezon City, and NLEX.
From the Santa Mesa connecting the Skyway Stage 3, there are three ramps/interchanges namely: Plaza Dilao (Paco, Manila), Pres. Quirino Avenue (Malate, Manila), and Buendia Avenue (South Superhighway, Makati City).
Also read: DPWH Opens a New Exit from Skyway to Makati
Santa Mesa to Buendia through the Skyway Stage 3
From Buendia, it will connect to the Metro Manila Skyway going southbound, passing through Pasay, Magallanes, Bicutan to Alabang, Muntinlupa.
Also read: Expats' Guide to Expressways in the Philippines
Buendia connecting to the southbound of the Metro Manila Skyway 
The DPWH also sees this project as an alternative route for trucks and would give them better access to Manila Ports like North Harbor, NAIA and Clark Airports. In addition, they also aim to lessen the travel time from the usual NLEX to SLEX of two hours to just 20 mins.
Expected start of construction will be this January 2019 instead of the proposed May 2019, and it is expected to be completed by December 2020.
---
Sources: autoindustriya, dpwh.NLEX-SLEX, dpwh.MMSS-3