JAPAN TRAVEL: All About The Hokuriku Arch Pass
The best way to explore the New Golden Route is through the Hokuriku Arch Pass. It is a special ticket that lets you ride the Hokuriku Shinkansen between Tokyo Station and Kanazawa City in Ishikawa and the Thunderbird Limited Express Train between Kanazawa City and Osaka. It also lets you ride the IR Ishikawa Railway (between Kanazawa and Tsubata), the Ainokaze Toyama Railway (between Takaoka and Toyama), the Noto Railway, and both the JR East and West lines in Tokyo as well as the Tokyo Monorail.
It is available for all foreign tourists and costs only ¥24,000 for adults and ¥12,000 for children if bought outside Japan, and ¥25,000 for adults and ¥12,500 for kids when purchased in Japan. The pass is good for seven consecutive days and lets you fully explore Japan's New Golden Route without having to think about which ticket to buy at which station.
Hokuriku Shinkansen or high-speed bullet train
Just think of all the traveling you can and will do in one week across Japan! It also comes with a lot of benefits exclusive to holders of the Hokuriku Arch Pass and only available on this route, like discounts to attractions along the New Golden Route! Read on to find out more about these benefits.
Hokuriku Arch Pass Benefits
The seven-day Hokuriku Arch Pass at ¥24,000 yen (approximately US $215) per adult gives so many benefits. It can take you from Osaka to Tokyo (and possibly back) and lets you take free rides on select local trains, which is a good deal in and of itself.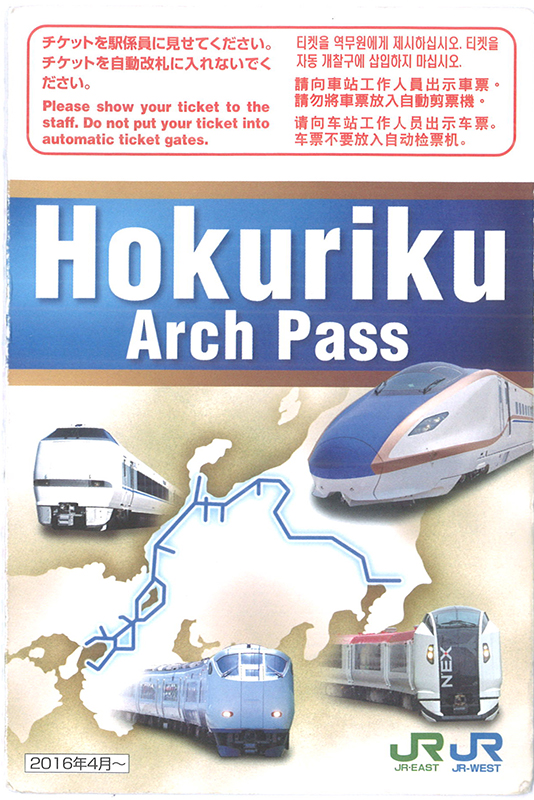 It may seem like a big investment, which is why we've taken the liberty of selecting some of the many benefits of getting the Hokuriku Arch Pass, separated into our three featured prefectures:
Toyama
Cheaper Manyosen Unlimited ride ticket: ¥800 → ¥500

Discount at Ainokura Gassho-zukuri Village (World Heritage Site), Ainokura Folklore Museum / Ainokura Traditional Industry Museum; admission fee: ¥350 → ¥260

20% Discount on the World Heritage Bus for a Takaoka to Shirakawa-go one-way Unlimited ride ticket, Gokayama Unlimited ride ticket, and Gokayama–Shirakawa-go Unlimited ride ticket

Inami Wood Carving Composite Hall: ¥500 → ¥400
Also read: Discover Toyama Prefecture in the Hokuriku Region
Kanazawa
Cheaper Kanazawa Loop Bus Unlimited ride ticket: ¥500 → ¥450

Cheaper Kokoyui day-trip kimono rental: ¥14,800 → ¥11,840
Also read: Exploring Kanazawa City in Ishikawa Prefecture
Fukui
20% off Keifuku Bus (Tojinbo 2-day Unlimited ride ticket and Tojinbo–Eihei-ji 2-day Unlimited ride ticket)

Discount on Tojinbo Sightseeing Pleasure Boat: 10% off the cruise ticket

Discount on Fukui Prefectural Dinosaur Museum admission fee: ¥720 → ¥620
Also read: The Charm of Fukui Prefecture in the Hokuriku Region
To know all of the benefits of Hokuriku Arch Pass, visit hokuriku-arch-pass.com/en/privilege.html.
Official Hokuriku Arch Pass website: hokuriku-arch-pass.com/en.
---
Written by Andronico Del Rosario
Supported by GCP
This first appeared in Philippine Primer Magazine Vol. 33 – December issue.