PlayLab: The First Digital Interactive Playground in the PH
Most of the kids nowadays are undoubtedly glued to their gadgets–so PlayLab, a recently installed digital interactive playground, can serve as a refresher for kids to engage with classic physical activities and a digital play set that they can enjoy. It's located in Robinsons Galleria, Ortigas, Pasig City.
Also read: Urban Gadgets: For Your Upscale Lifestyle Gadgets and Accessory Needs
PlayLab
PlayLab was inspired by the executives' various vacation and business trips in Sentosa, Singapore, Tokyo Borderless in Japan, to name a few.
"We, our, executives go abroad, including me. We often see art and science museums that we find very wholesome for families to go to, and we also noticed that they are a very big crowd puller. So combine our need for this kind of amusement establishment, and the inspiration we saw abroad are mostly in Singapore, Japan, Malaysia," explained Dawin Renolayan, RLC's Business Developer.
"Instead of art and science museums, we came up with a digital playground in the country because we want the kids to be amazed with the digital work of arts, and we actually want them to play with them. So the digital playground is where we went to," added Renolayan.
A PlayLab staff illustrating how to play the Planet Defense
PlayLab consists of 14 set attractions: 12 interactive and 2 non-interactive. It flexes the innovative idea of combining the traditional playground and high technologies, such as the use of touch screen monitors or projectors, LED lights, real time interactive green screens, and more!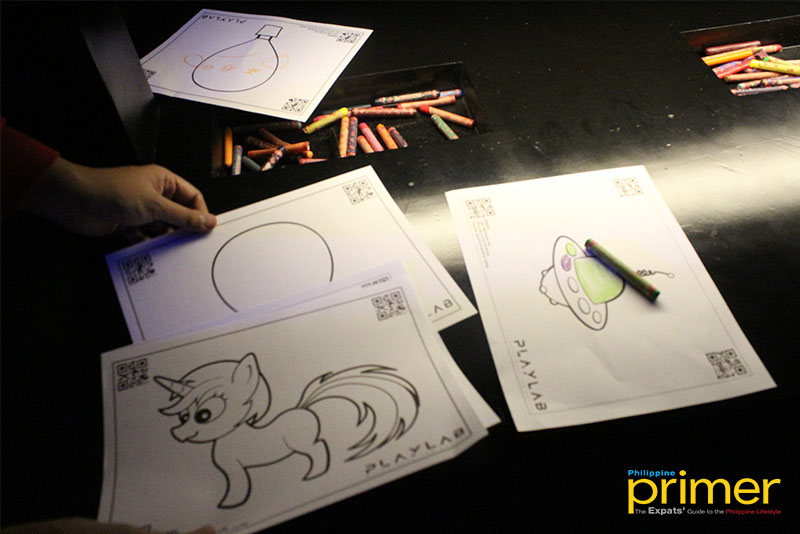 Kids can color doodles that can be brought to animation when placed on the scanner
The playground only allows children seven years old and above, while kids below seven years old should be accompanied by a guardian.
Entrance fee costs P450 per head for the first two hours, with an additional fee of P100 per hour for the succeeding hours.
Kids play through the PlayLab Fantasy slope
The playground requires players to wear socks, but you can also purchase a pair in the lab. Regular kid-sized socks cost P50, and premier kid's and adult-sized socks cost P100.
The butterflies can appear in the projector after dragging it to the warp hole
There are studies that kids who engage too much with their gadgets have negative social tendencies. PlayLab proves that it could be a great refresher to divert children from an unhealthy routine, and even a chance to make new friends!
"We want them to be adept in technology, but also requiring them to be physically active and be sociable other kids," shared Renolayan. "Our aim is to provide kids and families a venue where they could enjoy the benefits of technology while sharing the playspace with other kids and other families because at the end human connection is very much important."
Create unique patterns with the Tap tap wall
Also read: Frankie and Friends General Store: The Cool Hub of Homegrown Brands and Local Finds
Bring your children, and let them experience more of the first ever digital interactive playground's attractions at the PlayLab!