Six Doors BBQ Buffet in Uptown Mall Enhances Dining Experience with 3D Element Features
Brace yourselves for the newest buffet restaurant that offers the first table mapping projection and 3D dining experience–Six Doors BBQ Buffet is now open in Uptown Mall, Fort Bonifacio. The grill-on-the-table buffet offers a variety of Asian, European, and Brazilian dishes.
Visit Six Doors BBQ Buffet restaurant to experience a collaboration of high-class buffet dining with high-end 3D technological advancements soon at 2F Uptown Mall, Fort Bonifacio
Stepping into the Six Doors BBQ Buffet that's yet to open in Uptown Mall will amaze you with its bright contemporary interiors, comfortable booth tables, and a stage featuring an interactive projection.
The restaurant includes spacious areas, such as their function room with a 10 to 40 seating capacity for conferences, receptions, and the likes inclusive of audiovisual capacities.
The raw station offers a wide selection of meats and seafood to grill on your table
Customers may bring their designated food carts to the buffet station to bring as many plates and dishes in one go
The VIP rooms, which is the pride of Six Doors BBQ Buffet, features the country's first table mapping projection and 3D dining experience. The room includes a butler-style service and an 8-course meal for an unparalleled and fully immersive dining experience.
Choose from the six country-themed rooms that will take you on a journey, which they call WOP or "World on Plate".
The buffet sections include salads, grill, dim sum, hot pot, cold cuts, sushi, wine, juices, and desserts
The buffet area offers plenty of modern dishes as diners may choose from hundreds of daily offerings and sample flavors from around the world.
Six Doors is developed by Kungfu Master Cooking Group, Inc. who also owns Olivia & Co. and Kungfu Master Cooking Restaurant. From them, be sure to expect a passion for creating high-quality dishes at reasonable prices.
Also read: Kung Fu Master Cooking in Makati: Affordable Hong Kong dishes 
The VIP rooms allow a maximum of six people in a private room with a live 3D projection mapping on the walls for an entertaining meal
Weekday lunch at Six Doors costs Php 859 for adults and Php 399 for children 3ft to 4ft. The weekday dinner, weekend buffet, and holidays will be Php 1,390 for adults and Php 699 for children 3ft to 4ft while children below 3ft eat for free!
Meanwhile, the VIP room for a minimum of four persons and a maximum of six has a rate of Php 4,500 per person.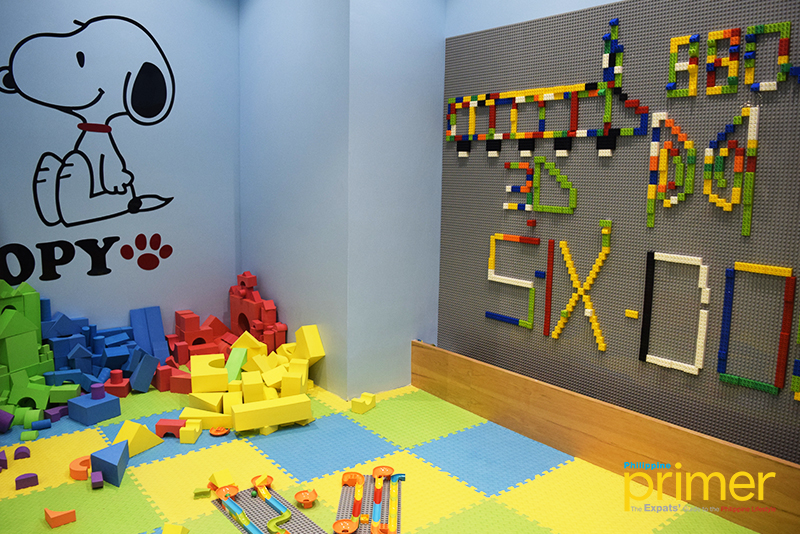 There is also a small room with toys and building blocks for children to play on
With the grand opening on December 5, 2018, buffet lovers will surely look forward to a memorable dining experience, a celebration of international dishes, and the wonders of 3D mapping technology only at Six Doors BBQ Buffet.
The Six Doors website is now accepting reservations, as well as their own loyalty program to earn cashback for every visit. For more information, contact Six Doors BBQ Buffet at 0918-484-3255 or e-mail sixdoors3Dbbqbuffet@kfmc.ph.