Disney-Themed Ayala Festival of Lights Opens in Makati
Commenced last November 9, the sought-after Ayala Land's Festival of Lights at Ayala Triangle Gardens in Makati finally opened its spectacular view, bringing a yet thrilling holiday experience to the public. This will run daily every 30 minutes, from 6:00 p.m. to 10:00 p.m. until January 8, 2019.
Makati once again welcomes the magical time of the year with the Festival of Lights 
As Ayala Land celebrates its 30th anniversary and the festival marks its 10th year, this year's festival, with a theme "Reimagine the Magic: A Festival of Lights", has become more upscale with an even more magical setup as the company partnered with The Walt Disney Company Philippines.
Also read: Ayala Festival of Lights Partners With Disney Philippines for their 10th Anniversary
During the previous years, it was only the lights displayed throughout the urban park, but it is now accompanied with various songs to give a new enchantment. These light-and-sounds shows also boast its larger-than-life Mickey-shape structure alongside the striking laser lights also played in sync of the sounds.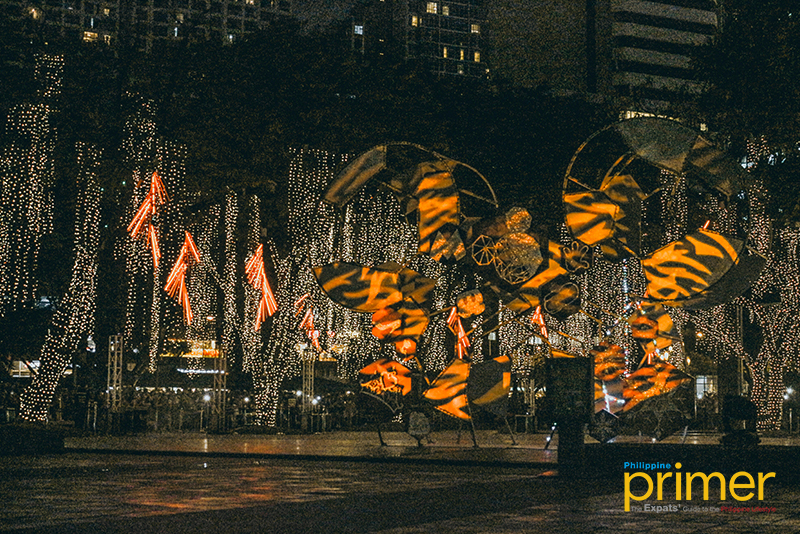 This year's festival features a larger-than-life Mickey-shaped structure 
Everyone will surely enjoy the festive mood of the show with the lights dancing rhythmically to the tune of the orchestral renditions, featuring well-loved Disney songs such as 'Part of Your World', 'Beauty and the Beast', 'A Whole New World', 'A Dream is a Wish Your Heart Makes', and 'I See The Light'–all from Disney Princesses melodies.
Hit songs from the film Frozen like 'Do You Want To Build a Snowman', 'For the First Time in Forever', 'Love is An Open Door', and 'Let it Go' are also included in the line-up of medley songs. Bring back your childhood with a modern and playful rendition of the Disney Classics such as the 'Mickey Mouse March', 'When You Wish Upon A Star', 'Zip-a-Dee-Doo-Dah', and 'Steamboat Willie Whistle'.
And to express the magic closer to home, well-loved Filipino Christmas songs will fill the air, such as 'Pasko Na Naman', 'Kumukutikutitap', 'Ang Pasko Ay Sumapit', and 'Noche Buena'.
The striking laser lights effects complement the festive mood of the park
The show was all orchestrated by the lighting master Voltaire de Jesus, who once again created the spellbinding lights display this time, with music that was skillfully arranged by composer Rony Fortich, who previously worked in Hong Kong Disneyland.
"Christmas is always special to Filipinos. It's a time when families come together for heartfelt celebrations. The annual Festival of Lights is our way of sharing the joy of the season with the community who make our estates vibrant and full of life. On Ayala Land's 30th anniversary, we made sure to give the show an extra special touch or shall we say 'magic' through the partnership with Disney," said Shiella Aguilar, Makati Project Development Head for Ayala Land in a press release.
"It truly excites us at Disney Philippines to kick-off the Christmas celebrations in the country through this collaboration with Ayala Land. Being able to reimagine the annual Ayala Land Festival of Lights with Disney's brand of world-class entertainment is truly a great experience," shared by the Country Head of The Walt Disney Company, Philippines, Veronica Cabalinan during the partnership's launch last November. "By weaving our well-loved soundtracks to Ayala Land's festivities, we hope to bring magical moments to families and Disney fans of all ages. This forms part of our commitment to build lasting memories and powerful connections with Filipinos."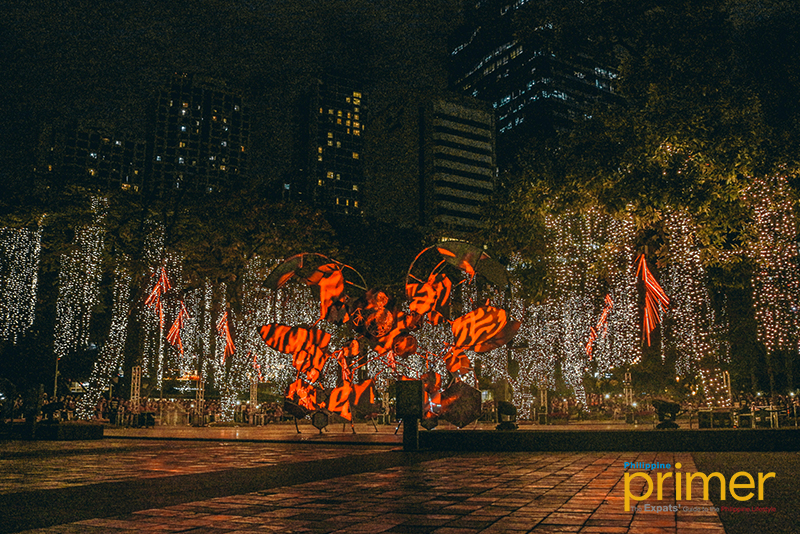 Use the hashtag #ReimagineTheMagic to share your magical experiences on social media
Moreover, Ayala Land will also bring Reimagine the Magic: A Festival of Lights to its five other estates across the country, which will run daily every 30 minutes from 6:00 p.m. to 10:00 p.m. on the following dates:
Bonifacio Global City – November 15, 2018 to January 6, 2019
Nuvali – November 24, 2018 to January 13, 2019
Vertis North – November 29, 2018 to January 15, 2019
Ayala Center Cebu – November 10, 2018 to January 20, 2019
Centrio, Cagayan de Oro – November 9, 2018 to January 13, 2019
Presented by Ayala Land, in collaboration with Master Card, HSBC, SunLife, and Globe Telecom, the Festival of Lights is the centerpiece of Makati's magnificent Christmas wonderland–a playful and whimsical addition to the beautiful light installations, featuring the altars of the Philippines' most iconic churches.
This beautiful yuletide tradition, started decades ago, has become an integral part of the Christmas celebrations of thousands of Filipinos. It aims to delight even the busiest of people who look forward to memorable and delightful holiday festivities with families, colleagues, and friends.
To know more about the Festival of Lights, visit Ayala Land's website at www.ayalaland.com.ph or follow the official Facebook accounts of Ayala Land and each of the estates (Make It Makati, Bonifacio Global City, Nuvali, Vertis North, Ayala Center Cebu, and Ayala Malls Centrio) for more updates. Use the hashtag #ReimagineTheMagic to share your magical experiences on social media.