'Spaces of Contemporary Art in Italy' Brings Italy Closer to the Philippines
Italy is not only known for the ruins of the Colosseum. As Mr. Giorgio Guglielmino, Ambassador of the Republic of Italy to the Philippines, puts it, "Italy is not a country that stopped 300 years ago." It is evolving like every other country, mirrored not only through cuisine but more so through contemporary art.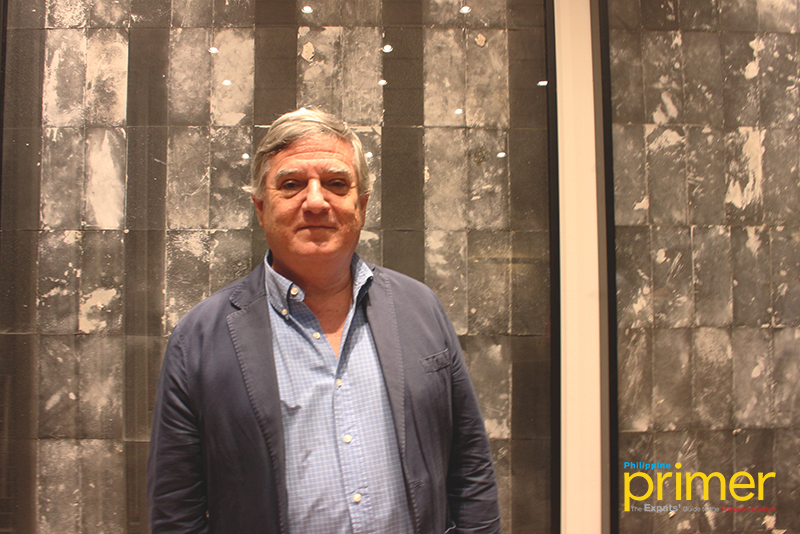 Ambassador of the Republic of Italy to the Philippines, Giorgio Guglielmino, aims to get Italy and Philippines closer by means of contemporary art
By inviting over Ludovico Pratesi, an acclaimed Italian director, curator, and art critic to the Philippines to give a lecture about the "Spaces of Contemporary Art in Italy", Ambassador Guglielmino has seen to it to introduce Italy's growth in terms of art and to continuously pursue a closer relationship with the Philippines, starting last night in the Art Informal Gallery at the Karrivin Plaza in Makati. 

Ludovico Pratesi smiles to his audience as they raise questions regarding private and public museums in Italy
By doing this, the connection between the two countries has commenced when Ludovic Pratesi, who has never been to the Philippines, was reportedly astonished by the modernity and the energy of Manila.
From here, Ambassador Guglielmino hopes the same for the Philippines to know more about Italy, by also bringing in an exhibition by Italy's Arte Povera artists in February 2019, courtesy of the Embassy of Italy and the Museum of Contemporary Art and Design.
The "Spaces of Contemporary Art in Italy", which gives an enlightening study of national, public, private, and regional museums exhibiting contemporary and modern art in Italy, is seen as the first step in bringing Italy closer to the Philippines.
Spaces, Museums, and Faces of Contemporary Art in Italy
Ludovico Pratesi's lecture on 'Spaces of Contemporary Art in Italy' covers a discussion on national and regional museums in Italy where contemporary and modern art can be spotted.
Some of these regional museums include the Rivoli Castle in Torino, which houses over 5,000 artworks from 1965 until recently, and the Mart Rovereto, Northeast of Italy, which has two floors for exhibitions and one floor for a permanent collection.
The Rivoli Castle was built by Filippo Juvarra, an architect in Sicilly, in 1714 /IMAGE castellodirivoli.org
Mart, Rovereto sits in the northeastern part of Italy with Director Gianfranco Maraniello at the forefront / IMAGE Mart Museum Flickr
Interesting Preview of Contemporary Art in Italy: Facts and Room for Improvement
During the lecture, Pratesi also gave his audience an inside peek of the state of contemporary art in Italy.
Ludovico Pratesi discusses the different spaces where contemporary art can be seen in Italy, including national, regional, and public and private museums
Pratesi shared how the artists in Italy discuss fascism, terrorism, and migrant problems, among other topics through contemporary art but never in a direct way. "Lateral" was Pratesi's and Ambassador Guglielmino's term to describe how Italian artists do not show these issues in their art in full view, making it more interesting to learn about the Italian contemporary art.
In addition, national museums are quite conservative in a way, making it difficult to promote contemporary art in Italy, while regional museums in the south of Italy, including Madre, Napoli, reportedly wait for months until financed, letting only four shows to grace the museum every year.
The great news, however, is that according to Pratesi, the Italian youth in Italy are actually becoming more aware of contemporary art, making the future bright for Italy's many forms of art.
Learning from these, Pratesi encourages the Philippines to watch, visit, and be more aware of the contemporary world today, as well as to create more international museums, as "museums are really the best way to promote art".
So watch out for Italy's Arte Povera exhibition in Manila on February 2019 to see their art in the flesh and to immerse yourself with Italy's contemporary art!
---
Exhibit details to be updated.
Written by Chin Sanigan