Pia Wurtzbach to have a wax figure in Madame Tussauds in Hong Kong
Miss universe 2015, Pia Wurtzbach, is set to have the first Filipino wax figure at Madame Tussauds in Hong Kong.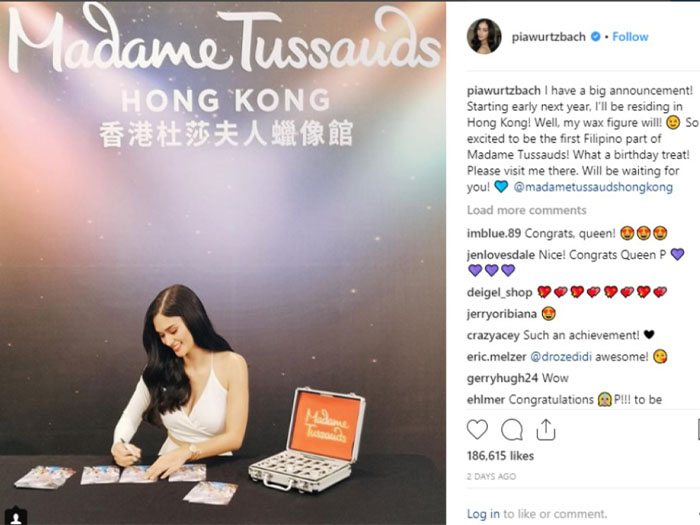 Pia announces the news on her IG post
The sculpture of Pia Wurtzbach, a stellar icon, would be an embodiment of exemplary characteristics such as elegance, confidence, humanitarianism, beauty, and others.
"When I found out, I was so excited. I couldn't believe it! In my head, this is something [that] only happens to big stars," expressed Pia. "I go to Madame Tussauds, so I know what it's like and how fun it is there. And now, thinking that I'm going to be one of them, I'm very honored, I'm very grateful, and I can't wait to see it."
The Miss Universe 2015's wax figure was said to group alongside star-studded celebrities like Jackie Chan, Taylor Swift, and Choi Siwon.
Madame Tussauds has been renowned for creating wax figures for more than 200 years, creating mementos from different icons from a variety of fields. Its first museum is located in London and has expanded to different cities around the Globe.
"This is our way [of] showing the Filipino community living and visiting Hong Kong as well as our neighbor SEA cities that we heard them well. With Pia's sweet, positive and fun personality, we really could not have imagined having anyone but her to represent the Philippines in this way and what better way to share this milestone [than] on her birthday," Madame Tussauds General Manager Jenny You shared in a press statement.
---
This is a press release with edits made.