Panda Express Cooks Up Its First 5 Restaurants in the Philippines
Known for their menu of rich and sumptuous Chinese specialties, Panda Express is set to initially open five new restaurants in the Metro, born out of a partnership between two food industry magnates Jollibee Foods Corporation (JFC) and Panda Restaurant Group, Inc.
IMAGE Panda Express
The Food
Dubbed as "America's Favorite Chinese Restaurant" since 1983, Panda Express will soon be serving dishes inspired by American gastronomy and stamped with the principles of Chinese culinary to the Philippines.
Going alongside their original Orange Chicken, other authentic Panda Express recipes include their Sweet Fire Chicken Breast, Honey Walnut Shrimp, and Shanghai Angus Steak. Found in some of these recipes are touches of Cantonese, as well as flavors from the Hunan and Sichuan Province in China.
Panda Express' Original Orange Chicken steals the limelight, alongside other main dishes, such as the Kung Pao Chicken and Broccoli Beef./ IMAGE Panda Express
Did You Know?
Although we have yet to find out the features of Panda Express as it settles in the Philippines, the restaurant, which is originally situated at Glendale, California and now to over 13 nations, is also prominent for their Panda Tea Bar. This Tea Bar is known for concocting various Taiwanese drinks, among which are a variety of fruit teas, milk teas, lemonades, yogurts, and smoothies.
Panda Express offers a variety of handcrafted drinks courtesy of the Tea Bar./ IMAGE Panda Express
This restaurant is also known for using wok–a bowl-shaped cookware–prevalently used to stir-fry vegetables, deep frying meats, as well as stewing soup and many more. With the wok, Panda Express guarantees fresh vegetables to grace their every plate and bowl, complete with over 8 grams of protein and 300 calories (or less), ensuring great tasting and healthy food to boot.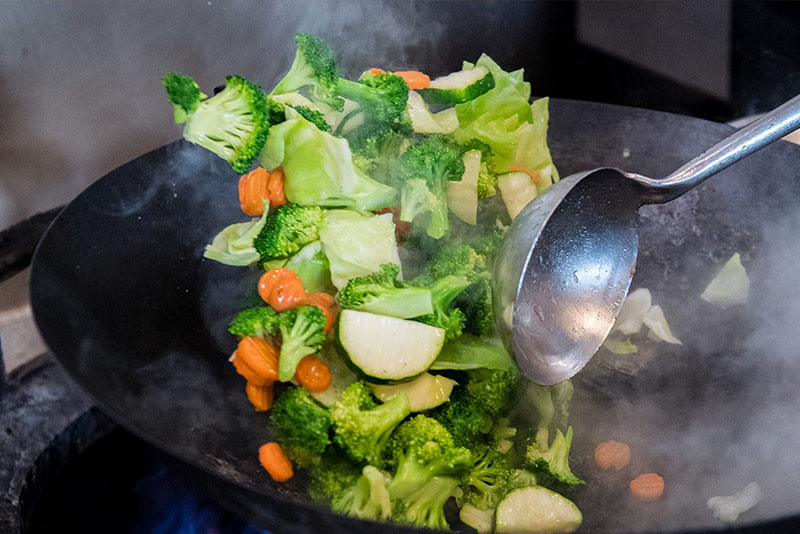 Cooking up in the wok are fresh mixed vegetables courtesy of Panda Express./ IMAGE Panda Express
The Partnership
Consequently, JFC and Panda Restaurant Group, known not only for their great food but also, for giving an altogether satisfying dining experience to its clients, expressed their delight regarding the partnership. In fact, Co-Founder of Panda, Andrew Cherng, took pleasure in reaching out to JFC as they share the commonality of  "inspiring people to better their lives."
On the other hand, Tony Tan Caktiong, Chairman of JFC, also talked highly of Panda Express' strong brand which is in line with JFC's own strength of bringing "excellent tasting dishes at reasonable price points."
As of today, Panda Express has yet to announce when and where their restaurants will be located, so stay tuned as this promising new addition to the Philippines' favorites is on its way to Manila!
---
Sources: Jollibee Foods Corporation Press Release, Panda Express Website, Panda Express Facebook
All images grabbed from Panda Express