Dyson Introduces the V10: Power of a Corded in a Cordless Vacuum
Dyson recently unveiled its most advanced motor technology to date. The all new Dyson digital motor V10 is almost half the weight of its predecessor, the Dyson digital motor V8. It is Dyson's fastest and most power-dense digital vacuum motor – spinning at up to 125,000 rpm. Sitting at the heart of the new Dyson Cyclone V10™ cord-free vacuum cleaner, it drives powerful suction, with all the versatility that comes from the cord-free format.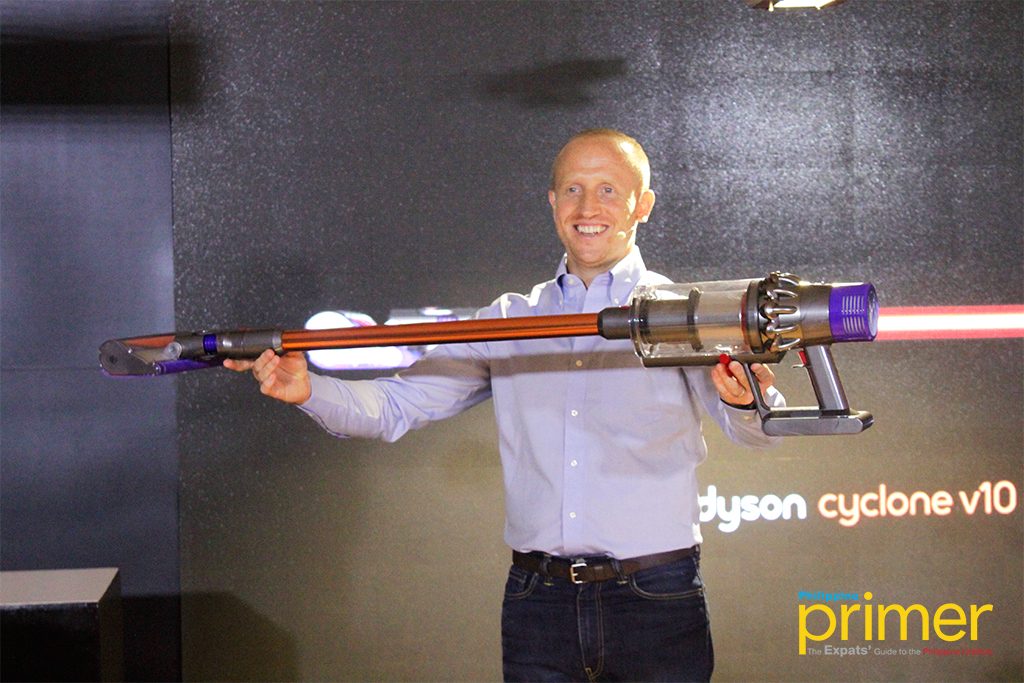 Kevin Grant, Dyson's Head of Category for Floor Care, proudly holds the new Dyson Cyclone V10™, which houses Dyson's latest innovation in digital motor technology.
James Dyson said "a strong performing machine starts with an efficient motor. The Dyson digital motor V10 is Dyson's most advanced. It's what enabled us to entirely change the format of a vacuum cleaner, to achieve Dyson's best ever cord-free machine performance. The Dyson Cyclone V10 vacuum is so light, so powerful, it can deep clean anywhere in your home. It is the reason why I've stopped developing full-size vacuums."
Motor technology Re-thought
A COMPARISON OF MOTORS. Here's how Dyson has revolutionized vacuum cleaners forever. On the far right: the competition. Strong and powerful, yet bulky, heavy, and speed restricted. Towards the far left: Dyson's digital motor. Strong and powerful, yet lightweight and energy-efficient.
We've all used a corded vacuum cleaner at one point in our lives. They're strong, powerful suction is often the reason why we get them; however, their motors make them difficult to use. Conventional brushed motors tend to be bulky, heavy, and speed restricted, typically weighing about 800g and spinning at no more than 41,000 rpm.
The new Dyson digital motor V10 is Dyson's most advanced Dyson digital motor. It spins 2,000 times a second, making it Dyson's fastest digital motor. Compared to Dyson's first generation motor, the Dyson digital motor V2, the Dyson digital motor V10's power to weight ratio has increased over three times. Such performance increases required Dyson engineers to completely re-engineer the motor:
Where the Dyson digital motor V2 had a two-pole design, the Dyson digital motor V10 has eight poles. This means it can switch faster, making it smaller and lighter. It switches up to 16,000 times a second: exciting the impeller and delivering high performance.

It has a re-engineered impeller. This new diagonal impeller design gives it a long narrow layout and enables it to channel more airflow. Dyson engineers overlapped the impeller's vanes, creating a larger surface area and improving efficiency.

The motor needed a light, strong shaft that was able to cope with speeds of up to 125,000 rpm. So Dyson engineers used ceramic, which is cured at 1,600 degrees Celsius and three times harder than steel, at half the density.
The Dyson digital motor V10 is intelligent and continually adjusts to maintain maximum performance: it knows its altitude, the barometric pressure, temperature and could even work out the weather. Using its pressure sensors, it knows whether you are upstairs or downstairs. In fact, it is so sensitive it knows the altitude difference between the table and the floor. It uses this information to make minute adjustments to deliver constant performance at different air pressures. It will give the same high performance whether you are in a high altitude city like Mexico City and Denver, or a low lying city like Amsterdam.
The New Dyson Cyclone V10™ vacuum
BUILT AROUND THE V10™. After remaking their digital motor, Dyson then built around that to create what is perhaps the most powerful cordless vacuum cleaner to date.
The Dyson Cyclone V10­™ cord-free vacuum is built around the Dyson digital motor V10. The new motor allowed Dyson engineers to rotate the cyclones and bin assembly by 90 degrees, into an in-line format, creating a linear airflow path– improving the number of Air Watts of suction by 20%2. .It also allows a point-and-shoot bin emptying mechanism for ease of use. And with a choice of up to 40% bigger bin capacity, you can clean more of your home and empty less. Top to bottom. Then out to the car.
Separation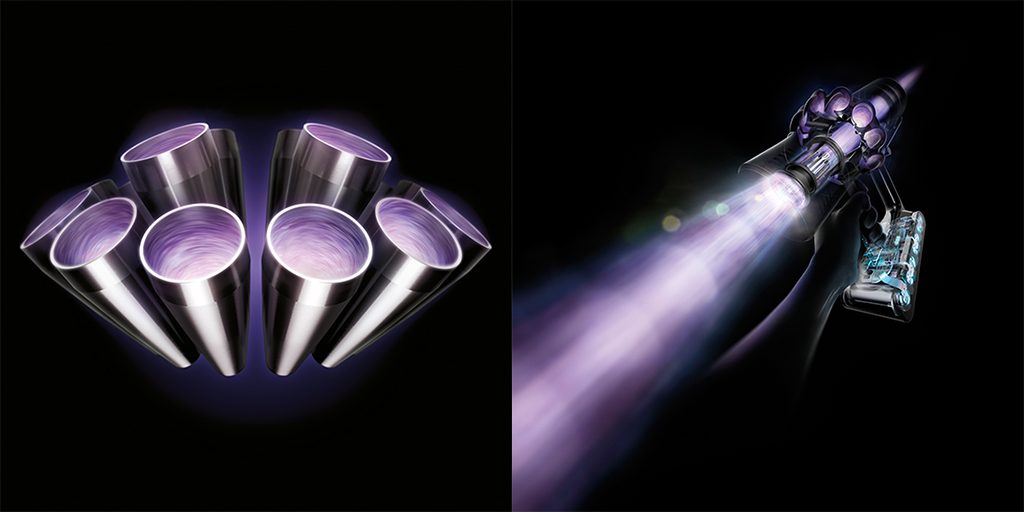 Dyson's 14 cyclones (left) generate so much power that you don't lose any suction—even after years of use. Combined with the Dyson Cyclone V10's straightline airflow (right), it puts the most powerful cordless vacuum cleaner in your hands and makes cleaning easier.
Other cyclonic vacuums can be inefficient. Dust and dirt are not efficiently separated from the airflow so it instead ends up on the filter where it chokes the airflow from the motor. Suction drops.
The Dyson Cyclone V10™ cord-free vacuum has no loss of suction – suction performance is constant. 14 cyclones are precisely arranged around the central axis of the machine, enabling the airflow inside each cyclone to travel at up to 120 miles per hour, generating over 79,000G, separating even microscopic dust from the air efficiently.
Filtration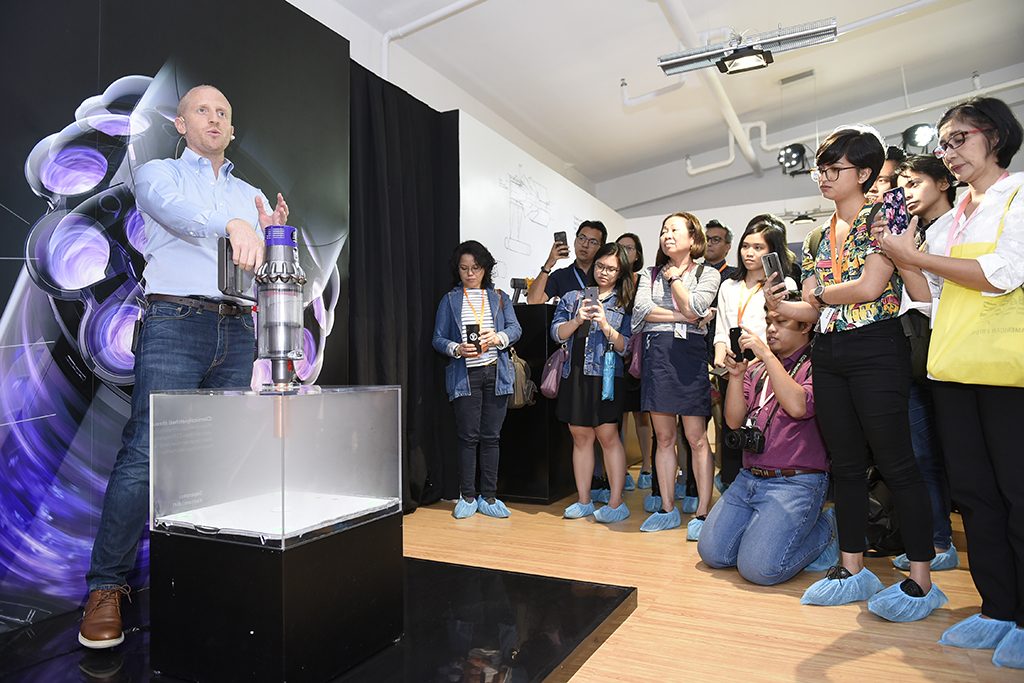 The filter works so well, that even smoke (encased in the glass box) doesn't escape into the room.
Other vacuum cleaners can expel dust, allergens, and bacteria into the air you breathe.
Dyson engineers have wrapped both the pre- and post-motor filters around the motor as one sealed unit, for improved whole-machine filtration, capturing 99.97% of allergens as small as 0.3 microns – releasing cleaner air.
Energy Storage System
Dyson engineers wanted to deliver enough power to the fast spinning Dyson digital motor V10, while also extending the runtime. They engineered a more energy-dense battery, without any additional weight. Along with improved electronics and battery system management, it gives the new Dyson Cyclone V10™ cord-free vacuum up to 60 minutes of suction. And because the machine has a trigger, rather than an on/off switch the moment you pull the trigger, the motor starts and accelerates to operating speed in a fraction of a second.
Cleaner Heads
MEET FLUFFY, otherwise known as the SV12 fluffy head. The cutaway shows the inner workings of the brush bar, whilst demonstrating the pick up of small and large debris, from the surface and deep within the crevice.
Dyson engineers don't stop at the vacuum itself – they are passionate about developing better cleaner heads and tools too. The direct-drive cleaner head has a powerful motor located inside the brush bar. This drives stiff nylon bristles deep into carpet pile to remove ground-in dirt and pet hair, while there are also soft anti-static carbon fiber filaments to remove fine dust from hard floors. The soft-roller cleaner head removes large debris and fine dust from hard floors simultaneously. A larger roller covered in soft woven nylon traps large debris, whilst anti-static carbon fiber filaments remove fine dust. A direct-drive motor sits within the roller, allowing full-width, edge to edge cleaning.
Still not convinced? You can get a glimpse of the Dyson Cyclone V10™ Absolute cord-free vacuum at the Dyson Demo in Greenbelt 5, SM Aura Premier, and The Podium. It's also in Century City Mall, Greenhills Promenade, and selected branches of Rustan's, True Value, and Abenson. It retails for Php 49,500.
---
This is a press release from Dyson. Minor edits were made prior to publishing.