LIST: Specialty Gyms in Metro Manila
Living in the modern world seems to have picked up a pace faster than Earth revolves around the sun. With more advanced technologies rising and food becoming greasier and healthier, more often than not, it is the body that suffers. In modern times, it has become harder and harder to recover from all these hustle and bustle. People are finding it hard to stay on the treadmill or keep counting push-ups.
To give you a new sense of motivation to stay fit, we list down some of the best specialty gym studios in the metro, specializing in different approaches to fitness and wellness.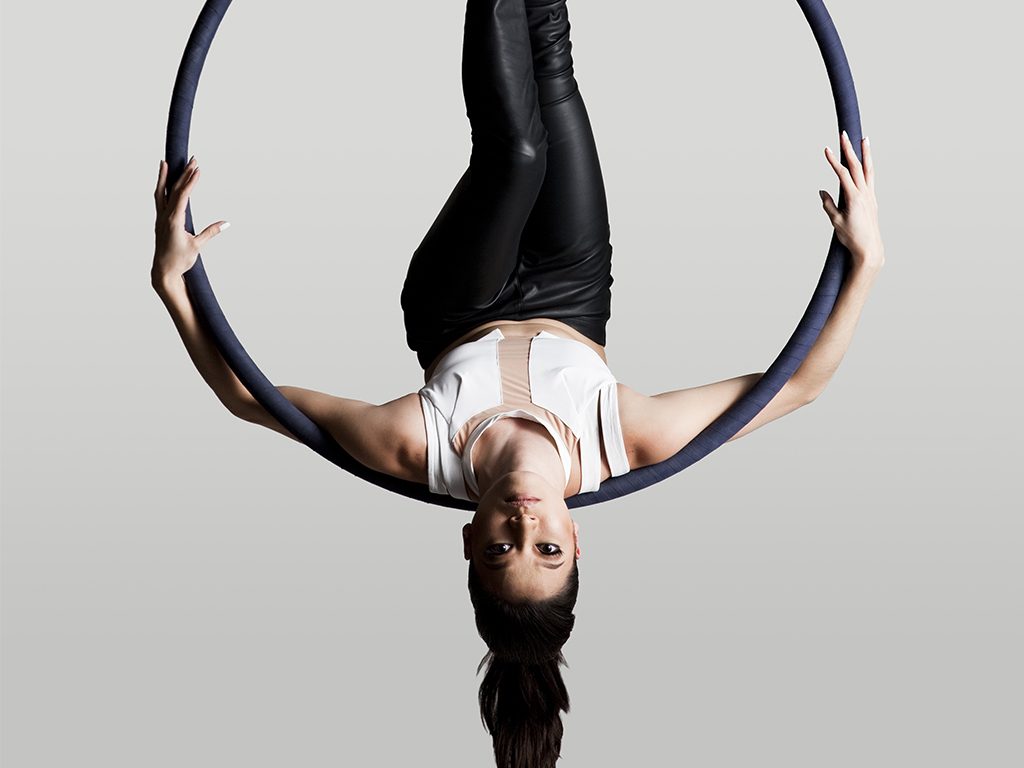 Polecats Manila
(Pole Dancing)
An aerial and pole fitness studio situated in the metro, Polecats Manila aims to promote pole dancing and aerial tricks both as an art form and as a fitness alternative. With branches in Ortigas, Makati, Alabang, and The Fort, they desire to bring the art closer to people by embarking on a confidence crusade for women and men, through classes on Pole Fitness and Dance, Flexibility and Conditioning, as well as sessions on using Aerial Hoops and Aerial Silks.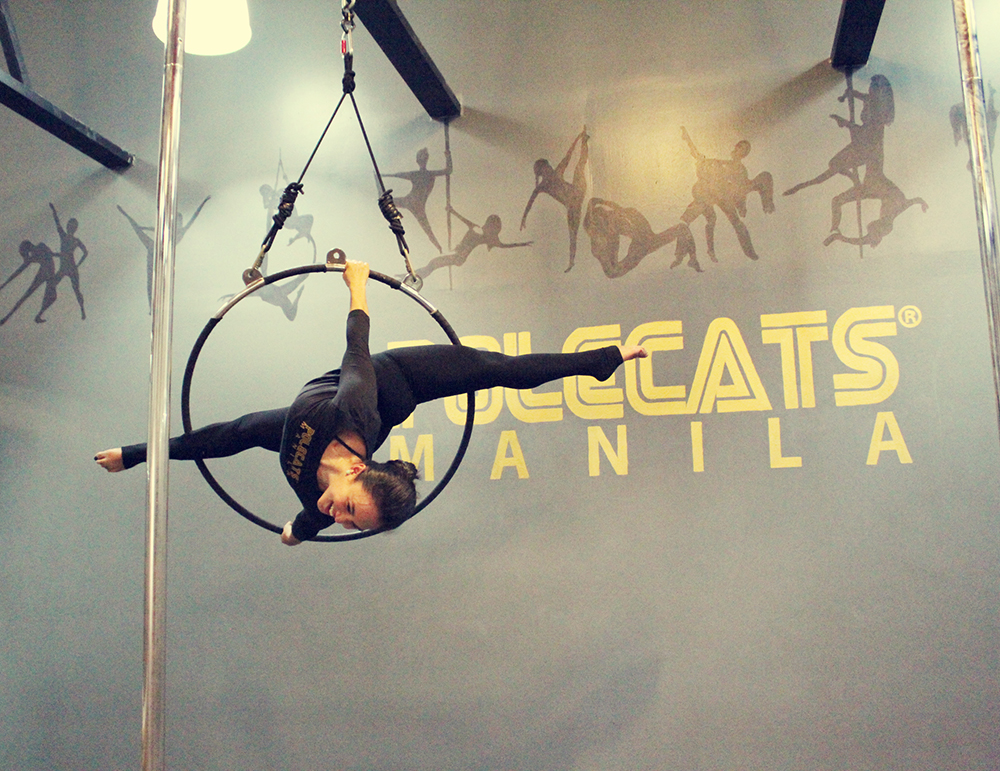 IMAGE Polecats Manila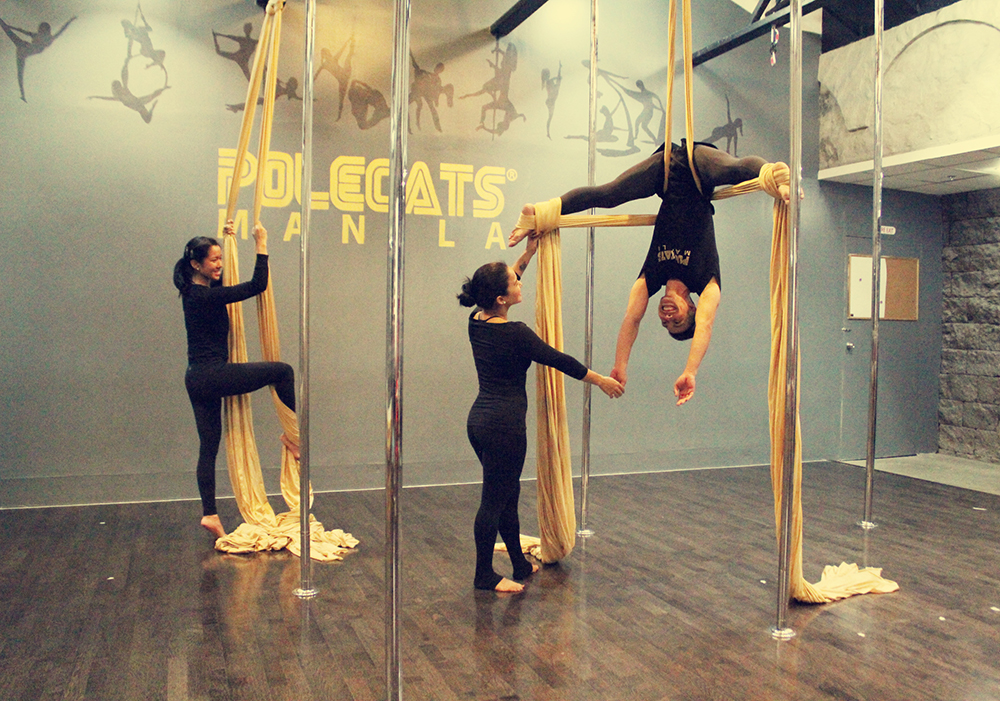 Polecats Manila's Aerial Hoops students are to wear a long-sleeved cotton shirt and ankle-length leggings./ IMAGE Polecats Manila
Friends and families may set on this journey as Polecats Manila offers each class for Php 600 in private and in groups. Moreover, packages of 8 All Classes (Php 4,000/month), 8 Pole Classes (Php 4,500/ 2 month), Pole Unlimited (Php 5,500/month), and Super Unlimited All Classes (Php 6,500/month) are also available.
By completing a structured curriculum with an assembly of competent instructors, a summer students recital is conducted every July, as if to commemorate everyone's own brand of beauty and hard work.
Address: Polecats Manila, 22/F Strata 100, F. Ortigas (formerly Emerald Avenue), Ortigas Center, Pasig City
Contact No.: 02-634-0107/ 0917-700-7653
Business Hours: 12 pm to 1 pm, 6 pm to 9 pm (Mon. to Thu.); 6 pm to 9 pm (Fri.); 10 am to 5 pm (Sat.)
Website: polecatsmanila.com
Primal Ape CrossFit
(CrossFit)
Working out by yourself can be dragging, but with Primal Ape CrossFit championing one community of CrossFit athletes around the world, training has never been this fun and encouraging with family!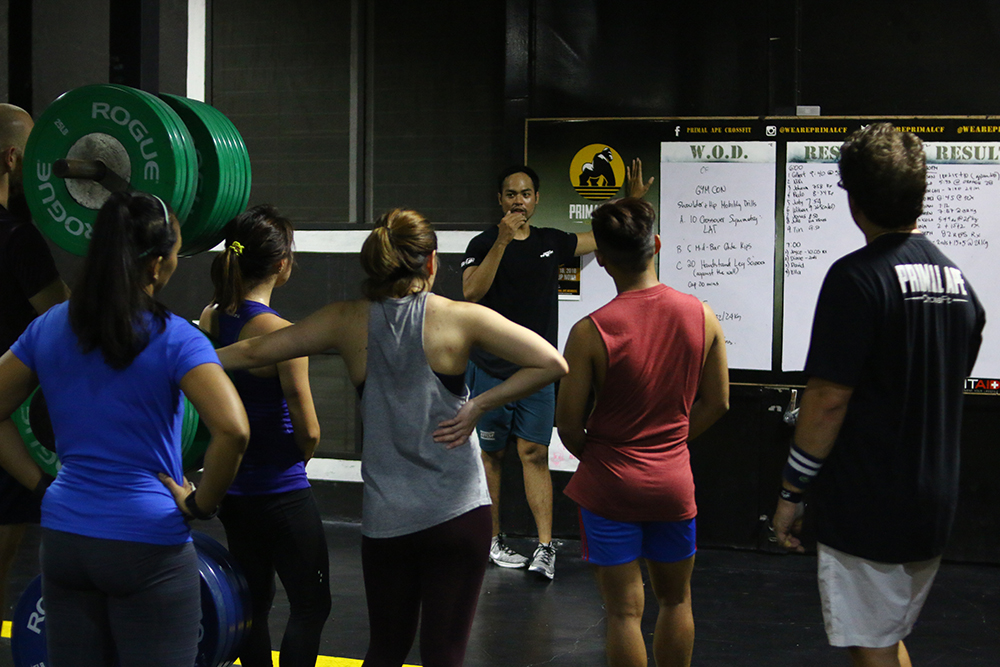 Athletes gather for Work Out of the Day./ IMAGE Primal Ape Crossfit
For beginners, Primal Ape offers Primal Instinct or their foundations class which teaches you the basic movements of CrossFit. This then ushers you into discussions of the CrossFit Pyramid with nutrition, metabolic conditioning, gymnastics, weightlifting, and sport as main components. From this requisite class comes in Primal Fit for full-body conditioning and Primal CrossFit for constantly varied, high-intensity functional movements. What's more is that team-building activities are also most anticipated within Primal Ape CrossFit, located at Don Chino Roces Avenue, Makati City.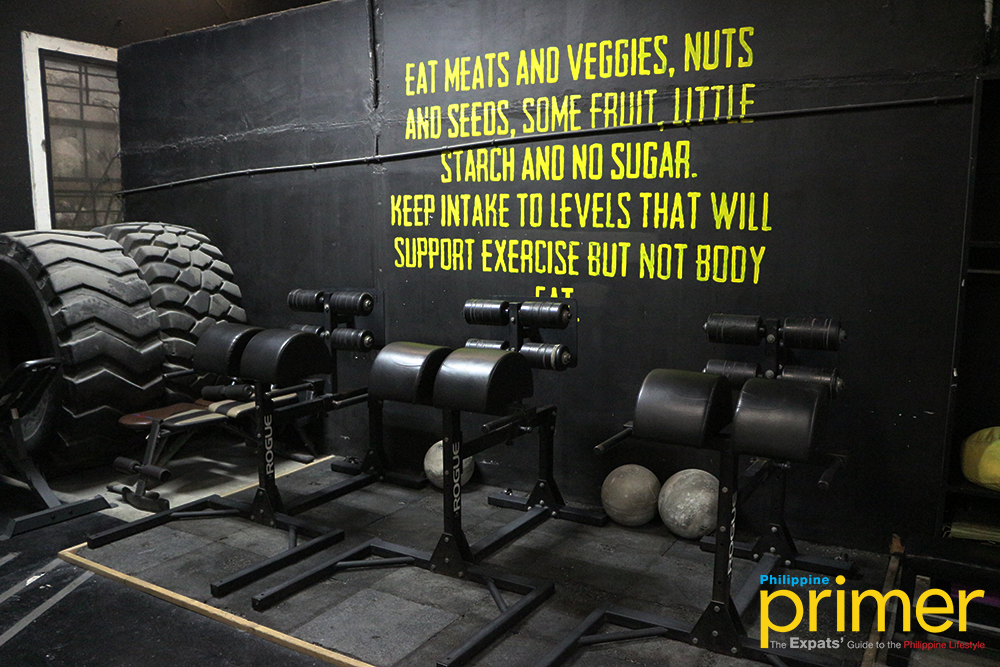 CrossFit is not only concerned with physical fitness but also with nutrition and proper diet.
Try their introductory class for free before starting with Primal Instinct with two days mandatory for beginners (Php 2,500), transitioning to Primal Fit Monthly Unlimited (Php 4,500), Primal Fit 12 Sessions (Php 3,750/ 30 days consumable), and finally the CrossFit Monthly Unlimited (Php 5,500), and CrossFit 12 Sessions (Php 4,750/ 30 days consumable).
For more information regarding their class schedules, visit their Facebook Page at Primal Ape CrossFit or their website at Primalapecf.com. You may also call 02-832-8069 for more details.
Address: 2135 Don Chino Roces Ave., Makati City
Contact No.: 02-832-8069
Business Hours: By Appointment
Website: Primalapecf.com
Facebook: Primal Ape CrossFit
Urban Ashram Yoga
(Yoga)
A toned body is not always equated with a healthy lifestyle, but with Urban Ashram Yoga aiming to improve both mind and body, both can be achieved. Thanks to their studios in Pasig and Bonifacio Global City, the benefits of regular yoga is accessible to everyone, equipped as the studios are with top quality mats, blankets, and other useful props for a quality yoga experience.
Urban Ashram Yoga's Pasig Studio provides a calming environment to its clients./ IMAGE Urban Ashram Yoga
With instructors dedicated to teaching yoga within a serene environment, individuals may enjoy the discipline as well as its benefits.
A 15-day New-to-Yoga pass is available at Urban Ashram Yoga for Php 1,500. They also offer package rates of Unlimited 1-Week Pass (Php 1,000), 1-Month (Php 4,000), and 12-Month (P46,800). Birthlight, Prenatal, and Postnatal Yoga Pass are also available at Php 1,000 for Drop-In, Php 3,300 for 5-Class Flexipass, and Php 5,250 for 10-Class Flexipass.
IMAGE Urban Ashram Yoga
Visit their website at Urban Ashram Yoga for more information regarding their schedule. You may also call them at 02-661-9642 or at 0917-881-9642.
Address: (Main Studio) 3/F Brixton Building Brixton Street, Barangay Kapitolyo, Pasig City
Contact No.: 02-661-9642/ 0917-881-9642
Business Hours: 6 am to 9 pm (Mon. to Fri.); 8:30 am to 5 pm (Sat.); 9 am to 5 pm (Sun.)
Website: urbanashramyoga.com
Facebook: Urban Ashram Yoga
Yoga Hive
(Yoga)
More than the physical, one's mind and self are also integral for both fitness and wellness. Yolked together with a sense of community and lifestyle, these are the makings of Yoga Hive.
Instructor Paulo Leonido during one of the Yoga classes at YogaHive./ IMAGE YogaHive
Ranging from Easy, Intermediate, and Power, YogaHive's classes introduce expats and locals to Vinyasa Yoga, flowing with its freestyle sequences, and the Yin Yoga characterized by calm, static pause and poses among sessions, both for beginners and veterans.
With dancers, fitness trainers, mothers, and even lawyers for instructors, drop-in to their Yoga class for Php 550 or avail of their 1 Week Unlimited (Php 1,400), 1 Month Unlimited (Php 4,600), and 3 Months Unlimited (Php 13,200) Classes. Class Passes are also available at Php 4,600 (45 Days) for the 10-Class Pass and Php 8,700 (90 Days) for the 20-Class Pass.
Drop in at YogaHive as they also offer Pole Fitness for men and women, Hoops, and Zumba class for Php 550.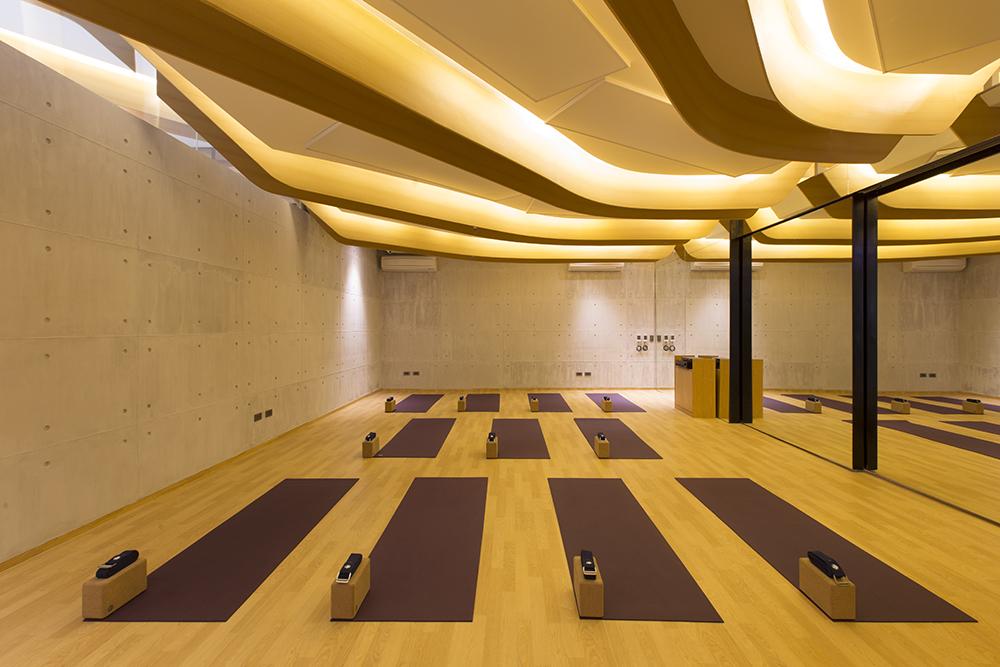 IMAGE YogaHive
Address: 101 Three Salcedo Place, 123 Tordesillas St., Salcedo Village, Makati City
Contact No.: 02-729-0254/ 0977-816-9642
Business Hours: 6 am to 9 pm (Mon. to Fri.); 7 am to 12 nn (Sat. to Sun.)
Website: yogahive.ph
Facebook: YogaHive PH
Mindful Movement Asia
(Pilates)
Pilates, as a body fitness technique which balances the muscles, was born to Joseph Pilates of Germany during World War I, whose approach used the equipment dubbed as the Pilates Reformer. Years after, this broke greatly in Japan, with not only Hollywood celebrities patronizing it, but also dancers, athletes, and the public in general.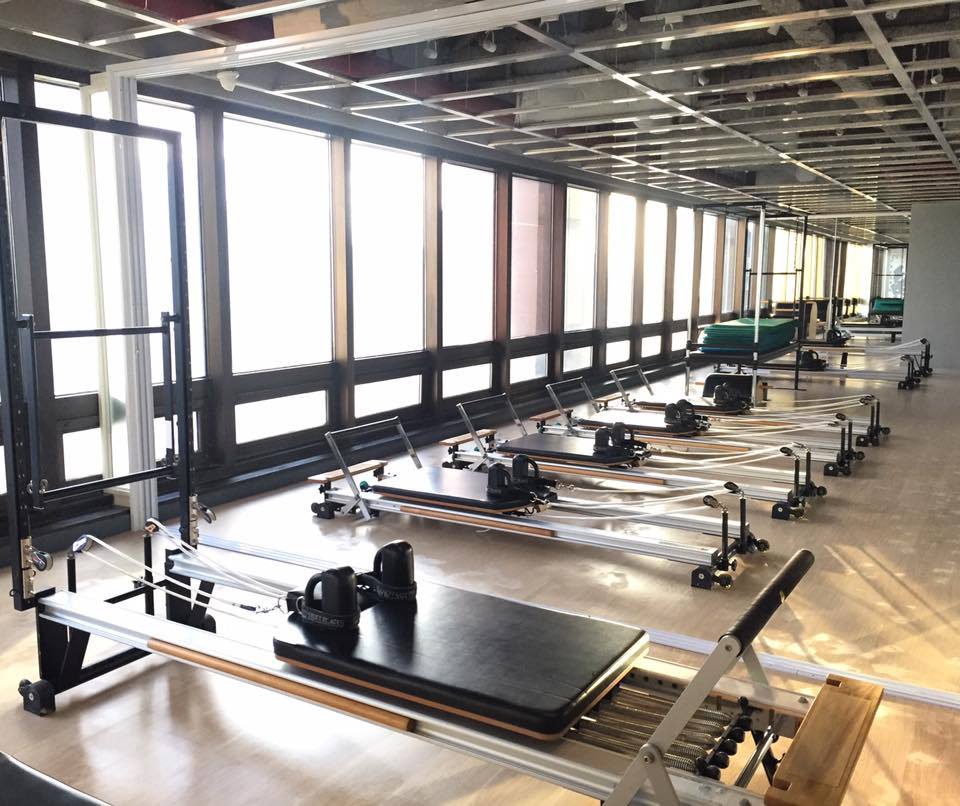 Pilates Reformer graces Vivian Zapanta's studio./ IMAGE Vivian Zapanta Pilates Studio
As a pioneer of Pilates and as a trainer of the STOTT Pilates herself, Vivian Zapanta, who is prominent in the Philippines as an expert trainer of this fitness method, establishes her own studio with an aim to personally tailor each experience according to each student's abilities.
 IMAGE Vivian Zapanta Pilates Studio
Group mat classes at Vivian Zapanta Pilates Studio is available at Php 450/hour. Private packages at Php 1,450 are also offered in her classes from 6 am to 8 pm on weekdays and 8 am to 2 pm during Saturdays.
You may visit her website at Vivian Zapanta or call at 02-886-774 or at 0917-844-0945 for more details.
Address: G/F-B, Tiffany Place #156 L.P. Leviste St. Salcedo Village, Makati City
Contact No.: 02-886-7744/ 0917-844-0945
Business Hours: 6 am to 8 pm (Mon. to Fri.); 8 am to 2 pm (Sat.)
E-mail Address: studio@vivianzapanta.com
Website: vivianzapanta.com
B+B Studio
(Pilates)
No stone is left uncovered with B+B Studio's Pilates, located at Bonifacio Technology Center in BGC. Every muscle you have in your body can positively be revived and rehabilitated through Pilates.
One of the instructors, Armand Mendoza, uses the Pilates Reformer as he specializes in physical therapy at B+B Studio.
With B+B Studio's 10 instructors, highly grounded in the field of dancing, athletics, fitness, and medicine, complementing the sound medical principles integrated to the program, B+B Studio shares trainings with the public that are highly recommended for rehabilitation, toning of the body, and strengthening of the core and the spine.
With branches in Bonifacio Technology Center, Infinity Tower, and Aspire in Quezon, try undergoing their private (Php 2,050/session) and semi-private classes (Php 1,700/session) or go in threes for Php 1,200 per session. They also offer package rates inclusive of 8 and 12 sessions for the Private Package (Php 14,800 and Php 21,000), Semi-Private Package (Php 12,000 and Php 16,800), and Trio Package (Php 12,000 and Php 12,600).
Set an appointment with them from 7 am to 8 pm (Monday to Friday) and 8 am to 2 pm (Saturday) and call them at 02-815-1009 or at 0917-899-2639.
Address: G/F Bonifacio Technology Center, 31st St. cor. 2nd Ave., BGC, Taguig City
Contact No.: 02-815-1009/ 0917-899-2639
Business Hours: (By Appointment Only) 7 am to 8 pm (Mon. to Fri.); 8 am to 2 pm (Sat.) 
Integrated Body Arts
(Pilates)
As the Philippines' first Pilates studio established in 1996, Integrated Body Arts (IBA) is a  Romana's Pilates® Certification Center fully furnished with high-quality Pilates equipment, and equipped with certified instructors.
In the helm of Integrated Body Arts are certified staff who will guide you to the best Pilates experience possible./ IMAGE Integrated Body Arts
With their combination of "personalized attention and intelligent teaching," plus with their approach of bringing the mind, body, and soul into one harmony with each other, Integrated Body Arts was a recipient of the 2017 Fitness Best Powerhouse Award – Pilates Studio of the Year, awarded by Fitness Asia, proving their no-nonsense take on Pilates.
IMAGE Integrated Body Arts
IBA's private session rates range from Php 1,500 to Php 1,800 for Certified Teachers and Php 500 for Teacher Trainees. To make an appointment with them, you may contact Integrated Body Arts at 02-890-1286 or at 0917-531-1125. 
Address: 227 Nicanor Garcia St., Bel Air Village 2, Makati City
Contact No.: 02-890-1286/ 0917-531-1125
Business Hours: (By Appointment Only) 7 am to 5 pm (Mon. to Fri.); 8 am to 12 pm (Sat.) 
Website: ibapilates.com
UFC Gym
(Mixed Martial Arts)
Looking for a gym in Muntinlupa specializing in Mixed Martial Arts (MMA)? Then UFC at Alabang might be just what you are looking for. A prominent brand for MMA training, UFC Gym offers various functional fitness programs and MMA classes not only for adults but also for the youth, ages 3 to 17 years old! With this, the whole family may surely just find the fitness approach suitable to them with UFC Gym.
UFC in Alabang, Muntinlupa, offers classes ideal for the whole family./ IMAGE UFC Gym
To experience their unlimited all-day access not only in the Philippines but around the globe, avail of their annual membership fee for Php 67,500.
Address: BMW Bldg., Madrigal Ave., cor. Commerce Ave., Alabang, Muntinlupa City
Contact No.: 02-957-9236/ 0917-773-7032
Business Hours: 5 am to 11 pm (Mon. to Fri.); 6 am to 9 pm (Sat.); 8 am to 9 pm (Sun and Holidays)
Website: ufcgym.com.ph
Facebook: UFC Gym Philippines
Safehouse Fight Academy
(Mixed Martial Arts)
The Safehouse Fight Academy prides themselves on three things: One, their array of competent coaches, who are not only ready to give you an authentic martial arts experience but also to inspire you with their character; second, their home laden with fine Muay Thai, Boxing, Wrestling, Jiu-Jitsu, and Kids Classes among their classes; and lastly, their title of being "the country's first homegrown fight academy."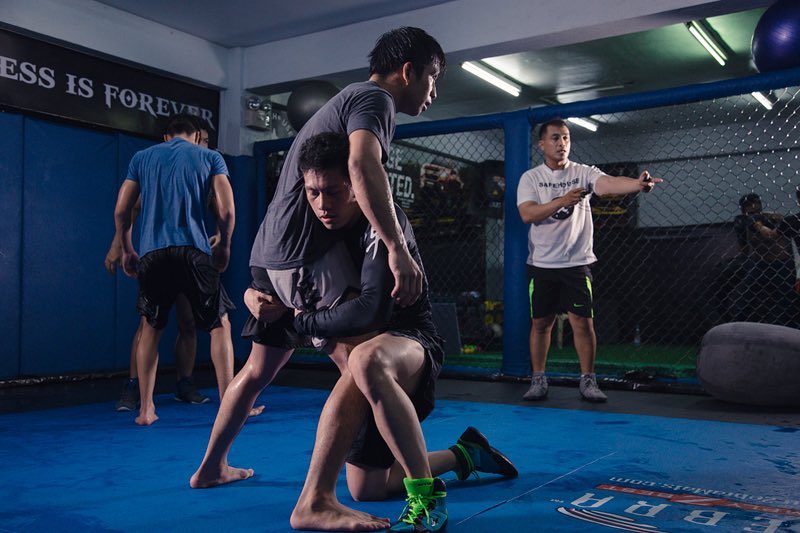 IMAGE Safehouse Fight Academy
Be a member of the Safehouse Fight Academy for either six months (Php 1,500) or one year (Php 2,500). As their rates also vary per program and number of sessions, you may contact them at 0917-827-6713 or at 02-351-2051. You may also check their website at Safehouse Fight Academy.
Address: 3/F Lamco Bldg., Quezon Ave., Quezon City
Contact No.: 02-351-2051/ 0917-827-6713
Website: safehouseacademy.com
Facebook: Safehouse Fight Academy
So, which ones would you like to commit to among our list? Remember, that a balance of nutrition and fitness are two of your greatest weapons! Do not forget to share your thoughts with us in the comments section below!
---
This first appeared in Philippine Primer Magazine's September 2018 issue.