5 Artworks from Notable Filipino Artists
We might have reached a high point in the art industry with the marriage of technology and the art through platforms immortalizing the many works of our Filipino artists. It is a given fact that interactive platforms, such as Samsung's FACETS application, let these masterpieces travel globally, letting people witness the talent the Filipinos have.
With this, Philippine Primer gives you artworks from five notable Filipino artists who have made a name in different parts of the world.
Marina Cruz' Crumpled Dresses
Who would have thought that fabric, the way it crumples and folds, as well as its most imperceptible stains, can be captured and painted on a canvas? Like an actual discarded clothing, Plain with Stains, 2016, oil on canvas, by Marina Cruz, captures the relationship between colors and shadows, lines and shapes. Graduating with honors at the University of the Philippines College of Fine Arts, Cruz won the 2008 Ateneo Award Arts which granted her residency in Australia.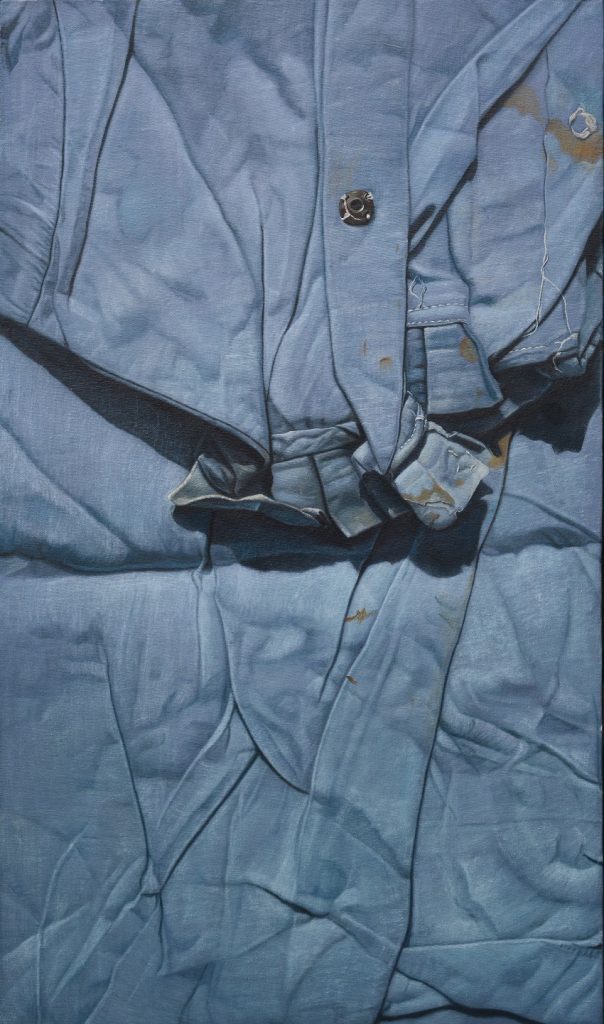 IMAGE Arndtfineart.com
Benedicto Cabrera's Many Women
National Artist of the Philippines for Visual Arts, Benedicto Cabrera, is most prominent for painting the "fairer sex" in their most raw and natural condition– in the nude. And sometimes blanketed with too many pieces of clothing. With a few versions of Mother and Child on canvas, Ben Cab studied in the College of Fine Arts at the University of the Philippines and was already able to show his works in exhibits held in Tokyo, New York, Los Angeles, and London.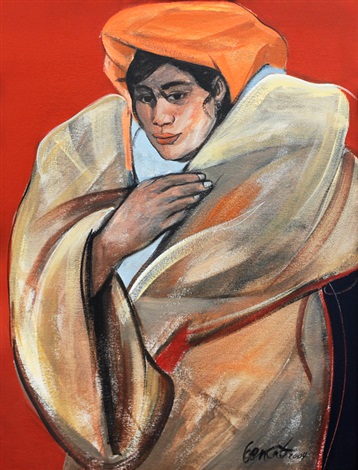 IMAGE Artnet
Rodel Tapaya's Native and Contemporary Dichotomy
Seemingly fantastical, Rodel Tapaya's Dry Spell, looks to be a network of folktale, meshed within the conundrums of modern times. It is a monster, waiting to devour its viewers with longing to stare at the painting, analyzing every animal painted with acrylic. Like a film riddled with symbolism of many kinds, Tapaya's paintings urge its viewers to think critically.
Tapaya, with his flair for painting the whimsical, was given an opportunity to study at two notable schools, one in New York, the other at Finland, due to him winning the Nokia Art Awards.
What is he trying to say in his succeeding paintings? We ought to find out.
IMAGE Arndfineart.com
Geraldine Javier's Rough Elegance
Geraldine Javier is prominent for the tense images of death and sorrow portrayed through her paintings. "The Proposal for National Dog of the Philippines" makes her art all the more cynic with hammered leaves, meshed with acrylic and wood. Even through observation, the painting smells of slaughter which she puts in artistic revelry.
Javier received the Cultural Center of the Philippines' Thirteen Artists Award in 2013.
IMAGE Arndtfineart.com
Jose John Santos III's Collages
Jose John Santos III, who revels in ambiguity, plays with found pieces of objects and assembles them in one masterpiece. "Things We Keep Along the Way" is an example of one of his many artworks. Majoring in painting at University of the Philippines College of Fine Arts, he also paints collages that wheels viewers into different pictures of the past. He is a recipient of CCP's annual Thirteen Artist Awards, and his works have been featured in different parts of Asia, particularly Beijing and Kuala Lumpur, as well as in the United States.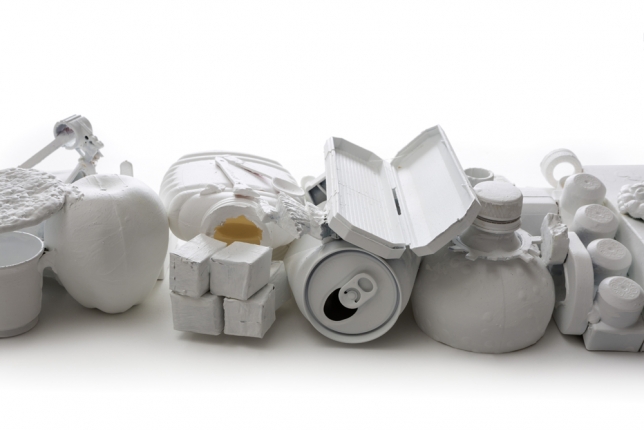 IMAGE Arndfineart.com
IMAGE Christies.com
---
Written by: Chin Sanigan
Sources: Town and Country, Artnet, Gallery Big, Arndtfineart
Featured Image grabbed from: Rodel Tapaya at Arndtfineart.com