HAIR at Onstage Theater: A play that will set you free
Tribal love-rock musical Hair opened November 17, Friday, at the Onstage Theater, Greenbelt as Repertory Philippines' (REP) finale to their 50th anniversary season. REP's adaptation of the classic, which is also celebrating 50 years of production, set the whole house on fire with a loud and intense premiere.
Tribal love-rock musical HAIR is happening at the Onstage Theater until December 17.
Hair is a timeless classic that first hit American theaters in the 1960's. It follows the story of a frenzied tribe of young hippies, joined by Claude (played by Markki Stroem and Topper Fabregas), a native Oklahoma farm boy faking an English accent who is torn between satisfying his family's expectations and dodging the Vietnam War draft.
You will meet many of the "tribe" members along the way and learn each of their subjects of resistance that are all too familiar to many of us—resistance against conformity, resistance against social expectations, and struggles for true freedom, boundless love, and peace.  Despite being set in the 1960's Vietnam war era, the play remains to be relevant to the present day.
Hair is refreshingly loud and wild, forgivably offensive, and brutally honest. The ensemble of actors is truly powerful, with their tireless voices strongly resonating across the stage, creating a greater impact on the various messages that bombard the audience. This production is a refreshing world to be in for conformists, traditionalists, and people who're stuck in the shadow of their bosses.
Created by actors and composers Gerome Ragni and James Rado with music by Galt McDermot, Hair has won the 1969 Grammy Award for Best Score from an Original Cast Show Album. Many of Hair's musical scores have become classic hits, like "Let the Sun Shine In," "Aquarius," and "Good Morning Starshine." (Tip: After the show, you can listen to these songs repeatedly on Spotify!)
Watch out for guest performances during the opening song "Aquarius" by internationally acclaimed singers like Morisette Amon and Mig Ayesa, and theater veterans Sheila Valderrama-Marinez, Kim Molina, Ima Castro, Alys Serdenia, and Abi Sulit.
Hair is running at the Onstage Theater, Greenbelt 1 until December 17. You can check the complete show schedule at Repertory Philippines' website www.repertoryphilippines.ph.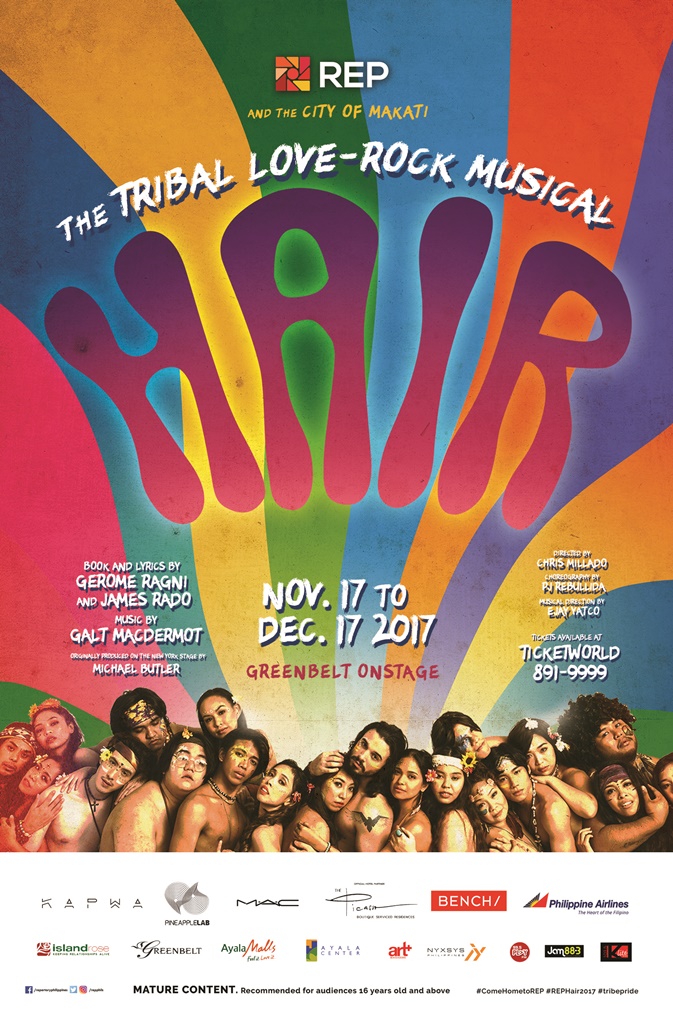 For more information:
Contact numbers: 02-843-3570 (REP) / 02-891-9999 (TicketWorld)
Website: www.repertoryphilippines.ph
Facebook page: www.facebook.com/repertoryphilippines