The Cocktail Cámara de Cádiz at XO46: Local companies to watch out for
The Spanish Chamber of Commerce in the Philippines, or La Cámara, hosted a networking cocktail last night at XO46 Heritage Bistro in Century City.
A FRUITFUL NIGHT. Representatives from both the Spanish Chamber of Commerce in the Philippines and the Cádiz Chamber of Commerce wined, dined, and made connections throughout the night.
It was a great night for building connections, as representatives from the Cádiz Chamber of Commerce got a chance to wine, dine, and chat with local businessmen, most of whom were members of La Cámara.
While most of the businesses were geared towards the usual (import/export, agrifood products, etc.), there were a couple of businesses that caught our eyes during the event.
EnterPH
LOOKING TO ENTER THE PHILIPPINES? EnterPH is quite possibly unique in the services it offers. EnterPH was represented by its co-founders, (from left) Rene Ledesma, Jr., Vanessa Pastor-Ledesma, and Rocky Chan.
Foreign businesses have always struggled to set-up shop in the Philippines, mainly due to the restrictive nature of our investment and business laws. While reforms are on their way, companies who want to establish a base in the Philippines will still find it hard to do so, even with help from the individual chambers of commerce in the country.
Also read: Expat's Quick Guide to Starting a Business in the Philippines
This is where EnterPH comes in. They're a business consultancy firm that specializes in investor relations and helping companies conveniently establish an enterprise in the Philippines. Simply put, they can take care of business registration, product registration, accounting, payroll, staffing, and tax and human resource consulting for both foreign and local businesses to get into the country.
EnterPH can be found at the One Asia Center, 4/F, Crown Center, 158 Jupiter St., Makati City. For inquiries, you can call 02-718-9503 or visit enterph.com.
Advent Manila Hospitality Group (XO46 Heritage Bistro)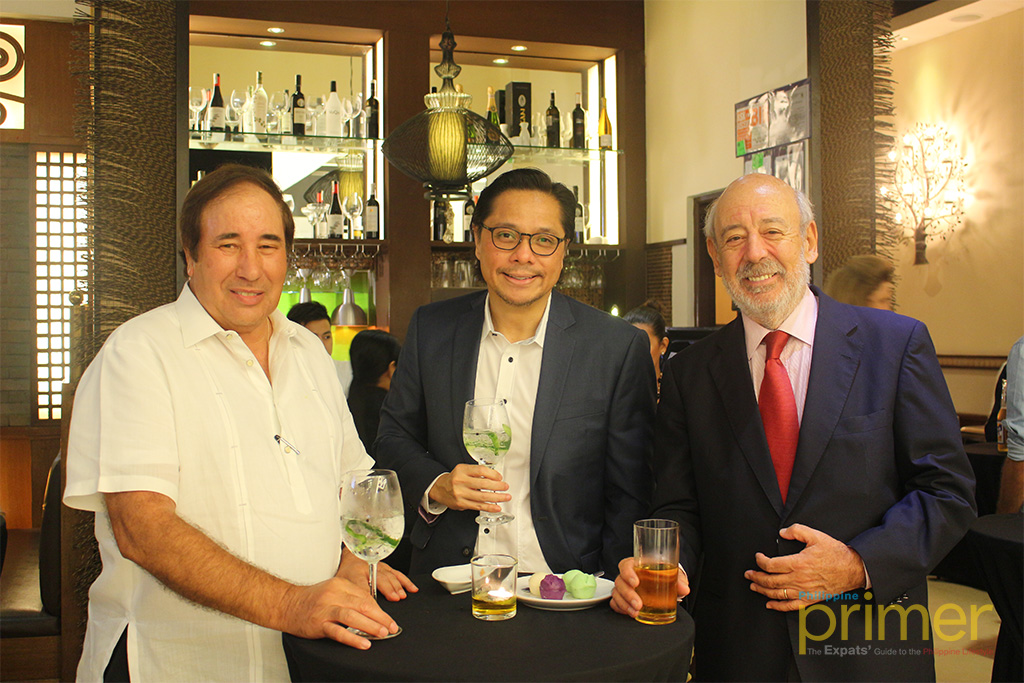 25 YEARS. That's how long Mr. Andrew James Masigan (middle), Chairman and CEO of Advent Manila Hospitality has been in the food industry. He is joined here by the Honorary Consul in Cádiz, Mr. Fernando J. Blanco (right).
The night wouldn't have been possible without Mr. Andrew Masigan of Advent Manila Hospitality Group, specifically his restaurant XO46 Heritage Bistro. With 25 years of experience in the food industry, they're the ideal candidate whenever you talk about restaurants: operations, food tours, catering, and even consultations.
Advent Manila has a couple of good restaurants to their name, but XO46 is something that's completely different. It's a place for Filipino cuisine to shine, and has been called one of the best restaurants in Asia by Tattler Magazine and Dine Asia Magazine, and one of the country's best restaurants by Esquire Magazine.
XO46 Heritage Bistro has branches in S'Maison Conrad Hotel in Pasay, SM Aura Premier in Taguig, Estancia Mall in Pasig, and at Century City Mall and Valero St. in Makati.
Anya Hospitality Corporation (Fuego Hotels)
EXCLUSIVITY AT ITS FINEST. Mr. Alfredo P. Roca (first from right) and his company, Anya Hospitality Corporation, is seen as one of the best when it comes to world-class hotels and resorts that show off Filipino warmth and hospitality.
When you talk of Batangas, these names usually come up: Punta Fuego, Amara Residences, and Playa Laiya. These places all fall under one roof: the Anya Hospitality Corporation (AHC).
AHC is a highly acclaimed provider of hospitality solutions and services. They do hotel and property managements, as well as provide consultancy services for anyone who wants to be involved in the country's fast-rising hospitality and tourism sector.
They're the people who run Fuego Hotels & Properties, which has essentially put the province of Batangas on the map of luxury and leisure resorts.
They're also set to launch their own brand of premier boutique resorts called Anya Resorts, which will showcase their expertise in merging luxury and Filipino elegance. The first of these Anya Resorts will be Anya Resort Tagaytay.
For more information on the Anya Hospitality Group, please visit anyahospitalitycorp.com. You can also visit their office at 5/F, Pilgrim Bldg., 111 Aguirre St., Legaspi Village, Makati.
---
Written by: Andronico Del Rosario