National Book Store offers exciting finds this Back-to-School Season
The school year in the Philippines usually starts in June and July. With the new curriculum, there are some schools and universities that start in August and September. However, as early as May, most parents are already doing their shopping for school supplies for their kids.
The most exciting thing about going back to school — well, for students — is shopping for new school supplies! New notebooks, bags, pens, papers…everything you would need for school. And there's only one store in the country that parents of all generations have been trusting and going back to to buy all these.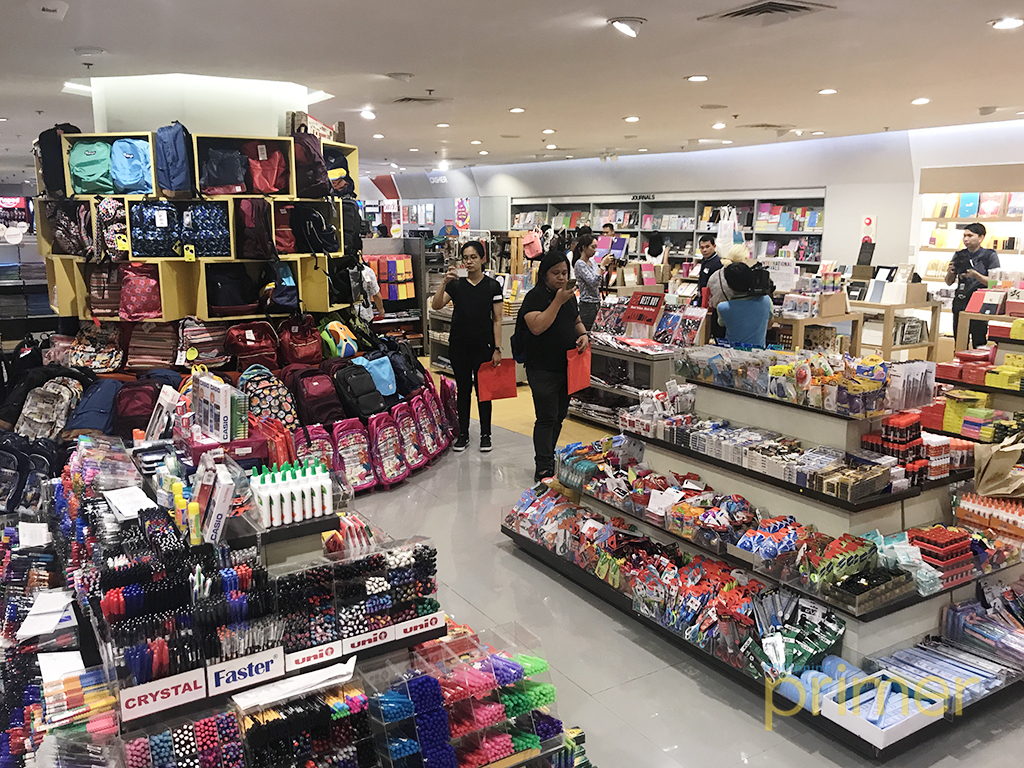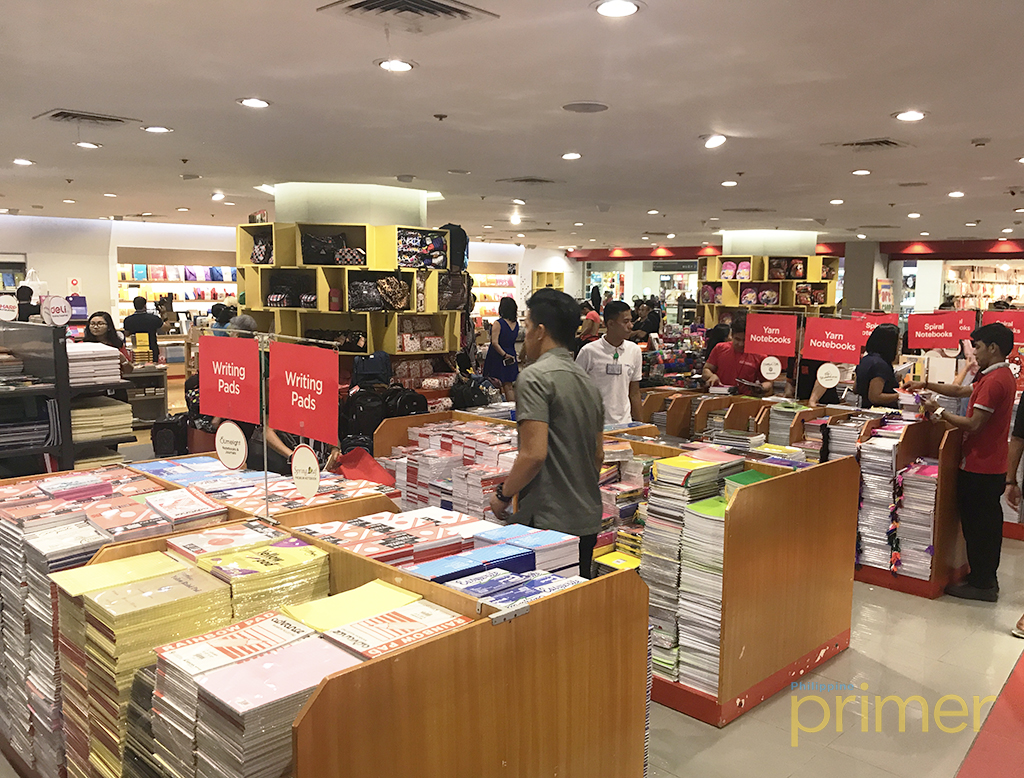 National Book Store, the country's biggest bookstore and office supplies chain, has some very exciting news for parents and students this back-to-school. For 75 years, they continue to give convenience, budget-friendly options, and superb selection of items and brands for every customer.
GRAB & GO PACKS
GRABS & GO PACKS. Items inside include scissors, glue, crayons, and pens.
Grab & Go Packs are as convenient as its name suggests. With everyone's favorite back-to-school items together in one pack, you can just pick one and head straight to the cashier.  There will be no need to visit different aisles looking for those individual items, saving both time and energy.
The store layout has been improved as well, making it easier to go around and shop for the items you need. Tables and shelves are clearly labeled, and items are carefully arranged to make the most of your shopping experience.
BEST BUYS FOR EVERY BUDGET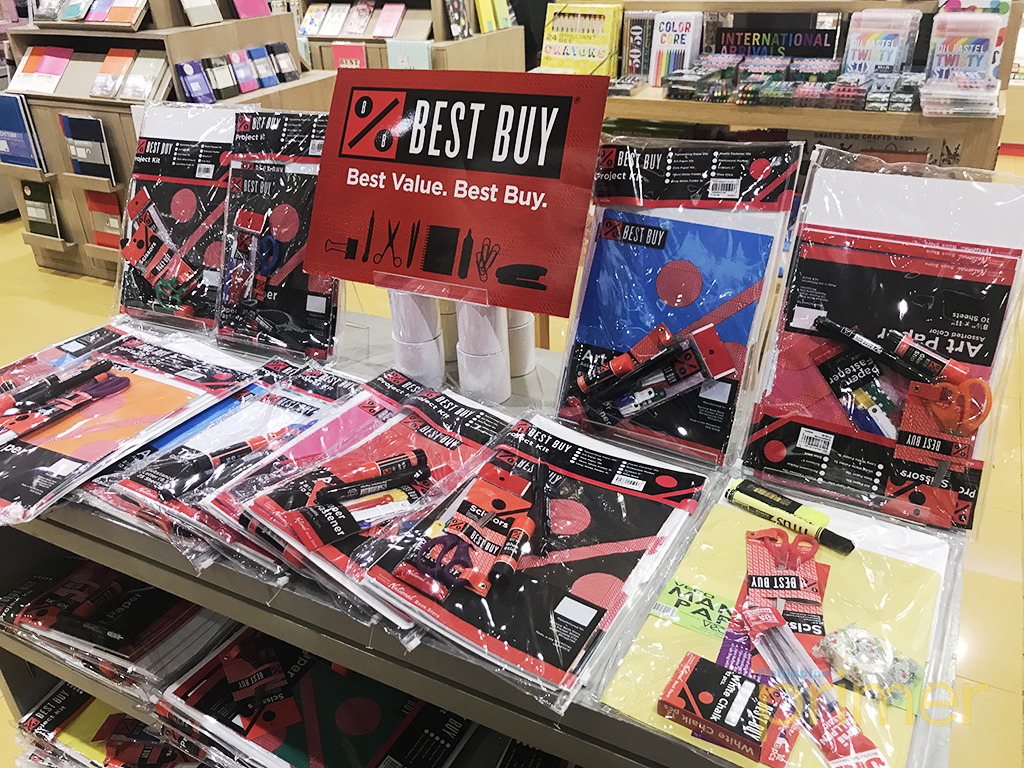 BEST BUY section
National Book Store knows that every back-to-school shopper has an idea of how much they'll spend this season, so they have the best deals for every possible budget.
Go for the Low Price Deals if you are looking for items at P20, P50, or P100 each. Buying 12 notebooks for the price of 10 is now an option! Get the most out of every peso with the Budget Bundles.  For affordable and quality school supplies, look no further than Best Buy.
But, National Book Store didn't stop there. For every P500 purchase, you can get a colorful backpack for just P100. And for every P1,000 purchase, you will get a free tote bag to carry all your new school supplies in.
A SUPERB SELECTION: FROM FAVES TO FINDS 
National Book Store exclusively houses world-renowned brands whose products add style and inspiration to the back-to-school experience.
National Book Store also offers lunch boxes, mosquito patches, personal care products, as well as emergency, survival, and first aid kits.
For budding artists, the Swiss fine art brand Carand'Ache School Line is a must-have.  Its colored pens and pencils deliver highly-pigmented colorsunlike any other.
For high schoolers and college students who do drafting and sketching, Blackwing Pencils are the best of the basics and a long-time favorite.
For college fashionistas, Kate Spade's stylish stationery can complement their everyday style.
Why make National Book Store your destination for back-to-school shopping?  Because it has everything you need and everything else you want! By giving parents and students convenience, budget-friendly options, and a superb selection of products, the back-to-school season has just become one of the most exciting times of the year!
GO ONLINE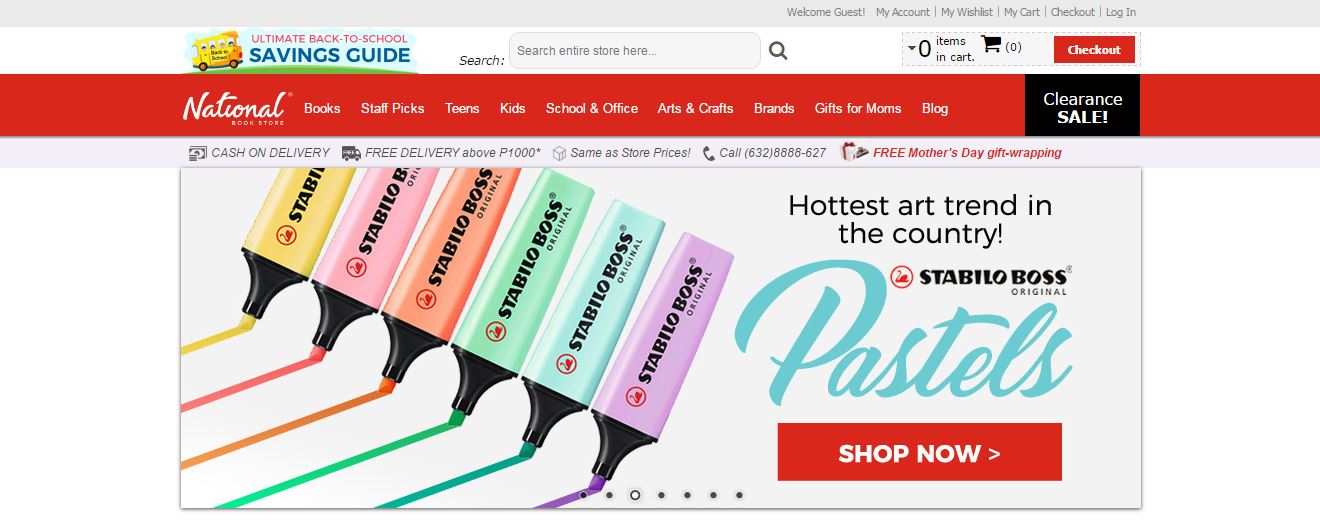 Screenshot from their website
Can't find the time to go to the store? NBS still has you covered. Call the delivery hotline 8888-627, or shop online at www.nationalbookstore.com.
NBS Branches in Makati:
Alphaland Makati Place – G/F Unit 17 Alphaland Makati Place 7232 Ayala Ave. Ext. cor. Maligaya St., Makati City
Cash & Carry Mall – G/F Between South Super Highway & Filmore near cor. Sen. Puyat Ave. Palanan, Makati City
Glorietta 1 – 1st/2nd flr./3rd flr. Space#1-080 1-084 2-74 2075 3090 Glorietta 1 Ayala Commercial Center, Makati city
Greenbelt  – G/F 104 Greenbelt I Paseo De Roxas Ayala Center, Makati City
Power Plant Mall – Rockwell – 2nd Flr. Power Plant Mall Rockwell Center Amapola cor. Estrella St., Makati City
San Antonio Plaza – 2nd Flr. San Antonio Plaza Arcade Near Sanctuary San Antonio Church Mackinley Road, Makati City
Malabon Citi Square – G/F Annex Malabon City Square Bldg. Letre Rd cor Dagat-Dagatan Avenue Longos, Malabon City
NBS Branches in Taguig:
Bestsellers Street Lukes Medical Center – 2nd Flr. Medical Arts Bldg. Rizal Drive cor.5th Avenue & 32nd Avenue Fort Bonifacio Global City, Taguig City
Market! Market! – G/F 151 Market! Market! Mall The Fort Global City, Taguig City
SM Aura Premier – LG/F 26 St. cor. Mckinley Parkway Brgy. Bonifacio Global City, Taguig City
For complete list of branches, please visit https://www.nationalbookstore.com/storelocator/index.
For more updates, follow them on social media – @nbsalert on Facebook, Instagram, Twitter, and YouTube – and visit the NBS Blog – blog.nationalbookstore.com.