8 Most Influential Tycoons in the Philippines
Businessmen are those who merely do business. Business tycoons build successful corporations. They normally stay at that level, only ever looking outside the realm of their business kingdoms to seek new opportunities.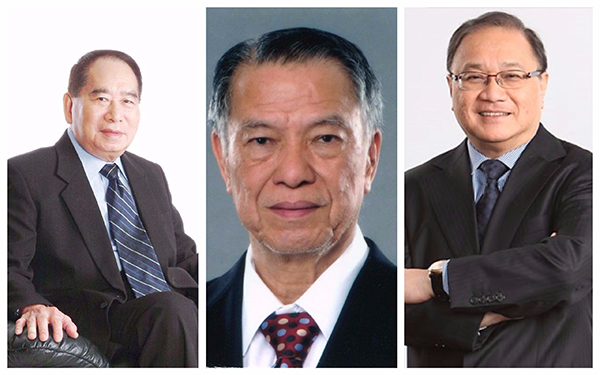 MORE THAN JUST BUSINESSMEN. These people have obtained a lot of influence over the years, either through sheer business interests or through charitable exploits./IMAGES Philippine Star, SM Investments, etonhold.com
These tycoons, however, have gone beyond doing business and influenced how the nation is being built. Here we list the most influential tycoons in the Philippines:
Manny V. Pangilinan
The undisputed king of the country's telecommunications industry is more than just a man whose initials seemingly reflect an award only seen in sports. Manny V. Pangilinan, fondly called MVP by the media, is also the country's biggest sports patron.
His MVP Foundation has helped the country progress in the world of sport, and the support he gave to the Philippine Sports Commission and the Philippine Olympic Committee has led to the resurgence of our country's sports program.
Also read: Manny Pangilinan's Journey to Success
Ramon S. Ang
When you speak of Ramon S. Ang, only one thing comes to mind: San Miguel Corporation. The protégé of Eduardo "Danding" Cojuangco, Ang has taken SMC and has grown it beyond even Danding's expectations.
His biggest impact, however, does not lie with the San Miguel Foundation, the corporate social responsibility arm of SMC. SMC's willingness to invest in the country's infrastructure projects has made Ramon Ang a force to be reckoned with and a potential nation builder.
Also read: One of the Philippines' Top Tycoons: Ramon S. Ang
The Zobel de Ayalas
When someone mentions the name Ayala, people start to look at one city: Makati. The Binays may claim that it was their prodding that prompted the Ayalas to develop what were once rice fields in the southern part of the National Capital Region, but most people will point towards the Ayalas for realizing that dream (besides, the land rightfully belongs to them).
Apart from their exploits in Makati, their impact outside the realm of business has made them a household name. From education to developing certain areas for tourism (they kind of put El Nido on the map) and enhancing the country's arts and culture scene (Ayala Museum and Filipinas Heritage Library, anyone?), they've surely made a name for themselves.
Also read: The Empire that started it all: The Ayala Success Story
Lucio Tan
The man they call "El Capitan" may not have as visible of an impact as others on this list, but Lucio Tan has made significant strides as someone who's willing to invest in more than just a good company or corporation.
He has a hand in several of the country's biggest companies, including our flag carrier Philippine Airlines. But his influence lies in how he has decided to spend all the money he gets from the many companies he has invested in. Education is his main MO, with the Tan Yee Kee Foundation and the Filipino-Chinese Chambers of Commerce & Industry's "Operation: Barrio Schools" leading the way.
Also read: The Life of Lucio Tan: A Success Story
Enrique Razon, Jr.
Enrique Razon, Jr. is a unique entry on this list. His charitable exploits aren't widely known as he is media-shy, but he has given his own money to notable causes, like the rehabilitation of Tacloban City's airport after the devastation brought about by Typhoon Yolanda (Haiyan).
No, his big influence stems from the title given to him by his peers and the media: Ports King. International Container Terminal Services, Inc. is one of the world's largest port operators, with ports located in countries like          China, Europe, and The Americas. This means he's one of those people helping to keep goods flowing throughout the world.
Also read: Enrique Razon: The Man known as Ports King
Henry Sy
Much like everyone else on this list, Henry Sy's name will forever be associated with one thing: malls. Though he has competition in the Ayalas and the Gokongweis (Robinsons Malls), there is no doubt that SM has a lot more recall compared to, say, an Ayala or a Robinsons Mall.
His influence stems from just how big and visible his company is. SM Group has the largest footprint in the country's retail industry, chain of cinemas, banking, and condominium developments thanks to the presence of SM Malls in nearly every city across the archipelago.
Also read: Success Story: Henry Sy, Sr.
Eugenio Lopez III
TV has always been big with Filipinos, and the Lopezes were the quickest to notice this obsession. And the Chairman of the Board of Directors of the country's largest entertainment and media conglomerate, Eugenio "Gabby" Lopez III is leading the charge towards keeping Filipinos glued to their screens.
ABS-CBN may no longer have Gabby Lopez as its figurehead (that title now belongs to Carlo L. Katigbak), but they're still at the forefront of the country's media landscape, coming out with content that continues to engage and shape the country thanks to their wide reach. Oh, and did we mention how much of an impact the Kapamilya Foundation has had, especially during relief operations?
Felipe L. Gozon
The only other person to rival the Lopezes in terms of media mileage, GMA Network's Felipe L. Gozon continues to shape the mass media landscape through innovative programming and a reach that rivals that of ABS-CBN.
GMA Network has continuously given back to the community side by side with other public and private organizations. The Kapuso Foundation has been one of the most visible organizations in the country apart from their rival.
These are our picks for the most influential tycoons in the country. However, we are open to suggestions. If you have any other names you want to include, don't hesitate to leave a comment and we'll find a way to add them to this list.
---
Source: Philippine Star, Town and Country