What to expect at The Inflatable Island in the Philippines: Asia's Biggest Floating Playground
What to expect at The Inflatable Island in the Philippines: Asia's Biggest Floating Playground
Philippines is giving you one more reason to visit the country this summer—The Biggest Inflatable Water Park in Asia, The Inflatable Island, opens on April 1!
If you have been looking for a unique yet fun way of spending your summer vacation, then we've got good news for you. The Inflatable Island in Subic Bay, Zambales, is set to bring your inner child back as you splash, spray, and soak in a playground that's not just for kids—but for adults as well. As you read on, Philippine Primer gives you a list of what to expect in this newest summer destination in town.
This is not your ordinary playground.
The Floating Playground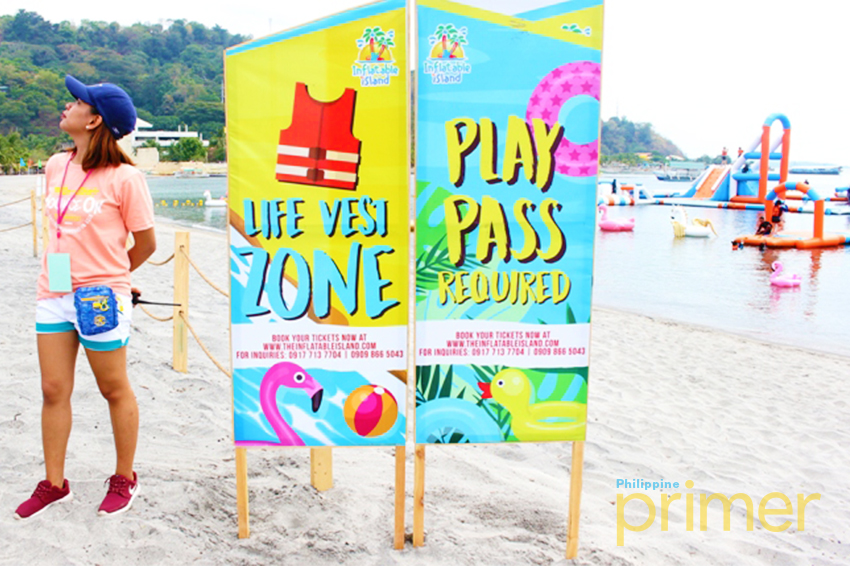 Helpful staff and lifesavers will assist you both at the floating playground area or at the shore
Who says playgrounds are just for kids? At The Inflatable Island, adults will definitely enjoy the inflatable playground as you run, jump, and slide by the waters. This floating playground has towers, bridges, tarzan swings and more that will test your "playing ability" through the obstacles. Get ready to get wet!
In this playground, you get to burn calories.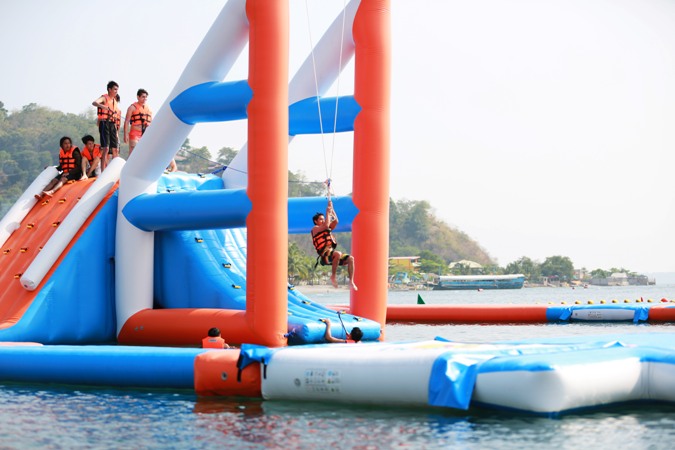 Unleash your inner Tarzan!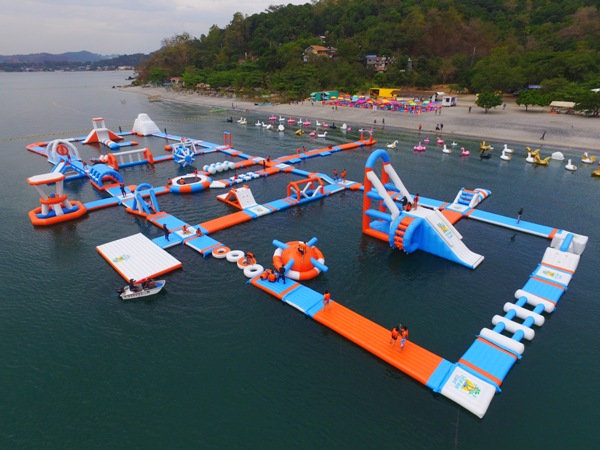 Drone shot of the whole playground
Burning calories while playing? Sign us up! The Inflatable Island is as huge as 8 basketball courts when put together side by side. With 16 obstacle courses to experience, your physical strength is to be tested. Don't worry, warm-up exercises are done prior to playing in the area. Swing a la Tarzan in their Giant Swing & Slide, jump all day at the Trampoline area, or do rock-climbing—the inflatable way! It's surely a fun way to burn those calories off as you enjoy playing. Totally a win-win situation.
The Inflatable Island is an ideal place to bring your family and friends.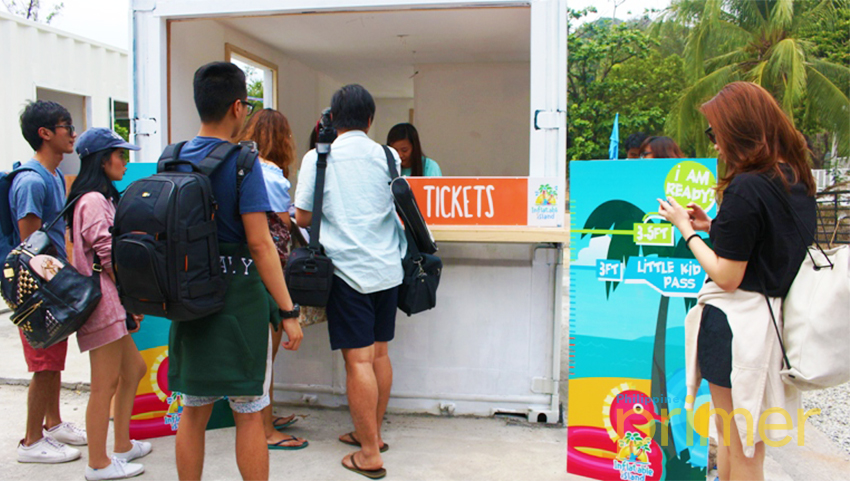 Guests lining up for the tickets
Have a fun summer getaway!
Summer is always well-spent with your family and friends. If you've gotten tired of the usual resorts and out-of-town trips and would want to experience something that can excite you, then bring your peers over at The Inflatable Island. It's just more than a two-hour drive from Manila and is located in Samba Bluewater Resort, Subic, Zambales one of the Philippines' prime tourist destinations.
Love Bali? Get to relax at their Bali-inspired lounge.
Bean bags by the beach!
Aside from the floating playground itself, one thing that makes The Inflatable Island worth a visit is because of its Bali-inspired lounge area. At the shore of the island you'll see colorful bean bags and pretty umbrellas where you can relax as you watch people play in the play area. If you just want to bask in the sun, eat snacks, or read a book—do so at the lounge. One more thing: it's totally a picture-perfect spot too!
Food, Friends, Floaters, and Fun!
Sam's Pizza is a pizza favorite in Subic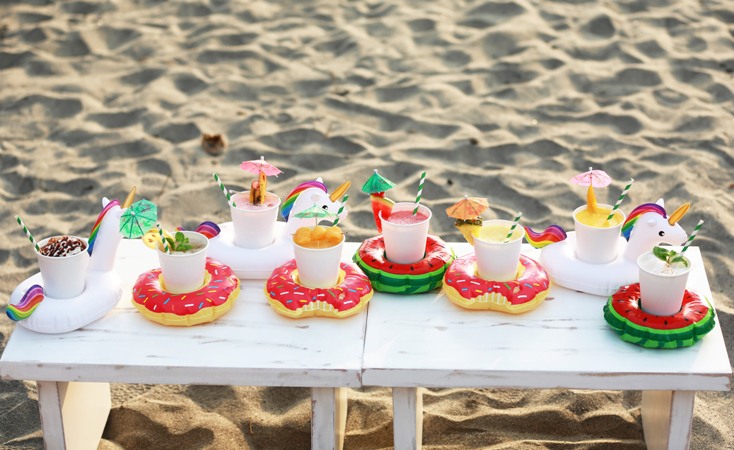 Refreshments in cute little inflatables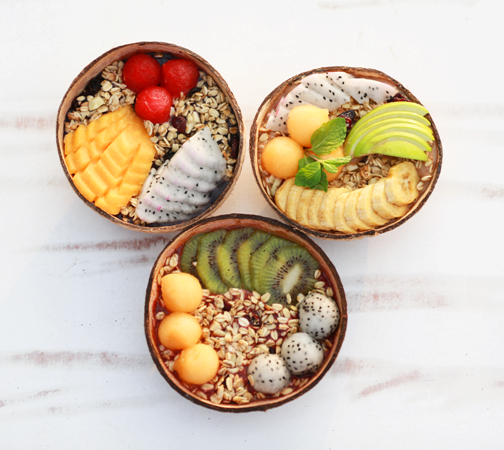 Delicious Rocco bowls for three, please!
Hungry after playing? Food trucks are here to the rescue! More concessionaires will be opening at the resort so expect more food to fill your hungry tummies. Make new friends as you play with them in the floating playground! Wanna relax after a rough play? Cute and colorful floaters are found at the island too. Lastly, what's a play without fun? At The Inflatable Island, you'll definitely experience a unique way to have fun—something to put on your bucket list.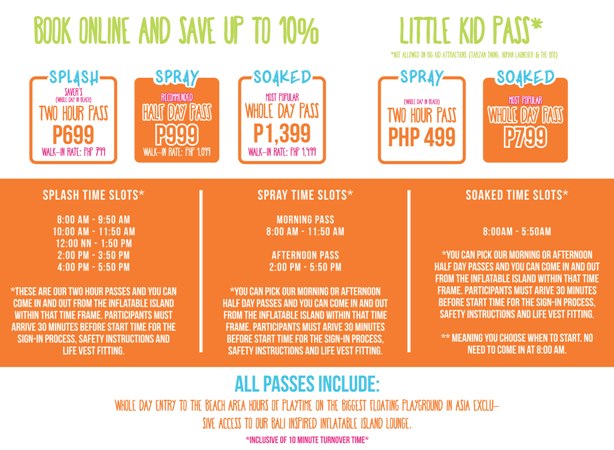 Are you excited to try The Inflatable Island now? Book yourselves a summer treat as you visit the newest summer destination in the Philippines—The Inflatable Island in Subic, Zambales.
Here's how to go to The Inflatable Island:
Also read: Inflatable Island: Asia's biggest floating playground opens in PH this April 2017
Details:
Address: Samba Bluewater Resort, Subic Bay Waters, Zambales
Contact: 0917 835 2665
Operating Hours: 8:00 am to 6:00 pm
Website: www.theinflatableisland.com
Facebook page: www.facebook.com/InflatableIslandPh (Inflatable Island Ph)
Email: events@theinflatableisland.com