Japan Foundation Manila announces JLPT schedule and new registration process
Japan Foundation Manila released an announcement that the Japanese Language Proficiency Test (JLPT) in the Philippines is scheduled on July 2, 2017 to be held simultaneously at 1 p.m. in three different sites: De La Salle University in Manila, Mindanao Kokusai Daigaku in Davao, and University of San Carlos in Cebu.

Image grabbed from jlpt.jp
JLPT is the world's largest test that evaluates and certifies the language proficiency of non-native Japanese speakers. It has five levels from N5 (basic), N4, N3, N2, to N1 (advanced).
This 2017, the application process has been updated for Manila and Cebu applicants only. The paper type of application has been cancelled, and the procedure is now divided into two steps: online application and registration fee payment. Online forms will open starting February 1, 2017 until March 8, 2017.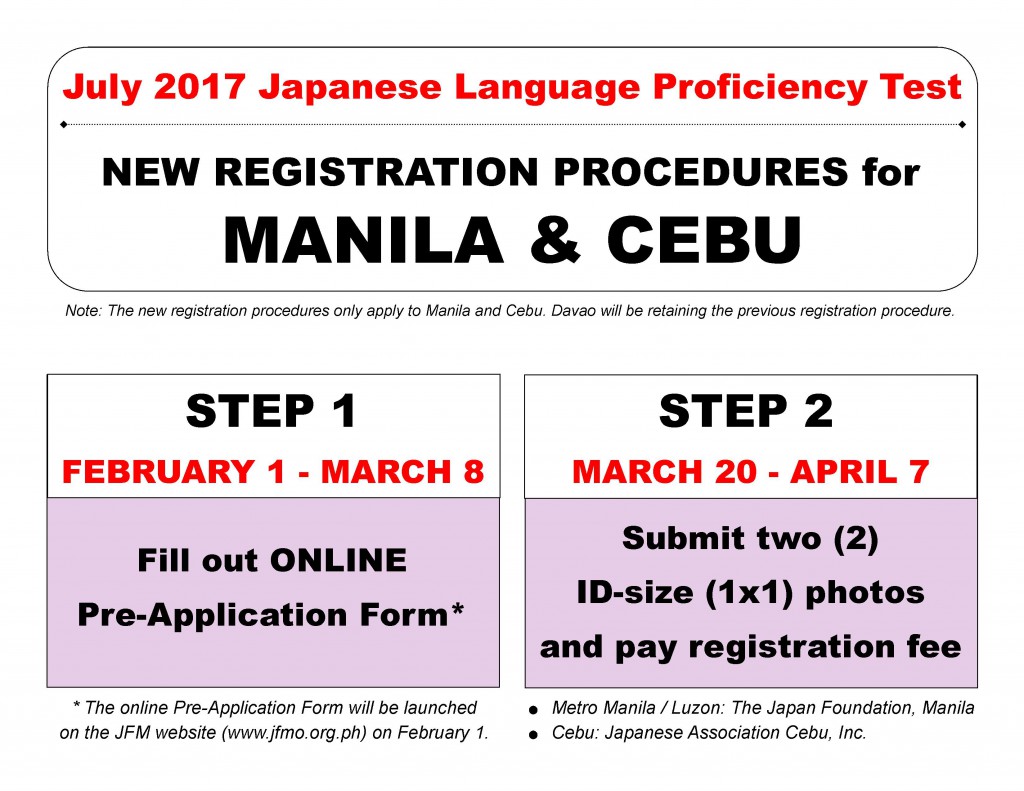 To complete the application, applicants from Manila and Cebu must submit the requirements to their designated sites from March 20, 2017 to April 7, 2017.
For Davao applicants, the paper type of application will be available on February 1, 2017 only at Minadanao Kokusai Daigaku.
On July 2, 2017, all applicants must bring and present their JLPT Test Voucher and a valid I.D at their designated test site.
Successful examinees will receive a score report and will be issued Certificates of Japanese Language Proficiency by October 2017. Results will be available at jlpt.jp by the end of August 2017.
JLPT REGISTRATION FEE
N1- P1,100
N2- P1,100
N3- P1,000
N4- P1,000
N5- P1,000
For updates, kindly check The Japan Foundation, Manila and jfmo.org.ph, or call 02-811-6155.
This is a press release edited for posting.