PNSB gets 'surprise visit' from PM Abe's wife Akie
It was a very special Thursday for the students of the Philippine National School for the Blind (PNSB) as the wife of the Japanese Prime Minister, Akie Abe, paid their school a visit during their two-day official visit.
"It was really a surprise when we were told that she (Mrs. Abe) was coming [to the school]," said Corazon Salvador, Officer-in-Charge of PNSB. Mrs. Abe was shown around the small campus in Pasay City, in particular being shown the old dormitory for the residential students of the school.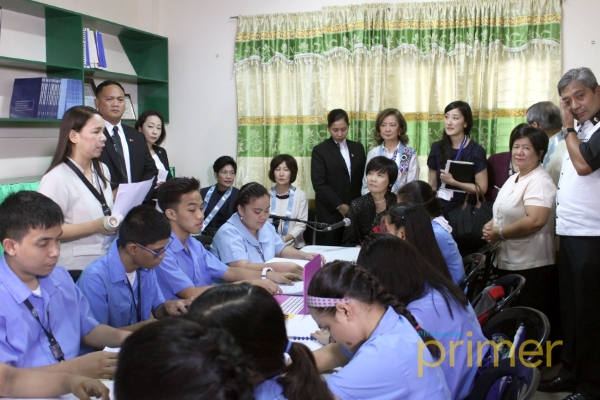 MRS. AKIE ABE ATTENDS A CLASS. During her visit, Mrs. Abe attended an English class at PNSB. She was touched upon hearing the student's dreams and aspirations.
She also interacted with the visually-impaired students during her brief visit to the school, attending an English class for Grade 11 students. "She was touched with the children upon hearing their ambitions. She gave words of encouragement to the students. She told the students to keep dreaming, work hard, and stay humble," Salvador said.
A GIFT FROM THE PNSB. Mrs. Abe warmly received a gift from PNSB: a jewelry box made of capiz or windowpane oyster shells.
According to Salvador, Mrs. Abe knew of the school after seeing a crowd-funding project led by Yukari Ishida, a project manager for Free The Children Japan's Education for the Visually Impaired Project in the Philippines. Ishida was equally as surprised with Mrs. Abe's visit to the school where she took her practicum as an exchange student.
Free The Children Japan (FTCJ) is an international charity and educational partner whose mission is to free children from poverty and exploitation, as well as free them from the idea that they are powerless to make a difference.
YUKARI ISHIDA. The woman responsible for Mrs. Abe noticing the school is visually impaired herself.
Yukari Ishida first knew of the school as a student under FTCJ's study tour. Complete blind since she was one year and three months old, Ishida was given the chance to study at a specialty school in Japan for the visually impaired up until high school. She would eventually finish tertiary education with help from foundations such as FTCJ, where she would learn about the state of PNSB.
IN NEED OF REPAIRS. It may seem okay, but according to Salvador and Ishida, the roof of the lone dormitory in PNSB is in need of repair. The school is also looking to get a school bus to expose their students and the country in addressing their needs.
Ishida, through FTCJ, aims to raise roughly P3.46 million (¥8 million) to repair the roof of the school's dormitory and to purchase a school bus. Their efforts are well on their way, raising 48%, or almost ¥3.9 million, of the required amount. They have until Feb. 15, 2017 to raise the full amount.
For those who are interested in helping, you may visit FTCJ's website and click on Philippine National School for the Blind – Dormitory Roof Repairing and school bus Project(Philippines). You can also visit the Japanese crowd funding website readyfor.jp. They accept donations via credit card and money transfer.
For more information on the project, visit www.ftcj.com. You can also contact the PNSB by sending an email to pnsb_0770@yahoo.com or calling 02-831-8664 and look for Ms. Corazon Salvador.