2016 Lookback: The Top 10 Newsmakers in the Philippines
As 2016 comes to an end, here's a quick recap of the headliners which made it to the Top 10 Newsmakers in the Philippines this year.
PH bagging first Olympic medal after 20 years
HIDILYN DIAZ. Silver medalist at Weightlifting sport in Rio Olympics. Image by Lars Barson, via Getty Images
After a 20-year drought, Philippines finally won its first silver medal through Hidilyn Diaz, who won in the weightlifting sport category of the Rio Olympics this August. Diaz qualified for the Olympics after winning a bronze medal in the International Weightlifting Federation World Championship in Texas.
Manny Pacquiao takes seat in the senate—then makes a comeback at the boxing ring
MANNY PACQUIAO. PH Senator and world champion boxer. Image from Inquirer.net and bbc.com
World boxing champ and former congressman Manny Pacquiao has taken his political career into a another level as he was proclaimed one of the 12 senatorial candidates of the May 2016 National Elections. Aside from that, yet another feat by Pacquiao was set this 2016 as he made a comeback at the boxing ring winning the WBO welterweight title against boxer Jessie Vargas.
Filipino films winning big at international festivals
LAV DIAZ. Filipino director Lav Diaz holds award for Ang Babaeng Humayo (The Woman Who Left) in Venice film fest. Image by AFP, grabbed via ABS-CBN News 
It's been a great year for Philippine film industry as several Filipino film makers bagged prizes in various film festivals all over the world. Lav Diaz's Ang Babaeng Humayo winning best film at the 73rd Venice Film fest, Filipina Actress Jaclyn Jose winning best actress at Cannes Film festival, Filipino TV host actor Paolo Ballesteros winning Best Actor at Tokyo film fest are just some of those who made the cut to the international scene.
Filipina actress Liza Soberano catching the attention of international musicians
LIZA SOBERANO. Filipina TV/movie actress . Image grabbed from cosmo.ph
With her alluring looks, it is no surprise that international celebs are crushing over the 18-year old actress Liza Soberano who has always been the talk of the town whenever foreign acts come to the country. Members of The Vamps, The Chainsmokers, and singer Charlie Puth have all expressed their admiration for the lady, even asking her to attend their shows in the country.
Senator Miriam Defensor-Santiago's passing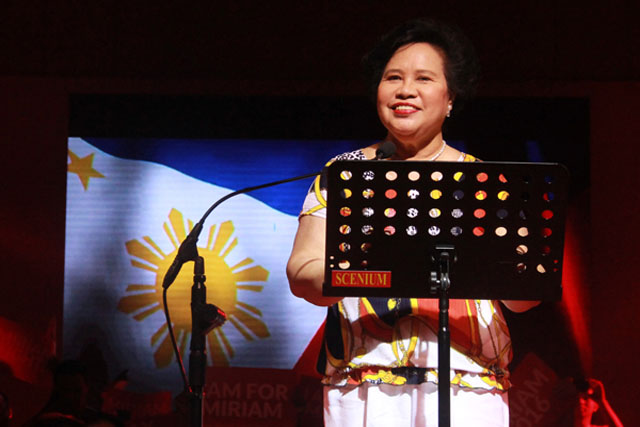 MIRIAM DEFENSOR-SANTIAGO. MDS filed the highest number of bills and resolutions in her term as a senator. Image grabbed from philstar.com
The country was left in shock in September 2016 when former senator and Iron Lady of Asia Miriam Defensor-Santiago succumbed to stage IV cancer.  The accomplished senator recently ran the presidential race but lost to now president Rodrigo Duterte. Defensor-Santiago was known for her no non-sense style in combating corruption, and she was also elected as a Judge of the International Criminal Court as the first Asian to be elected in the post.
Filipina beauty queen Kylie Verzosa winning Miss International 2016
KYLIE VERZOSA. Miss International 2016. Image grabbed from ABS-CBN News
Yet another Filipina has been added to PH's beauty queen league as Kylie Verzosa won Miss International 2016 held in Tokyo, Japan. Verzosa, a preschool teacher, made the country proud when she bested 68 other aspirants with her impressive answer during the Q&A portion of the pageant. Other titleholders in various pageants include Nicole Cordoves placing 2nd in Miss Grand International and Catriona Gray placing in the top 5 of Miss World.
British rock band Coldplay announcing PH concert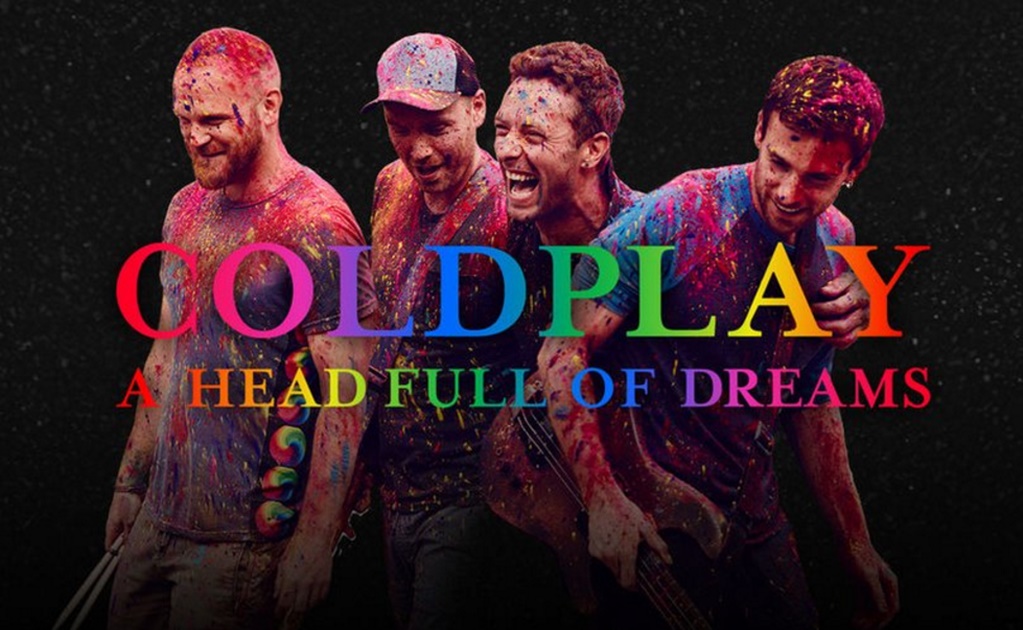 COLDPLAY. The band will be performing live in PH for the first time this 2017. Image grabbed from shareonfb.com
Fans of Coldplay in the social media has gone abuzz when the international rock band announced that the Philippines will be part of their "A Head Full of Dreams" tour in Asia, this April 4, 2017 in MOA concert grounds. Ticket prices go from P1,800 to P22,500.
Late dictator Ferdinand Marcos' burial at the Heroes' Cemetery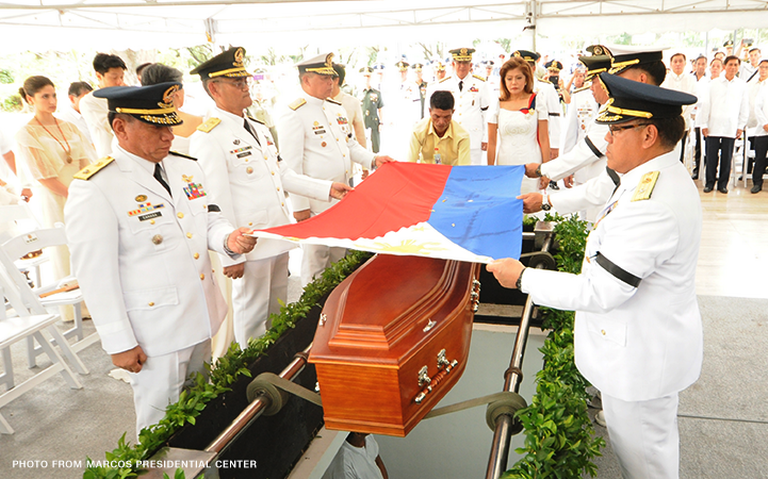 MARCOS AT THE LNMB. Late President Marcos was given full military honors upon his burial. Image by Marcos Presidential Center, grabbed via cnnphilippines.com
Former Philippine president Ferdinand Marcos' burial at the Libingan ng mga Bayani (LNMB/Heroes' Cemetery) sparked a controversy in the Philippines when Marcos was stealthily buried with full military honors at the LNMB, alarming staunch Anti-Marcos protesters and victims of Martial Law abuses to condemn the said burial. Various individuals and organizations organized rallies to express disapproval of the act. Marcos was notorious for cases of human rights violations, extrajudicial killings, and unwarranted political detainees during his regime.
2. PH's 'War on Drugs'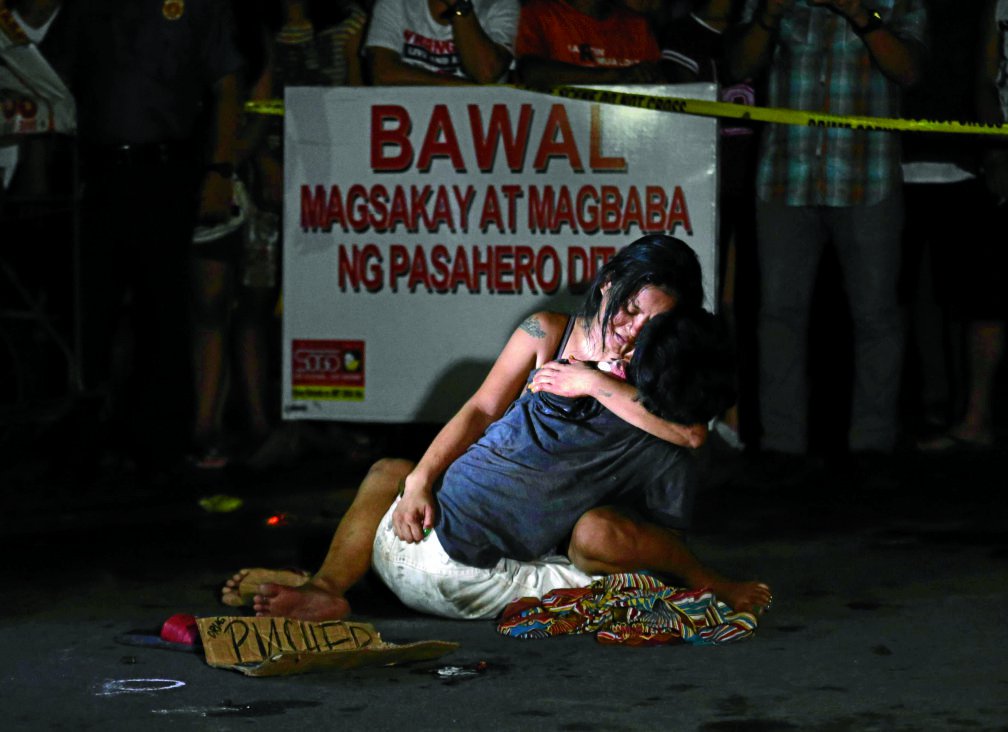 WAR ON DRUGS. A viral image of a victim of Oplan Tokhang. Image by Raffy Lerma, grabbed from inquirer.net
Philippines recently made it to the headline of various international media outfit regarding the campaign (Oplan Tokhang) of President-elect Rodrigo Duterte to put an end to illegal drugs. This has caught the attention of many international human rights agencies, with the alarming number of death tolls related to the said anti-drug campaign. Intergovernmental organization United Nations' (UN) High Commissioner Zeid Ra'ad Al Hussein recently spoke out against President Duterte for the human rights violation the present administration has allegedly committed since the campaign.
Duterte as new PH President
PRRD. President Rodrigo Roa Duterte of the Republic of the Philippines. Image grabbed from inquirer.net
2016 marks a new beginning in the Philippines as it recently elected its 16th president of the republic, former Davao City mayor Rodrigo Duterte. Garnering 16,601,997 votes, Duterte is the first president from the Mindanao region.  Duterte made waves in the international scene for his anti-drugs campaign and his haughty remarks in his speeches. Duterte's powerful leadership style has gained him a massive number of followers, supporting his "Change is coming" campaign.
What other newsmakers would you like to be included in the list? Comment below.
Sources:
http://news.abs-cbn.com/sports/08/07/16/pinay-lifter-diaz-wins-silver-medal-in-rio-olympics
http://news.abs-cbn.com/halalan2016/nation/05/19/16/officially-winners-comelec-proclaims-12-elected-senators
http://www.gmanetwork.com/news/story/580942/showbiz/lav-diaz-s-ang-babaeng-humayo-wins-venice-golden-lion
http://starcinema.abs-cbn.com/latest-news/2016/08/20/liza-soberano-kilabot-ng-international-stars
http://newsinfo.inquirer.net/820199/miriam-defensor-santiago-passes-away-at-71
http://lifestyle.inquirer.net/241993/bb-pilipinas-kylie-verzosa-is-miss-international/
http://cnnphilippines.com/entertainment/2016/11/15/Coldplay-Philippines-2017-concert.html
https://globalnation.inquirer.net/144831/un-hits-duterte-for-lack-of-understanding-of-human-rights-institutions
http://edition.cnn.com/2016/11/17/asia/philippines-marcos-burial-heroes-cemetery/
http://www.rappler.com/rappler-blogs/139104-rodrigo-duterte-first-week-president
http://www.rappler.com/rappler-blogs/139104-rodrigo-duterte-first-week-president