PETA Campaign Urges People NOT to Buy Animals as Christmas Presents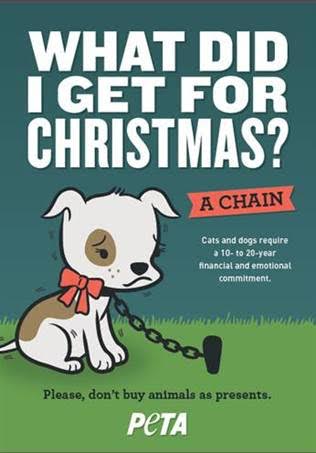 "Just because animals look cute under the Christmas tree doesn't mean that they make good holiday gifts."
People for the Ethical Treatment of Animals (PETA) Asia launches a campaign which encourages people to think first before deciding to give cats and dogs as Christmas gifts to their friends and loved ones. This is after seeing the alarming amount of "Christmas cats" and "Christmas dogs" which are brought to animal shelters because they didn't fit into their ex-owner's lifestyle.
PETA reminds people that adopting a pet is something that requires commitment and should not be done on impulse. It is not something that you buy and forget about the day after. it needs a lot of patience, understanding, and a heap of money for sterilization, shots, deworming, grooming, food, and etc.
For people who wants to show their care for homeless animals during the holidays, PETA explains that people could also donate food, toys, and other items to their local animal shelter. "PETA also encourages prospective guardians never to buy a dog or a cat from a breeder, as doing so robs animals in shelters of the chance at a loving home," PETA Vice President of International Campaigns Jason Barker said.
However, if you are sure in adopting an animal and has the ability and resources to do so, they recommend going to an animal shelter after the holidays to find one who fits their lifestyle.
For more information on animal adoption and cruelty-free Christmas gifts, please visit PETAAsia.com or our Facebook page.