The Extraordinary Italian Taste: First Italian Cuisine Week
The Embassy of Italy in the Philippines recently took part in the first Italian Cuisine Week in the World, a week-long event simultaneously held in different parts of the globe. A gastronomic gathering was held at Whitespace, Makati on Wednesday, November 26 which was attended by various ministries of the Italian government and embassy representatives.
Spearheaded by Italian institutions, their goal was not only to celebrate their friendship between the Philippines and their country, but also to discover and celebrate the identity of the Italian palette.
In his opening remarks, Italian Ambassador Massimo Roscigno thanked everyone who was a part of the event: from the artisans to the chefs and sponsors.
Italian cuisine dates back to the Roman empire and has evolved through many centuries. There is no doubt that it has been a huge part of society and our daily lives; from the aroma and presentation down to the taste, one could easily distinguish which is which.
There was a variety of display and cooking demonstrations from the finest Italian restaurants in the country like Casa Artusi, L'Opera Group, Va Bene Pasta Deli, Caruso Ristorante Italiano and Gran Caffe Lavena.
Variety of Italian dishes from Caruso Ristorante Italiano
At the L'Opera table, a chef is making a Raviolli. Here is the Raviolli filling, evenly distributed in the dough.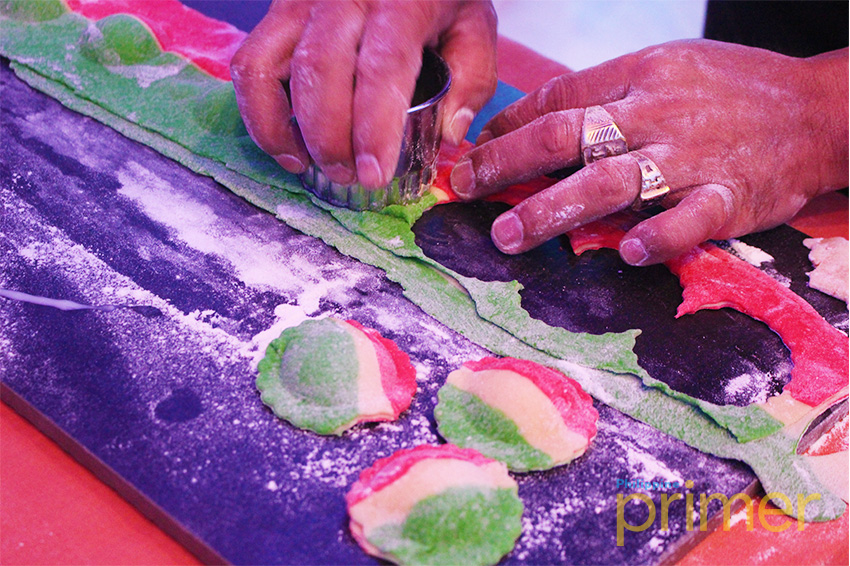 With a cookie cutter, they cut out circles in the dough colored in red, white, and green: the colors of the Italian Flag.
Sumptuous mozzarella balls were also served at the L'Opera table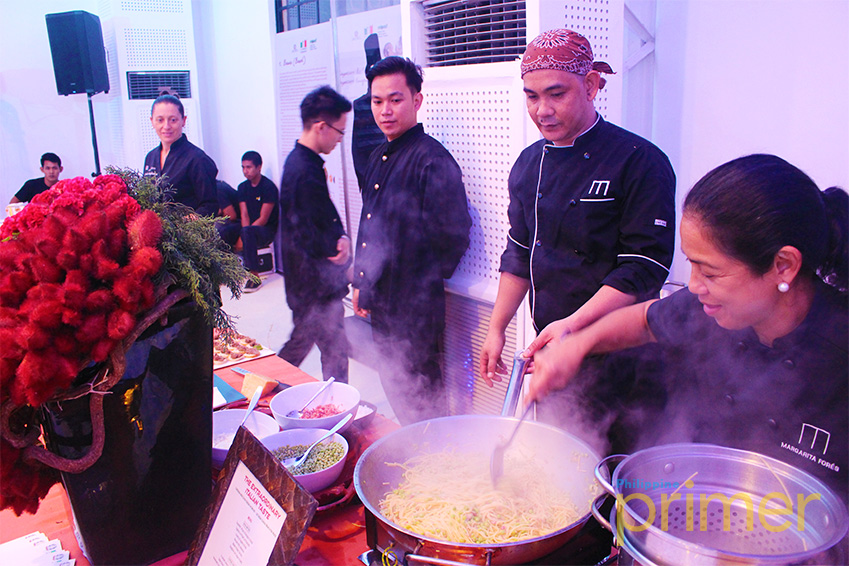 Filipina chef and restaurateur Margarita Araneta Forés, who was named Asia's Best Female Chef for 2016, showed off her impeccable cooking skills in the first Italian Cuisine Week
Dessert from Gran Caffe Lavena also graced the event. The restaurant can be found at the Rialto Bridge, Venice Grand Canal Mall, McKinley Hill, Taguig City
Group photo of restaurant owners who sponsored the first Italian Cuisine Week
The many cultural influences on Italian cooking has helped us unify our diverse influences. This event also opened the doors for budding entrepreneurs and helped build stronger bonds between the Philippines and Italy.