2017 Journals to watch out for (Part 2)
Still looking for the planner that would be perfect for all your lists, plans, travels, and everything in between? Primer PH gives you another list of planners and journals that are not only fit to your style and agenda, but also  to your budget.
Tita Witty's Ang Alamat Kung Bakit Single Ka Pa Rin and Other Mysteries 2017
Witty Will Save the World is famous for planner and slumbooks that reflect the humor of Filipinos. This planner is perfect for the sawi, the hindi maka-move on, and those who are just big fans of hugot lines and statements.It also gives all sorts of motivational quotes to those who have just gotten their hearts broken, and to those who are happy, but will eventually face heartbreak (not to be too negative, though).
Photo was taken from Tita Witty's website
You can get Tita Witty's planner online, or by visiting selected bookstores.
Price: P850
Papemelroti's pocket planners
This planner is perfect for anyone who's on a budget, and just wants to have a small planner that would fit small bags. These monthly planners come in 12 designs made by Papemelroti's artists. It's also very environmental-friendly since the papers used in the planner are recycled!
Photo was taken from Spot.ph
You can get these planners from any Papemelroti stores.
Price: P20
Storage.It Pocket Planner
What makes this planner unique is that its cover is made of a plastic zip bag so you won't get to lose your important documents, photos, and pens. It features a weekly layout, as well as international currencies, subway maps, etc.
Photo was taken from Google Images.
Get these from any National Bookstore branch.
Price: P1289
Lonely Planet Daily Planner
Perfect for anyone who loves to travel and go on an adventure, this planner would inspire travel-junkies to organise and to plan their next vacation. This planner, laid out in a weekly format, also contains beautiful photographs, dates of festivals and national holidays, and quotes for every traveller.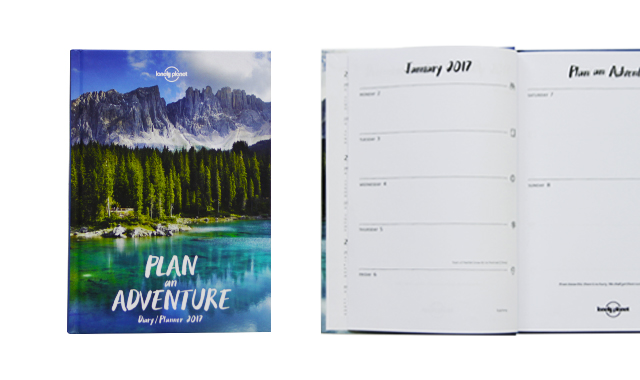 Photo was taken from Spot.ph
This planner is available in Fully Booked.
Price: P799
Muji Vinyl White Diaries
Muji's diaries are perfect for every minimalist who loves to plan and take notes. It features a weekly, monthly, and yearly format so you could keep track of your plans easily. Extra pages are also available for anyone who loves to doodling and taking notes.
Photo was taken from Muji's website. 
This planner is available in Muji stores.
Price: P445