The Tempest Reimagined: A Filipino Adaptation of a Shakespeare Classic
A scene from the premiere of The Tempest Reimagined
The Tempest Reimagined play had opened last November 11 at the PETA Theater in Quezon City, and it left people in awe with great stage design, well-written script and unparalleled acting, with a mix of action, romance, and drama.
The gala night started at 6 p.m. with cocktails served and opening remarks from Nicholas Thomas, Liza Magtoto, Nona Shepphard and British Ambassador to the Philippines, Asif Ahmad before the show started at 8:30pm.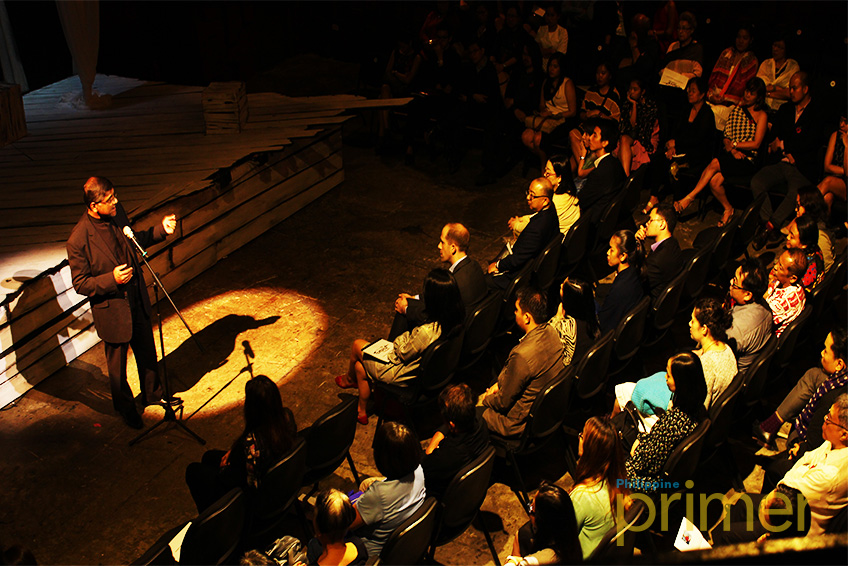 The British Ambassador to the Philippines, Asif Ahmad greets audience in Tagalog and shares his experience related on "The Tempest" play
Audience have witnessed a great performance directed by Nona Shepphard and impeccable story line made by the multi-awarded writer Liza Magtoto, who is also famous for her hit comedy musical, Rak of Aegis and Care Divas. The stage was designed by British designer, Marsha Roddy and decided to put on a minimal and productive use of the wood display. There may have been some technical glitch in the first 20-minute of the show but it continued with great and brilliant acting nonetheless.
The stage was designed by British designer, Marsha Roddy. He makes use of the wood and painted it white, bringing in a catastrophic vibe in the set
The Tempest Reimagined fuses together three cultures to tell the real stories of Yolanda survivors through the fantastic lens of the world's greatest playwright
The play has fusion of east and west which uses Filipino and English language. Shakespeare's "The Tempest" has very well narrated the lives of the Yolanda survivors and at the same time, still incorporates the original play. The moral of the story had encouraged the cast to reflect again on the meaning of power and loss; and portrays the bright side after the tragedy; hope and survival.
Event Details:
What: The Tempest Reimagined: A Filipino Adaptation of a Shakespeare Classic
When: November 11-December 4
Where: PETA Theater Center , No.5 Eymard Drive, New Manila, Quezon City
Ticket details:
WEEKDAYS (Wed & Thu)
P 1,408.08
VIP
P 1,173.40
Orchestra
P 938.72
Balcony
WEEKENDS (Fri, Sat, Sun)
P 1,760.10
VIP
P 1,408.08
Orchestra
P 938.72
Balcony
For tickets and show schedule, click here.