Caruso Ristorante Italiano Presents: A night with Gianpaolo Rabboni
The night was ripe for the taking as a Filipino-Italian singer-songwriter performed some of his own compositions last night at Caruso Ristorante Italiano in Makati City.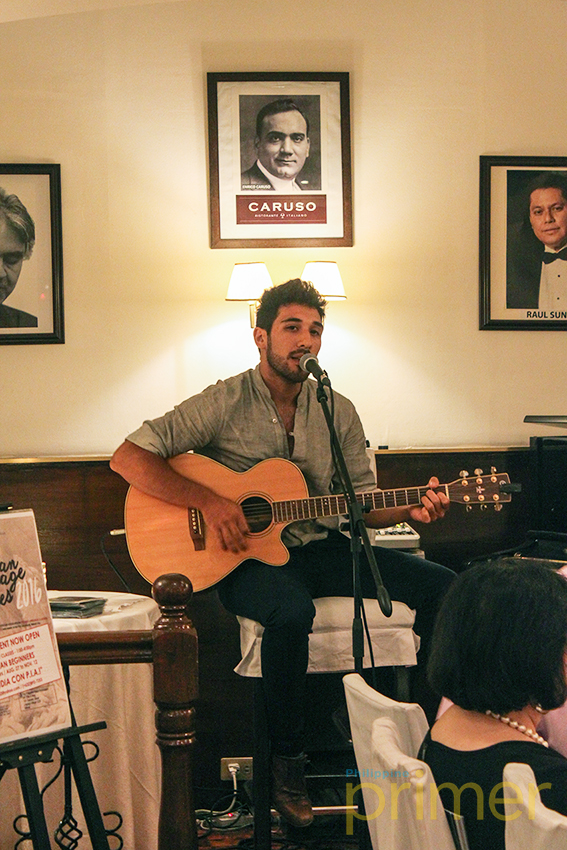 SINGER SONGWRITER GIANPAOLO RABBONI serenaded diners last night at Caruso Ristorante Italiano.
Gianpaolo Rabboni, a budding singer, songwriter, and guitarist from Italy, was born to an Italian father and a Filipina mother. He's always loved the Philippines, and he's now in the country to give Filipinos a taste of his brand of rock by doing a mini-concert series in at least two restaurants within Makati.
ITALIAN AND FILIPINO PRIDE come together as Rabboni poses with Emilio Mina, owner of Caruso Ristorante Italiano.
The first of his mini-concert tour started off last night at Caruso Ristorante Italiano, located in the posh Bel-Air Village. Diners weren't only treated to his soothing performance, they were also treated to what might be the best Italian food in Makati.
Caruso Ristorante Italiano is considered as one of the best places to find Italian cuisine in Makati, using only the best ingredients imported from Italy. Pasta, pizza, and authentic Italian desserts were just a few of the dishes diners got to enjoy at Caruso, which you can find at 210 Nicanor Garcia St., Bel Air Village, Makati City.
If you want to catch Gianpaolo Rabboni's next performance, make sure you drop by Café Curieux at the Bel Air Soho Building tonight           at 9 p.m. If you can't wait that long, here's a taste of what's to come:
Check back with us soon as we unveil other events done in collaboration with Caruso Ristorante Italiano.