PPO gets renowned Japanese maestro as new music director
The Philippine Philharmonic Orchestra (PPO) is set to reach new heights as renowned Japanese conductor Yoshikazu Fukumura is presented as the new music director during a press conference held at Hotel Jen in Pasay City yesterday, July 6.
A NEW DAY FOR THE PPO. Maestro Yoshikazu Fukumura is welcomed by CCP President Raul M. Sunico and CCP Vice President and Artistic Director Chris B. Millado.
Maestro Fukumura takes over for outgoing music director Maestro Olivier Ochanine, who concluded his term as music director last April 30 2016. He is recognized as one of the most revered maestros in Japan, being the former music director of Tokyo Ballet, Kyoto Municipal Symphony, and Nagoya Philharmonic.
Fukumura said the reason he accepted the post as music director because of PPO's unique sound, which he described as "something warm, something which is bright. He also believes the orchestra has potential to become one of Asia's top 5 orchestras thanks to "Filipinos' sense of musicality."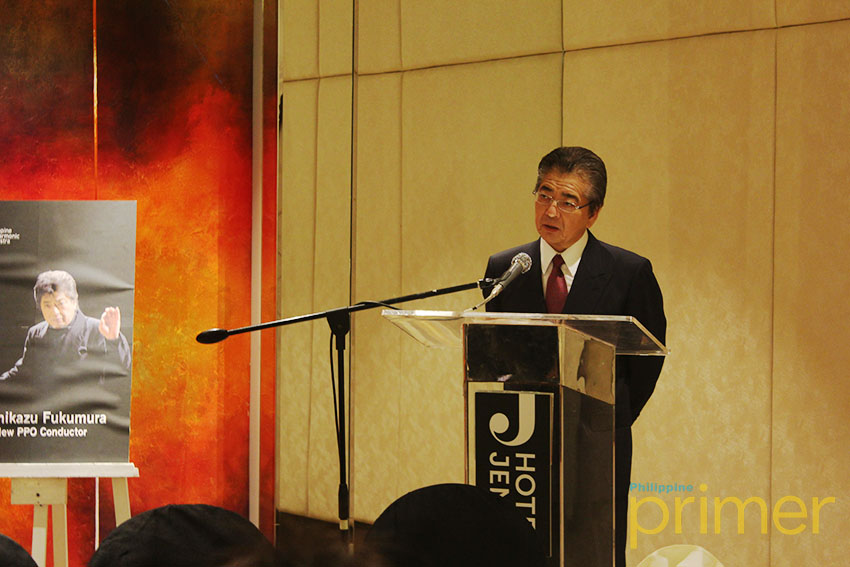 THE MAESTRO THANKS THE PPO for the opportunity to be its new music director, and hopes to improve on their unique sound, which he says cannot be heard in other Asian orchestras, even in Japan.
He has worked with the PPO three times as a guest conductor (2012, 2013, and 2015), which gave him an advantage over others who auditioned as music director according to CCP (Cultural Center of the Philippines) President Raul Sunico. "He knows the orchestra better, having worked and performed with them several times before his appointment as music director," Sunico added.
Maestro Fukumura's conducting style can be best described as "energetic", with movements that often captivate and connect to audiences. When asked about how he will be conducting for the PPO, he said he demands discipline as an old-school Japanese conductor.
ALMOST THIRTY YEARS. It's how long Maestro Fukumura spent in Latin America as a guest conductor. He cited similarities between the Latin American countries and the Philippines as one of the reasons he became PPO's music director.
"I did not have any problems with the PPO during concerts, but problems have come up during practice. Practice is often delayed because of tardiness. Tardiness during rehearsals is unacceptable, and traffic should not be a reason for being late," he said. He did not give details on how he plans to instill discipline within the PPO since he does not yet fully understand the members, but he will set rules once he does.
As for the kind of season the PPO will have under his tutelage, he says he has already submitted a program for the 2016-2017 concert season which he hopes will take the PPO to the next level. "It is important to go back to the basics, even though it might lead to a more conservative program," he said.
Apart from his plans to make the PPO one of the best in Asia, he also hopes to improve on the viewership of their concerts. "The program is meant to improve the PPO and gain interest of the audience. The orchestra is sustained by the audience; if the audience is not interested, they will not come to watch them (PPO) play."
In addition to his duties as PPO's music director, he also hopes to leave a lasting impact on the country through music. "They have a system in Venezuela where the children get to play and work together in an orchestra to address the problem that children have: lack of education, poverty, and petty crime. I hope to implement a similar system in the country to help get children off the streets."
Fukumura started his term as music director for the PPO this May 2016 and will be conducting his first concert in September when the PPO opens its 2016-2017 season.