Philippine Elections: The Culture, the Drama, the Battle
Philippine elections has a unique colorful character
As the presidential poll nears, you may have already noticed the election scene in the Philippines on full display. And yes, it is not without its share of peculiarities and action consisting of serious controversies, meme-worthy issues, and escalating drama.
A republic, the country's citizens exercise their power to vote
With posters of candidates flashing their most pleasant smile plastered around, political TV ads ranging from commercial-type vignettes to soap opera style dominating the prime time, non-stop word bouts among presidentiables and their running mates served daily on the news, and candidates with quite controversial backgrounds – from the son of a former dictator, to a Dirty Harry type toughie, a cancer-stricken feisty lawmaker, and an alleged corruption and political dynasty associated politician, the Philippine election arena can sometimes seem like circus to many, or a hodgepodge of various flavors, all seeking for attention, election, and position. These election practices are perhaps rooted in the country's past, culture, socio-economic problems, and its own people's perspective on power and its pitfalls.
Posters galore of the candidates can get unsightly in some places
As the bulk of the voting public in the Philippines is composed of the so-called masses, the candidates' PR and campaign strategists compete to win the hearts and trust of this majority by resorting to the soap opera theme of the underdog championing the cause of the poor, with some elements of entertainment. So don't be surprised to find a campaign ad or propaganda that capitalizes on a candidate's dark skin to make him look like one of the masses being trampled upon by elitists, or on a candidate's pedigree and foundling background. And well, some dancing and singing (of the candidates themselves!) are a common thing too during campaign sorties.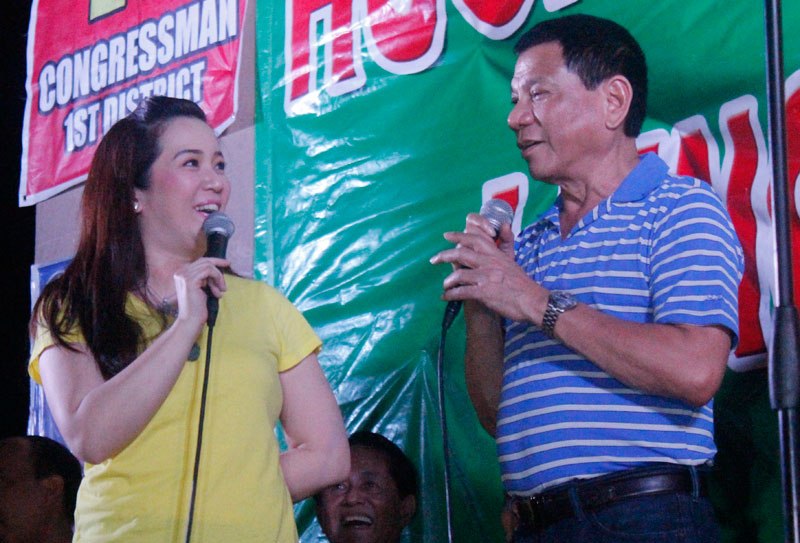 Campaign sorties in the Philippines oftentimes look like a mix of politics and showbiz
With disqualification cases, health issues, morality issues and other controversies being thrown around coloring the arena with interesting but oftentimes nauseating hues, the Philippine elections is an emotionally and politically-charged period and place where the real battle happens in a voter's conscience.
Voting based on a candidate's principles, abilities, and a servant heart is the way to go, hopefully, for the good of the country and its citizens' future. After all, the Filipinos are some of the world's most pleasant people who deserve a well-led government. On May 9, the world will witness how the nation's citizens will make the most of the power in their own hands as they cast their votes. And we can only hope for everything to turn out well.

Article by: Ingrid Soriano
Photo courtesy of: (1) e-lected blog; (2) Luz Rimban; (3) up.edu.ph; (4) davaotoday