Pope's Mass at the Quirino Grandstand
Scheduled to arrive to the Philippines today, Pope Francis will be holding Holy Masses at the Manila Cathedral on Jan. 16; in Tacloban, Leyte on Jan. 17; and at the Quirino Grandstand at the Rizal Park on Jan. 18. 
Millions of Filipinos and other nationalities are expected to attend the Pope's Mass at the Quirino Grandstand. Gates will be opened as early as 6:00 am and will be closed by 2:30 pm. Camping will not be allowed in the venue the night before.
For those who will be attending the mass on January 18, here are a few safety reminders from the government:
1. Be calm. Don't push. Don't run.
2. Monitor public safety advisories.
3. Avoid bringing children, pregnant women, the elderly and persons with health issues to the event.
4. Take note of alternative routes. Some roads will be closed to vehicular traffic. Mass-goers can be dropped off at the corner of Roxas Boulevard and Quirino Avenue, at the corner of U.N. Avenue and San Marcelino, and the corner of Ayala and San Marcelino.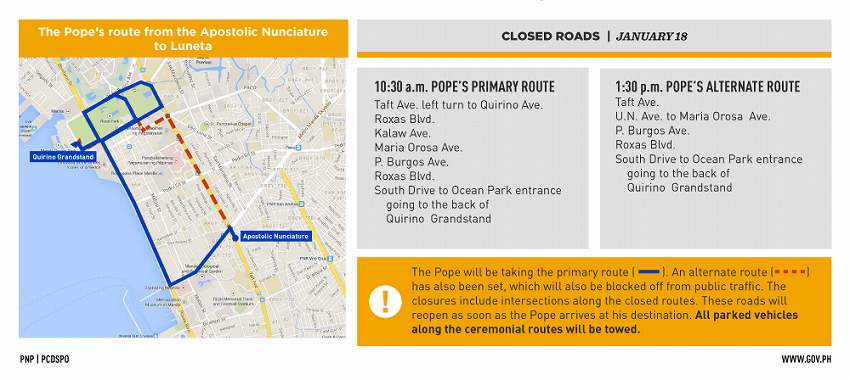 5. Don't buy tickets or passes from anyone. Papal visits are free.
6. Please be patient of security checks and follow the instructions of designated marshals and law enforcers.
7. Please practice good manners and right conduct. Don't litter. Don't make jokes about anything that might provoke panic. Don't be noisy or rowdy. Don't break or climb barriers. Pick up the garbage.
8. Bags and backpacks are not allowed. Bring transparent plastic bags. Bring IDs, bottled water, flashlights, snacks, raincoats, medicine and personal items such as cell phones and face towels.
9. Do not bring weapons, excessive pocket money, expensive items such as jewelry, firecrackers, inflatable objects,  umbrellas, pets, and alcoholic beverages.
Source: www.gov.ph