PRIMER MAGAZINE August Issue: STAR CHEFS MANILA
For the past issues, we have been featuring the best restaurants you can find in the Philippines. We have presented to you their delicious foods, showed you amazing photos and shared with you the basic information.
This time, Philippine Primer Magazine highlights the people behind some of our favorite restaurants. Get to know the most popular and respected chefs in the culinary scene.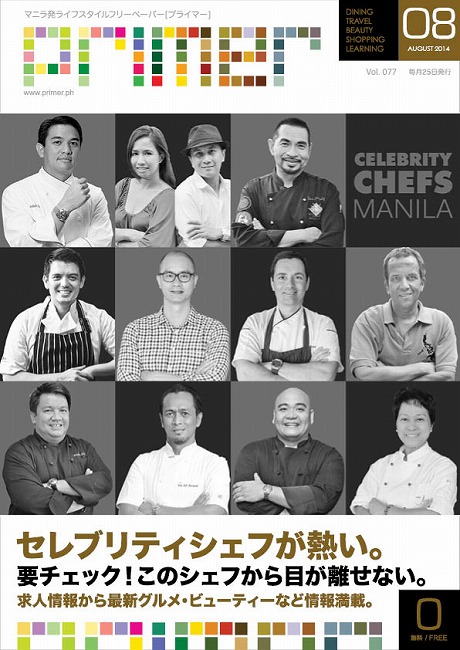 – from left to right, top to bottom –

◊ Chef J. Gamboa of azuthai
◊ Chefs Jackie & Rolando Laudico of GUEVARRA'S
◊ Chef Gene Gonzales of Cafe Ysabel
◊ Chef Rob Pengson of The Goose Station
◊ Chef Him Uy de Baron of nomama artisinal ramen
◊ Chef Massimo Veronesi of Va Bene Pasta Deli
◊ Chef Chris Locher of My Kitchen
◊ Chef Robby Goco of Green Pastures
◊ Chef Sau del Rosario of F All Day Dining
◊ Chef Marco Legasto of Prime 101
◊ Chef Jessie Sincioco of 100 Revolving Restaurant
Some of them appeared on television and advertisements but we consider all of them as celebrities in the culinary industry as they have made a name for themselves for doing what they do best!
Happy reading!!! ☺
http://primer.ph/freepaper/index.html
English translation of the feature is coming… ☺