2014 Eiga Sai (The Japanese Film Festival)
It has always surprised me that the Japanese culture is popular here in the Philippines!
And to celebrate the 58 years of friendship between Japan and the Philippines (wow!), the Embassy of Japan and the Japan Foundation, Manila are co-presenting the "Eiga Sai 2014" Japanese Film Festival!
Some of these Japanese feature films started showing in Manila last JULY 3!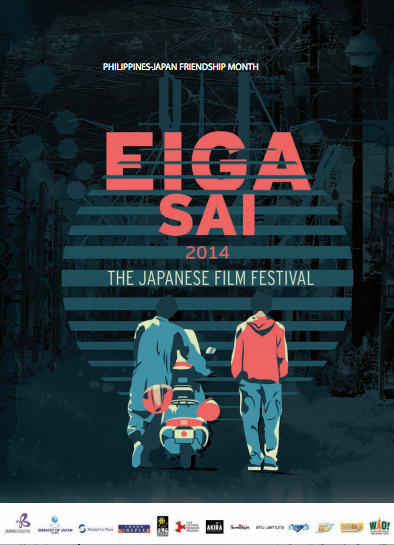 You can watch famous Japanese films like, "The Kirishima Thing", "Until the Break of Down", "Wolf Children", and 14 other works! All films being shown with English sub-titles. (Yey!)
That's not the only good news! This film festival is giving FREE ENTRANCE! Now, anyone can watch and appreciate the Japanese culture and film-making.
I watched "Until the Break of Dawn" last July 5 at Shang Cineplex. Good thing I arrived 2 hours before it started because a lot of people came to watch it, too. The system to get ticket is First-Come-First-Served; and the tickets are distributed 30 minutes before it starts. So, I recommend that you get there 2 hours before.
The films will also be shown in Davao and Cebu!
To know more about the "Eiga Sai 2014", please check their official webpage below: The Japanese Foundation, Manila
http://www.jfmo.org.ph/audio-visual-and-film/view/610/newsid/918/2014-eiga-saicenters-on-the-family-japanese-film-festival-takes-the-lead-on-july-3.html
Schedule:
Shang Cineplex Cinema 2 (July 3 to 13),
Abreeza Mall Cinema, Ayala (July 25 to 27)
FDCP Cinematheque, Davao City (July 29 to August 3)
Ayala Center Cinema 4, Cebu City (August 6 to 10)