ANA's Tanabata Event at Ninoy Aquino International Airport Terminal 3
July 7th is Tanabata Day in Japan, sometimes translated as Star Festival. According to an old Japanese tale, the princess "Orihime" and the Cow Herder "Hikoboshi" are allowed to cross the Milky Way to meet once a year on this day. ANA brings the festivities to airports in Japan and all over the world, including the Philippines, with its annual Tanabata Event. This year, the event was held on the 7th and 8th in NAIA Terminal 3, and went on from 6:35 AM to 9:35 AM, and again from 11:40 AM to 2:40 PM on both days, coinciding with the NH950 and NH870 flights to Narita and Haneda, respectively.
Tanabata is celebrated in Japan by writing a wish on a colorful piece of paper called Tanzaku. The Tanzaku is then hung on branches of a bamboo tree to celebrate the reunion of Orihime and Hikoboshi. For this event, ANA prepared their own original Tanzaku with cute illustrations of Orihime and Hikoboshi. The passengers were asked to write their wishes on the Tanzaku and hang them on the potted Bamboo tree.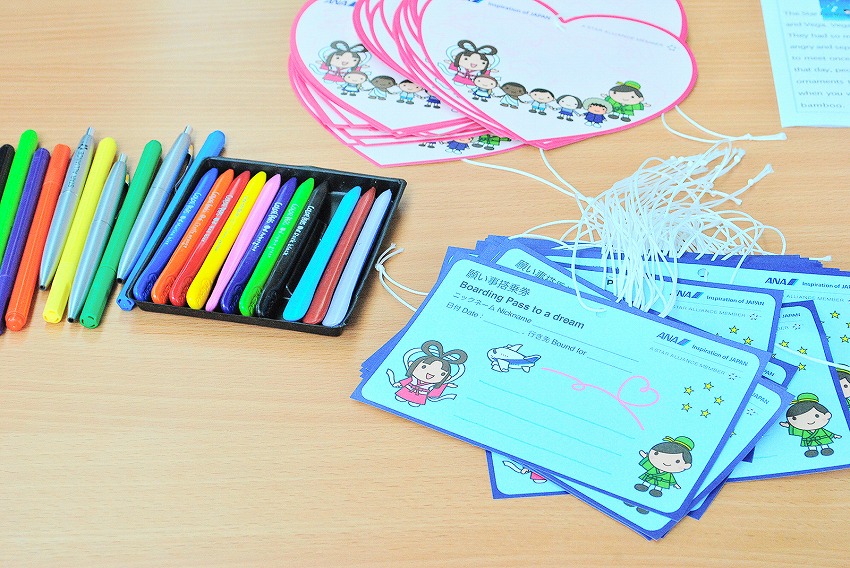 Passengers also took photos with the ANA staff who were clad in traditional Yukata and Happi outfits. The photos were later printed out and given to the passengers as souvenirs. The staff also gave out packs of small colorful candies called Konpeitou to each passenger as they boarded the plane.
After the event, the Tanzaku will be gathered and sent to the main office in Japan, together with the Tanzaku from ANA branches in other countries. The Tanzaku will then be given as an offering to the Ashikaga Orihime Shrine in Tochigi Prefecture.