Whale Sharks Interaction in Donsol, Sorsogon Reopens; Here's What You Need to Know
After a long hiatus due to the pandemic, the town of Donsol in Sorsogon—famously known for whale sharks or butanding—is working to bounce back as it reopens its borders for tourism.
IMAGE from Bicol Tourism PH
Bobby Gigantone, chief of the Sorsogon Provincial Tourism Office (SPTO), emphasized that before the decision was made to reopen the famous whale shark interaction,  the team ensured first that all necessary guidelines and protocols will be followed to guarantee the safety of both the tourists and locals.
Under Alert Level 2, indoor establishments are allowed to have a 50 percent capacity while outdoor areas may have a 70 percent capacity.
Also read: PH accepts 12 additional national vax certs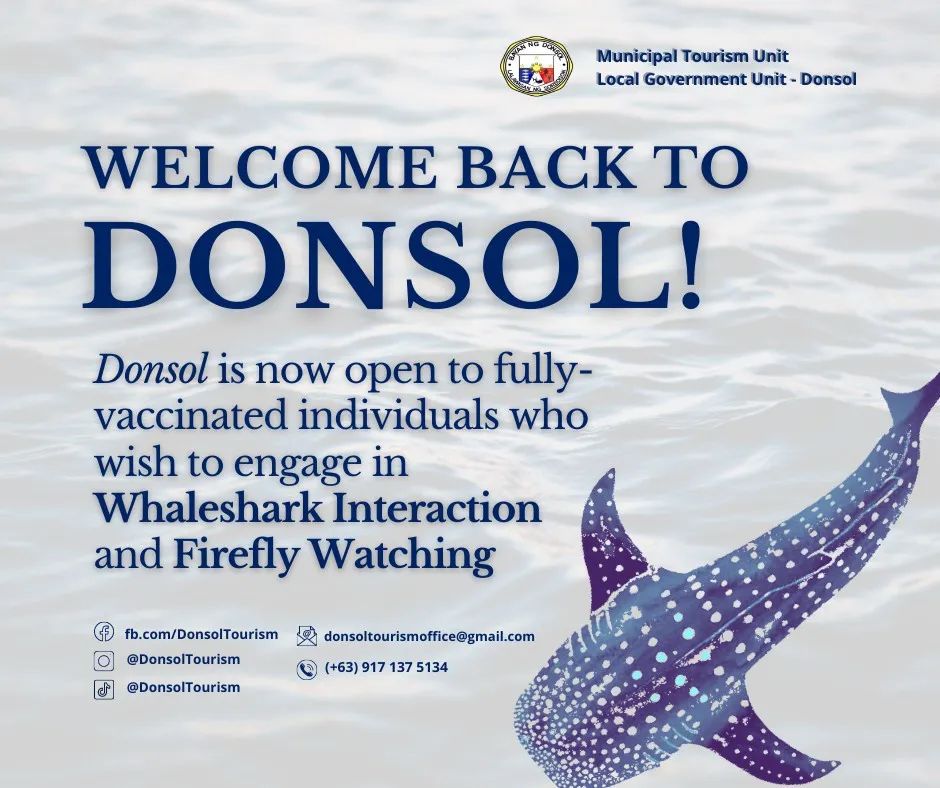 IMAGE from Donsol Tourism Office  
According to Donsol Tourism Office (DTO), the data showed the pre-pandemic edition of the Butanding Festival in 2019 generated a total of Php 448 million in gross revenues, of which Php 75 million went to the community, Php 3.5 million went to the local government unit (LGU) coffers, and the rest was spent for national promotions and tourism marketing activities.
The town's whale shark interaction project is a collaborative undertaking between the LGU, the Department of Tourism (DOT), and the World Wide Fund for Nature (WWF) Philippines, a joint commitment for a sustainable and balanced eco-tourism program.
IMAGE from Donsol Tourism Office  
Meanwhile, Herbie Aguas, DOT regional director, said the pandemic has hurt the tourism industry in the region for the past two years, with PHP10 billion in revenues already lost.
"It will take two to three years for the industry to gradually recover and for the government to pour in fiscal stimulus to assist in the recovery plan," Aguas said.
He also said the pandemic taught some industry stakeholders to find alternative sources of income such as engaging in agri-tourism.
Starting March 1, Donsol Tourism announced that they will implement adjusted rates for Whale Shark Interaction. They explained that the increase is due to pandemic lost.
Also read: FUN IN THE SUN: 10 Resorts, Rental Units, and Beach Clubs in Batangas to Check Out on Your Next Beach Trip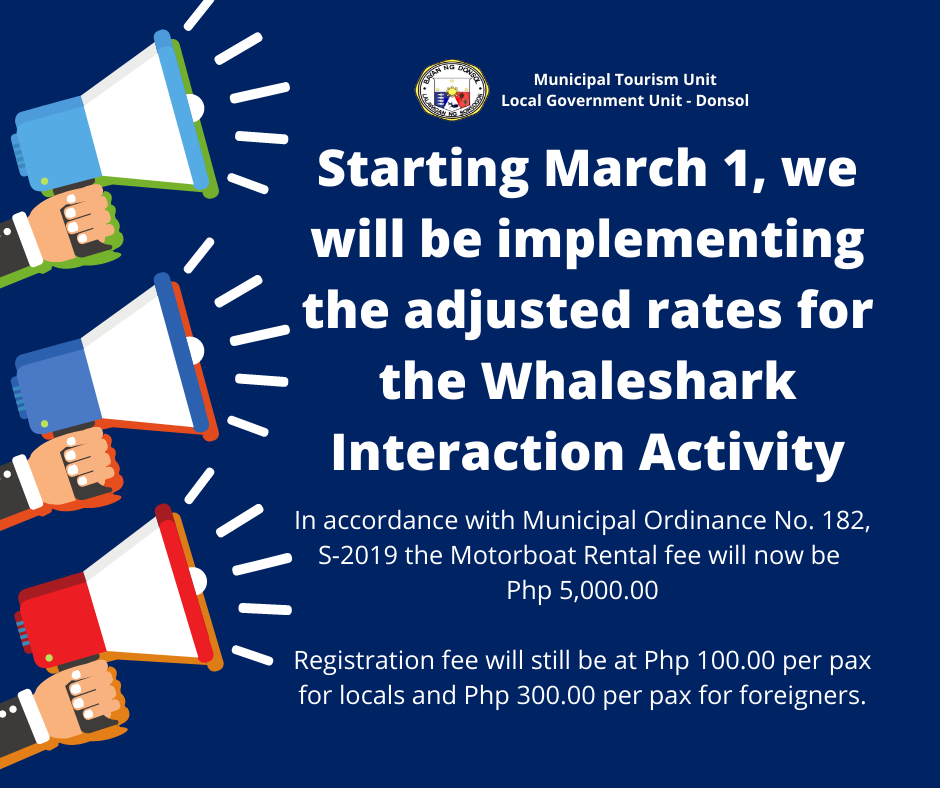 IMAGE from Donsol Tourism Office
"To aid our community guides, boat crews, and operators who have lost their livelihood because of the pandemic, we will be implementing the adjusted rates for Motorboat Rental for Whaleshark Interaction starting March 1, 2022." DTO said.
The decision was made official in accordance with Municipal Ordinance No. 182, Series of 2019. while registration fees for guests will remain the same.
DTO also noted that only vaccinated tourists are allowed to enter the area and must present their Vaccination Certificate in the town's assessment center along with an accomplished Tourism Registration Form and valid ID for verification purposes.
Also read: JOIN NOW: Watch the Exclusive Japanese Film Festival Online for Free from Feb 14 to 27
---
Source: Bicol Tourism PH Sorsogon Provincial Tourism, Province of Sorsogon, and Philippine News Agency
Written by Cedie Salido