FUN IN THE SUN: 10 Resorts, Rental Units, and Beach Clubs in Batangas to Check Out on Your Next Beach Trip
FUN IN THE SUN: 10 Resorts, Rental Units, and Beach Clubs in Batangas to Check Out on Your Next Beach Trip
Batangas has become a go-to destination for countless beachgoers—no matter what the season is—thanks to its close proximity to Metro Manila. Whether you're going with your family or friends, this place has lots of resorts and clubs to choose from. With that said, we've made a list of resorts, rental units, and beach clubs to visit if you're looking for a vacation spot in this lovely province.
Orlando's Beach Resort and Events Place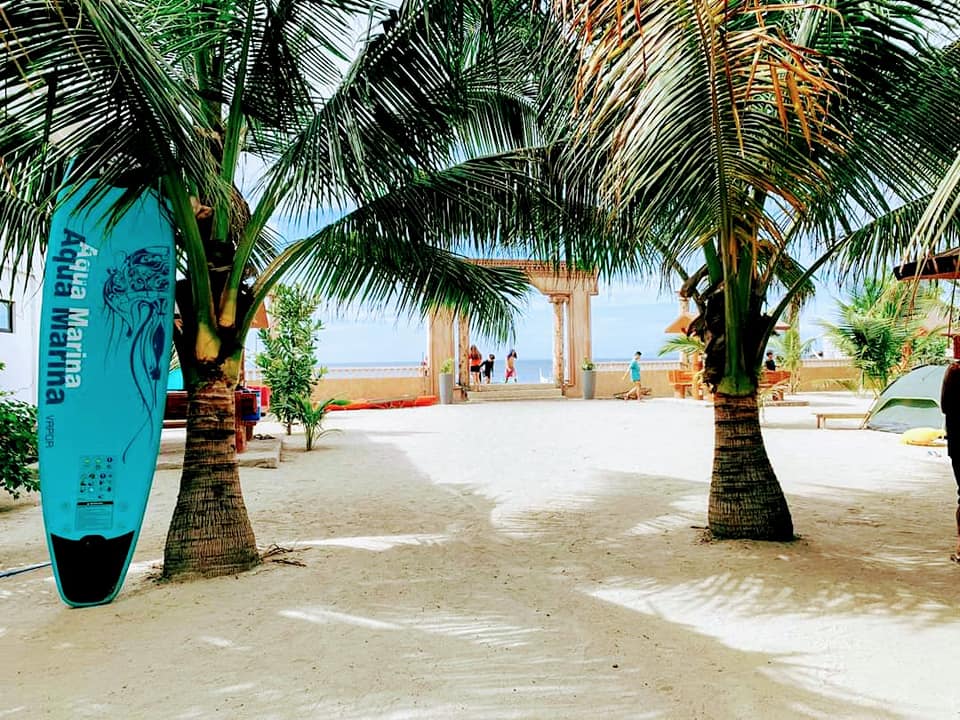 IMAGE from Agoda
Orlando's Beach Resort and Events Place is a pet-friendly resort in Lemery that provides accommodation, free private parking, a garden, and a terrace. Views of the ocean can be seen in some of the more expensive rooms. Wireless internet is available in public areas for free. Various leisure and tourist attractions such as the Lemery Beach and Marcela Agoncillo Museum are also conveniently located near this Agoda spot. You may book a room here.
Villa's by Eco Hotel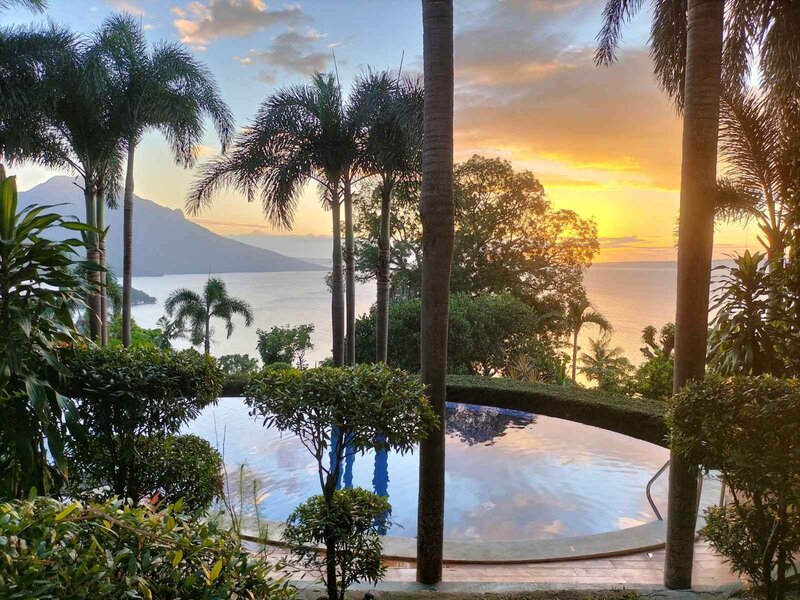 IMAGE from Villas by Eco Hotels
Located in Mataas na Kahoy, Villas by Eco Hotels Batangas offers a complete green experience to travelers and tourists. Enjoy rooms with a stunning Lake Taal view while sipping coffee brewed in the coffee maker available in your room. Every unit features a private bathroom and bidet, air conditioning, flat-screen TV, coffee maker, and refrigerator. Premium rooms include a balcony and/or a terrace with lake or garden views with free slippers and welcome drinks. Ala carte and Asian breakfast options are available daily at the Balok-Balok Bar. Guests can also relax in the garden or in the shared lounge area. It also provides free private parking. This place was also declared as a Bird Sanctuary so binoculars are provided in every room for the guest's enjoyment. For bookings, check out this link.
Altamare Dive and Leisure Resort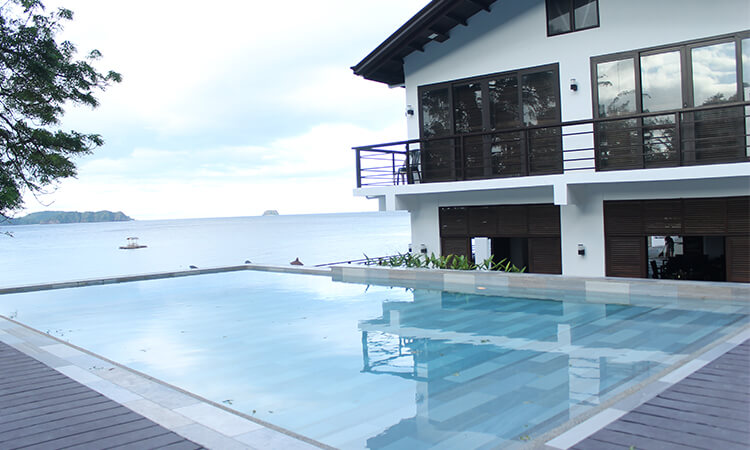 IMAGE from Altamare Dive and Leisure Resort Facebook page
Located in Anilao one of the country's top diving spots, Altamare Dive and Leisure Resort is a boutique resort offering an ideal escape to those who want to disconnect from the city and reconnect with nature. It has 30 rustic rooms which are tastefully furnished and have amenities such as cable TV, air conditioning, either two single or two double beds and hot/cold shower. This listing offers free parking, round-the-clock security, a restaurant serving good food and drinks, Wi-Fi in some public areas, and a function hall for various events. It also recreational facilities such as an infinity pool, a camera room, water sports, and game room. Altamare Dive and Leisure Resort is a smart choice for travelers to Batangas, offering a relaxed and hassle-free stay every time. Want to stay here for a day or two? Then click on this link!
Noni's Resort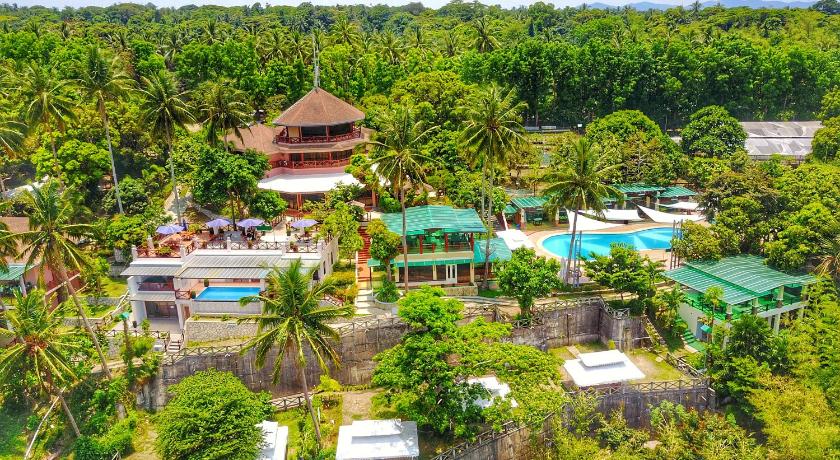 IMAGE from Agoda
Noni's Resort is a majestic vacation spot in Ping-as, Alitagtag, boasting unparalleled views of Taal Lake, Tagaytay ridges, and Mt. Maculot. It offers spacious standard rooms and private villas, and modern glamping units. The rooms are equipped with cable TV and a private bathroom fitted with a bidet. Deluxe rooms have a spa bath or a hot tub. The resort has an outdoor pool and views of the mountain, and guests can enjoy good food and drinks at the in-house resto and bar. Guests can play table tennis, billiards, and enjoy karaoke at this listing. Nature lovers will be delighted by the on-site hiking trail. You may book your reservation here.
Hannah's Beach Staycation House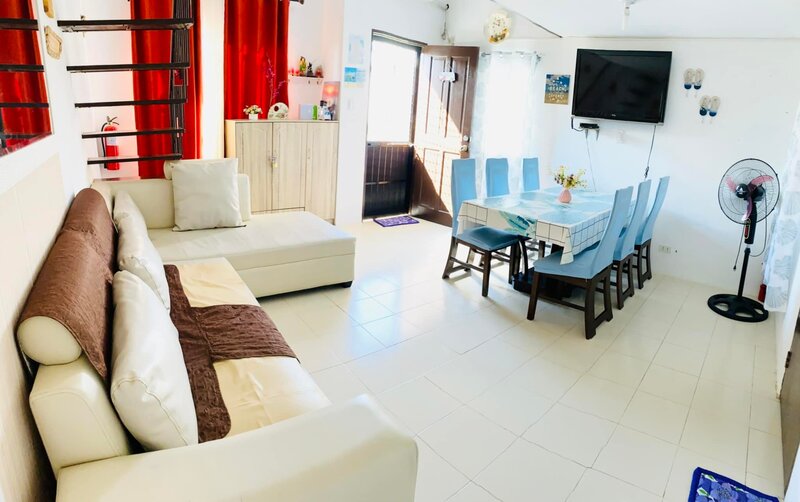 IMAGE from Hannah's Beach Staycation House Facebook page
Hannah's Beach Staycation House is a spacious modern guest house in Laiya, San Juan. This gorgeous spot has a nipa hut, 2 airconditioned rooms furnished with cable TV, fridge, and complete cooking and kitchen utensils. It also has various beds and mattresses, a sofa bed, and a stationary bike for those who want to stay fit. 24/7 CCTV cameras are also strategically placed within its premises for security. It is close to various beaches in the town as well as various resorts like Aquatico, Kota Keluarga, Blue Coral, Tamarindu, Buracai de Laiya, and Laiya Adventure Park. Click on this link for reservations.
Clara's Guest House at Laiya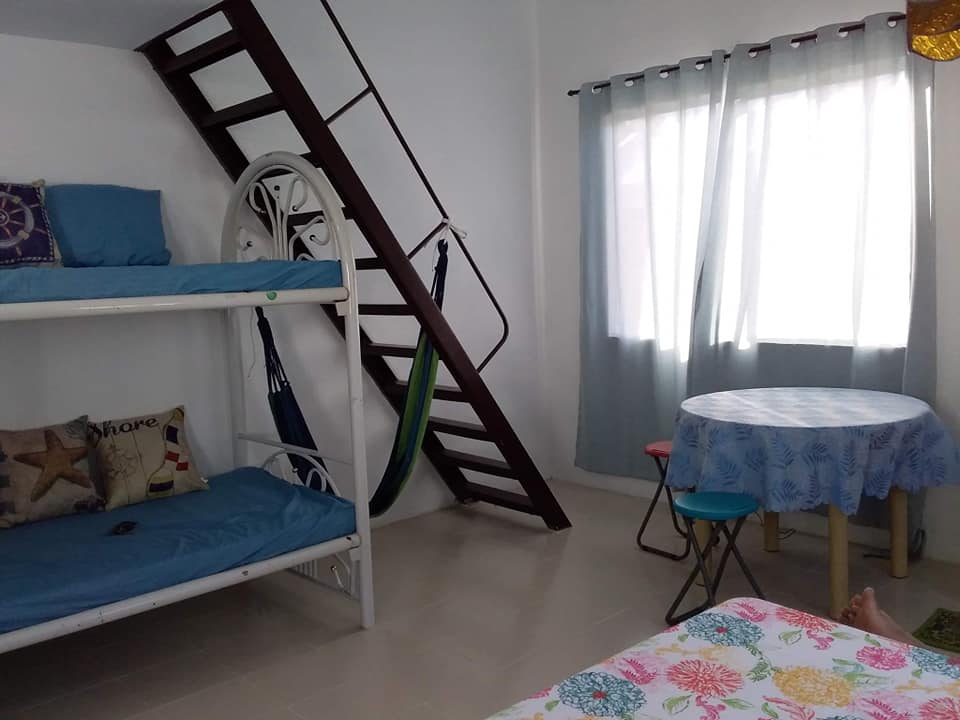 IMAGE from Clara's Guest House Facebook page
Found in Laiya, one of the most popular beach destinations in Batangas, Clara's Guest House is a budget-friendly spot ideal for small groups or families. This staycation unit consists of a bedroom with a TV and DVD player, kitchen with dining area, and bathroom with shower, and garden. Guests who want to go to the beach may ask the caretaker for help in booking reservations at Laiya's White Beach. Visit this site if you want to know more about this lovely spot.
Villa MJ Maristela Beach Resort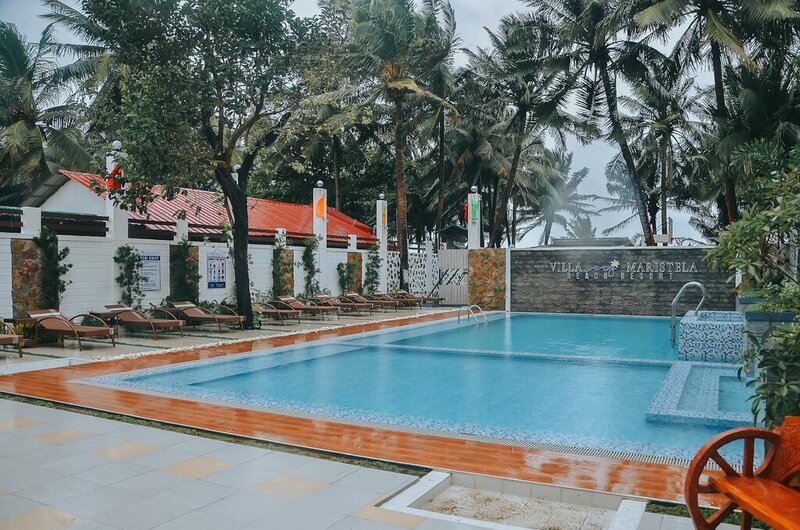 IMAGE from Agoda
Villa MJ Maristela Beach Resort in Lemery creates memorable experiences for guests, boasting luxurious amenities that will surely suit their needs and help them unwind. Its rooms have cable TV, airconditioning, and a rivate bathroom equipped with a bidet and a hairdryer. Villa MJ Maristela Beach Resort has a pool divided into adult pool and kiddie pool, Balinese-inspired cabanas each architecturally designed to accommodate guests who wish to stay during the day, a beach front where guests can relax and lounge around on their sun-beds while enjoying the sunset and vast seascape of the town, among other top-notch facilities. For bookings, please visit this site.
Mt. Maculot View Resort
IMAGE from Mt. Maculot View Resort Facebook page
With the scenic Mt. Maculot and Taal Lake serving as beautiful backdrops, Mt. Maculot View Resort in Cuenca is a staycation paradise that offers guest a vacation they will never forget. This hotel features an outdoor pool, a 24-hour front desk, and a garden. Free WiFi and free parking are also provided. All 15 rooms offer flat-screen TVs, fans, and showers. Guests will also find desks and complimentary toiletries. Irons/ironing boards, hair dryers, and cribs can be requested. Recreational facilities include an outdoor pool. Check out this link if you want to stay here.
Mount Malarayat Golf & Country Club
IMAGE from Mount Malarayat Golf & Country Club
Mount Malarayat Golf & Country Club is located in the sweeping scenery of the Malarayat mountain range. This 185-hectare resort community seamlessly combines natural landscapes with well-planned, man-made features. Boasting a professional golf course, The Suites At Mount Malarayat offers elegant and comfortable accommodation with free WiFi access. Tastefully-furnished, air-conditioned rooms come with a wardrobe, desk and a TV with cable channels. Electric kettle and refrigerator are also included. The en suite bathroom is equipped with bathtub or shower, hairdryer and free toiletries. Indulge in a relaxing massage at the spa, or enjoy playing billiards, darts and table tennis on site. The friendly 24-hour front desk staff can assist guests with laundry and fax/photocopying services. It also features a large outdoor pool, a fitness center, tennis court, and a children's playground. The Suites At Mount Malarayat houses a restaurant serving tasty a la carte local dishes. Meals can also be provided in the privacy of guests' rooms. For bookings, click on this link.
Coral Beach Club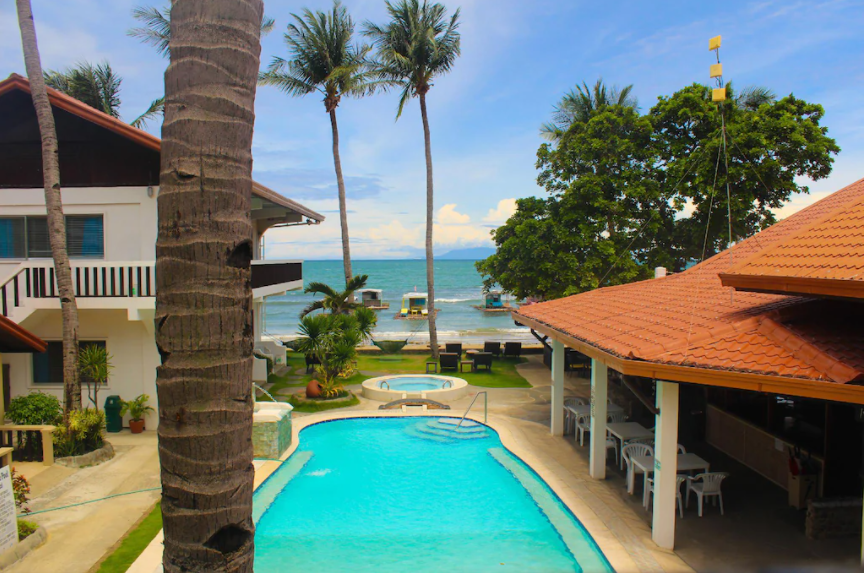 IMAGE from Agoda
At the Coral Beach Club in Lian, fun and relaxation comes in many forms. Guests can frolic on the beach or indulge in fun-filled activities such as snorkeling, fishing, or sightseeing through its partners. This resort has 25 expansive and well-furnished rooms, a recently refurbished swimming pool, and a bar-restaurant & garden area that can accommodate up to 100 guests. Large screen TVs with satellite coverage for all major sporting events can be found within its premises, where free WiFi can be enjoyed at all times. The clubhouse has a wide selection of eating options from breakfast to snacks to full International and Filipino menu throughout the day. It also offers massage and pedicure services upon request. Want to stay here? Book a room here, then!