PSA: New NAIA Terminal Reassignments Starting April 2023
PSA: New NAIA Terminal Reassignments Starting April 2023
The Manila International Airport Authority (MIAA) announced the new terminal reassignments at the Ninoy Aquino International Airport (NAIA) starting next month.
Under the second phase of MIAA's Schedule & Terminal Assignment Rationalization (STAR) program, the international flights will be reassigned to Terminals 1 and 3, while Terminal 2 will be an all-domestic terminal.
IMAGE from NAIA Facebook page
Starting April 16, 2023, flights through these airlines will move to Terminal 3: Jetstar Japan, Jetstar Asia, Scoot, China, Southern Airlines, and Starlux Airlines; on June 1, Jeju Air and Ethiopian Airlines.
On June 16, PAL flights will move from Terminal 2 to Terminal 1, while AirAsia flights will be reassigned to Terminal 2 from the original Terminals 3 and 4 starting Jul 1.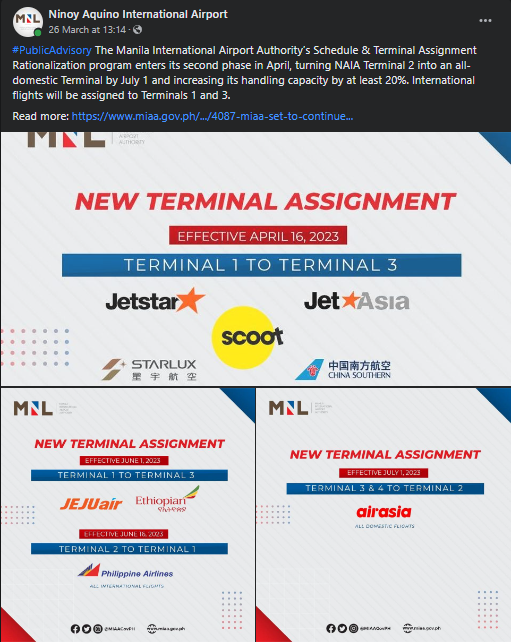 IMAGE from NAIA Facebook page
MIAA General Manager Cesar Chion said in a statement that the new reassignments may cause minor inconveniences and asked for the understanding of passengers.
It's important to note that any changes or updates to NAIA terminal assignments would be communicated directly by the airport authority or the airlines themselves. It's always best to check with your airline or the airport authority for the most up-to-date information on terminal reassignments before your scheduled flight. For more updates, follow MIAA on Facebook or visit its official website.