GUIDE: Green Spots in Makati and BGC You Can Visit To Stay Fit
GUIDE: Green Spots in Makati and BGC You Can Visit To Stay Fit
The COVID-19 pandemic is still raging on with no sign of ending in sight so experts are continuously encouraging everyone to stay indoors. However, if you want to go out, say for a walk to stay fit and active, it's advised to do so in an open space, preferably a park.
Thankfully, some of the largest urban parks in Metro Manila are located in Makati City and Bonifacio Global City (BGC). These are pet-friendly, and ideal for running, jogging, or contemplation. With this in mind, we have listed below several green spaces that can be found in these two business districts where you can take a breather, appreciate nature, and most importantly, exercise. Just follow safety and health
Ayala Triangle Gardens
IMAGE from Philippine Primer
Located in a parcel of land between Ayala Avenue, Makati Avenue, and Paseo de Roxas, as well as skyscrapers and other establishments on those streets, the Ayala Triangle Gardens is a mini jungle of towering trees, neatly trimmed grass and shrubs, and rows upon rows of restaurants and cafes that make it a favorite hangout place among families and friends, especially on the weekends. It is also the home to some of the most popular events in the metro such as the annual Art Fair Philippines. This park is open from 6 a.m. to 10 p.m.
Legazpi Active Park
IMAGE from Philippine Primer
The Legazpi Active Park is the perfect spot for Makatizens who like to stay fit and active. It has long winding pathways for joggers and runners, spacious places for fitness activities such as yoga and Zumba, and a playground for kids to socialize in. The Legazpi Sunday Market, which features fresh produce and local delicacies, can also be found here. It is open to visitors from 7 a.m. to 2 p.m.
Washington SyCip Park
IMAGE from Philippine Primer
Named after Filipino-American accountant and banker Washington SyCip, this urban oasis features winding pathways perfect for those long walks you've been itching to do. Sculptures made by Impy Pilapil are scattered throughout this relaxing space, where a gazebo and a pond are also situated. Washington SyCip Park is open to visitors from 7 a.m. to 2 p.m.
Greenbelt Park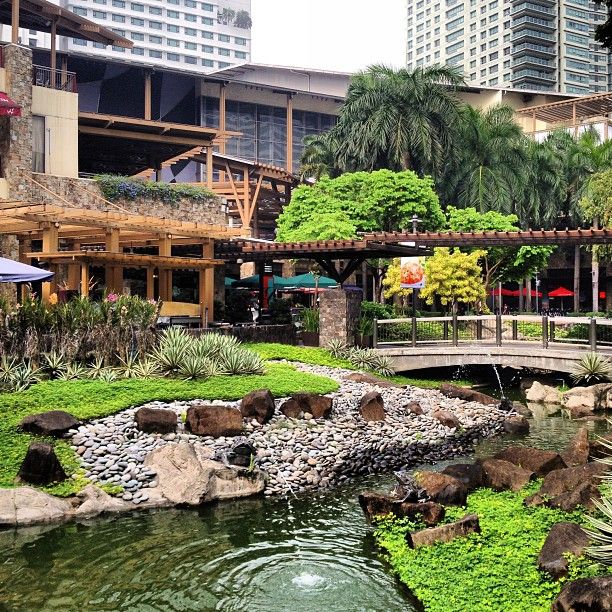 IMAGE from Pinterest
Greenbelt Park is a verdant oasis surrounded by countless shops and restaurants, a pond, and a church. This urban paradise is interconnected by beautiful walkways that allow you to appreciate and connect to nature. After a long day at work, you can always hang out in the establishments, say a prayer at the Greenbelt Chapel, or just pass the time and admire the beauty of this Makati landmark.
BGC Greenway Linear Park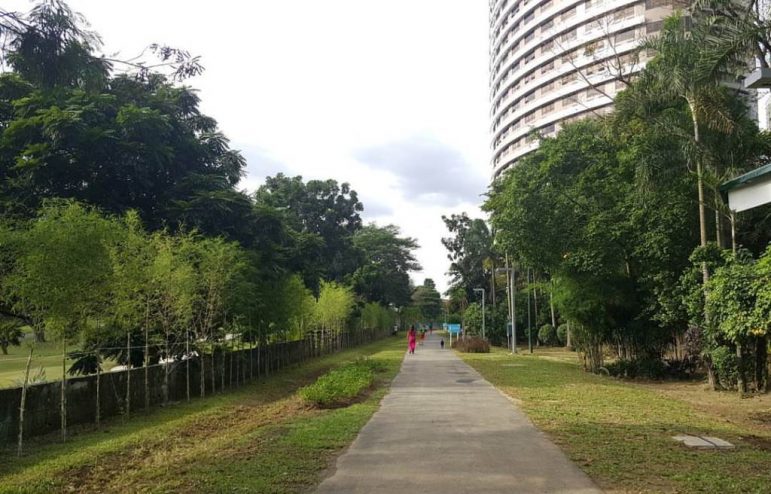 IMAGE from the Lifestyle Avenue
Referred to as the longest urban park in Metro Manila, the BGC Greenway Linear Park is a 1.6-kilometer-long asphalt road surrounded by grass and trees developed by the Bonifacio Global City. It connects McKinley Parkway all the way to Net Plaza. Here, fitness enthusiasts such as joggers and bikers will enjoy uninterrupted workout sessions. At night, the entire route is well lit. It is open every day from 6 a.m. to 10 p.m.
Burgos Circle Park
IMAGE from Philippine Primer
This green spot/urban center is located at the back of Shangri-la The Fort, Manila is not only a good resting place for joggers and dog walkers, it is also an Instagram-worthy spot! It charms everyone with its magnificent art installation called "The Trees" and rows upon rows of eucalyptus trees, tempting them to stay and have a bit of fresh air. Burgos Circle Park is also dog-friendly so you can take your beloved pets out for walks.
Read more: New park in BGC makes Burgos Circle more accessible
Jose Yao Campos Botanical Park
IMAGE from The Fort City
JY Campos Park is a green spot situated next to The Mind Museum. It has a semi-circular bench where you could sit and relax, and enjoy nature in the middle of BGC. Surrounding this mini-park are a wide variety of plants, which when combined with the silence and tranquility of the place, offer guests a rare opportunity to calm their minds and gather their thoughts amid the chaos of life in the city.