A Beginner's Comprehensive Guide to Airbnb
A Beginner's Comprehensive Guide to Airbnb
While hotels are usually the first option when it comes to accommodation, Airbnb has become a popular alternative in recent years as it not only allows guests to choose accommodations that work for them but is also convenient with only one-tap booking away. 
Airbnb first launched in 2008 and has since then become a venue for hosts to list their spaces and for travelers to book eccentric accommodations around the world. This also allows Airbnb hosts to share their interests with travelers.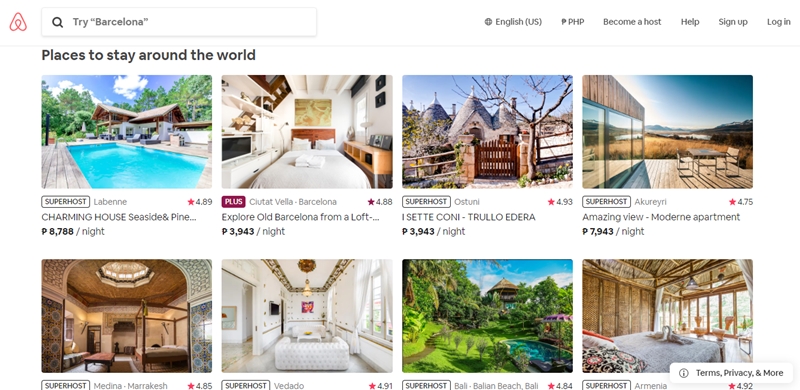 The Airbnb website
As safety is Airbnb's top concern, they make sure to verify all personal profiles and listings that are posted on the platform. They also have a smart messaging system where hosts and guests can communicate effectively and with certainty. Airbnb also manages a trusted platform for payments.
Here's how it works
First, guests must have access to the Airbnb website or the mobile application, which can be downloaded from the Play Store (Android) and the App Store (iOS). 
Next, create your account. Signing up is free on Airbnb and will allow you to bookmark the accommodations that you are eyeing to stay at.
Do take note that before you can reserve or book a space, it is essential that your profile is complete with the following information:
Full name

Email address

Confirmed phone number

Introductory message

Agreement to house rules

Payment information
As Airbnb values the privacy of its guests, hosts will not be able to see the guest's real email address even after booking accommodation. Instead, a temporary email address will be issued that will forward their messages to the guest.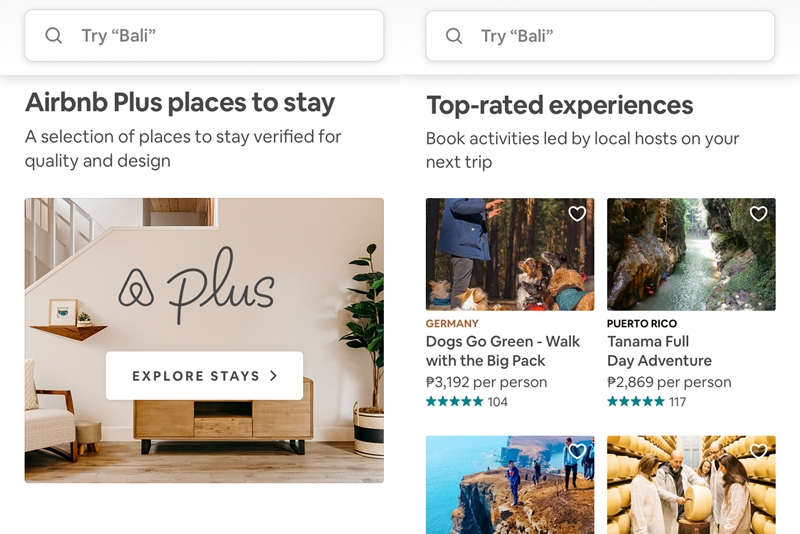 The Airbnb application
Now that you've successfully signed up for Airbnb, you can now bookmark, reserve, and book your desired stays and adventures! 
Stays
Airbnb is most known for being a platform to look for and book accommodations because it's both easy, efficient and allows travelers to look for a good place to stay while still staying within their allotted travel budget. 
 The Narra Hill AirBnB in Tagaytay promises an amazing stay while being at one with nature
Accommodations available on Airbnb are managed by Hosts, these hosts are individuals who open their apartments, homes, inns and other home types for travelers.
Almost anyone can host a stay, however, hosts are required to keep up with Airbnb's hosting and hospitality requirements. 
When looking for accommodation, we recommend that you search for one managed by a Superhost. 
A Superhost is a host who has passed the Airbnb standards of hosting. Superhosts are experienced hosts who are in good standing and have performed well in the course of 12 months. It's recommended to stay with a superhost as they have serviced their guests well. 
Hosts and current superhosts are assessed on a quarterly basis so that they can either become a superhost or maintain their standing as one. To know which accommodations are managed by a superhost, simply look for the superhost badge on their profiles to identify them. 
If you have already chosen accommodation, simply key-in your destination and select accommodation from the variety of listings available on Airbnb. It's recommended that, aside from the dates that you'll be booking, you also key-in the number of guests to get the most accurate pricing. 
Should you have more questions about the space that you want to book, the hosts will be more than happy to answer your questions.
Note that there are three types of preferred booking types that you'll encounter on Airbnb. This is the host's way of confirming your reservation.
Instant Book

where you'll be able to book the accommodation right away. 

Request to Book

where hosts will approve of your reservation before they are made final. Your payment details are needed to submit a reservation request. The hosts will have 24 hours to accept the request and once they do, your reservation is automatically confirmed.

Pre-approvals and Special Offers

allow the host to invite the guest to make a reservation. Pre-approvals are invitations to finish the booking for your desired date and number of people on your message. Special Offers gives the host an opportunity to provide the guest with special pricing, dates and other details before booking. 
Airbnb Plus
Airbnb Plus showcases a selection of homes of the highest quality with hosts known for great reviews and exemplary attention to detail.
Homes included in Airbnb Plus are verified through in-person inspections and are thoughtfully designed, well-equipped, and well-maintained. All hosts are highly-rated and ensure that their guests are at home at their chosen accommodation.
Airbnb Plus is a new selection of only the highest quality homes with hosts who are known for great reviews and attention to detail–– but that doesn't quite capture what's so special about them. This video does. airbnb.com/plus

Airbnbさんの投稿 2018年3月2日金曜日
Guests who check-in with Airbnb Plus will not only have a well-maintained and fully-equipped accommodation but also have effortless check-ins and the full attention of the Airbnb Plus customer support team.
To know which stays are under AirBnB Plus, simply look for the purple "PLUS" badge on the listings.
Keep an eye out for the purple "PLUS" badge
Adventures
Airbnb adventures allow tourists to ditch the tourist trail, go off the beaten path, and experience unique adventures around the world. These are group trips that can range from two to 10 days and come complete with lodging, meals, and activities. 
Adventures are hosted by experts who are deeply tied to the local community. These experts curate journeys that will surely fit the type of adventurer you are—whether you're a trekker, a foodie, or an animal lover. 
Introducing Airbnb Adventures. Hosted journeys to extraordinary places. Lodging, meals, and food included. All you have to do is show up.

Airbnbさんの投稿 2019年6月13日木曜日
Adventures are required to meet standards before being offered to guests. As such, hosts of these adventures are often certified and have licenses to the adventures they wish to host. Airbnb checks the certifications and licenses of each activity and the host before making it available on listings. 
All adventures with Airbnb are pre-planned and all you have to do is book your desired adventure and be there to experience it. 
Experiences
Similar to adventures, Airbnb experiences are led by locals who take their guests on extraordinary trips that go beyond the usual tours. Experiences allow the guests to immerse themselves in the culture of the host's very unique world. 
Contrary to adventures, you can book individual experiences without having to go on a long adventure. These experiences include arts and culture, food, nature, and wellness among others.
Before you book an experience, it's recommended to review Airbnb's guest requirements and other requirements that the host asks for. Also, take note that you can book adventures and experiences without booking a stay.
Payment
Once you've chosen your desired activity, all that's left is to book and pay for it. Airbnb offers a variety of payment options for their guests. 
Do note that, for Stays, Airbnb has two service fee structures: a shared host and guest fee and a host-only fee.
The shared host and guest fee is the standard structure for individual home hosts, while the host-only fee is for hotels and other hospitality-businesses to have more control over the final price paid by guests.
For payment options, Airbnb accepts major credit cards (Visa, MasterCard, Amex, Discover, JCB), pre-paid credit cards, and debit cards. For certain countries, you may also choose to pay via Google Pay (for Android in the US), Apple Pay, and Paypal.
Cancellations 
On Airbnb, it's very important to take note of the cancellation policies of your preferred activity as the hosts are the ones who set the cancellation policies. Hosts choose from three different structures to protect them and their guests. 
Cancellation policies can be found at the bottom of the listing page and can also be viewed before you make your booking. 
Once all that is said and done, all you have to do is show up for your stay, adventure or experience and have the time of your life!
Still unsure of how it works? Fret not, Airbnb offers 24/7 support to assist you with any concerns you may have – including assistance, refunds, and reimbursements among others. 
For more information, you may refer to AirBnB's official website and Facebook page.
---
Source: Airbnb FAQs