Sandugo Festival in Bohol: A Festivity Paved with History
Sandugo Festival in Bohol: A Festivity Paved with History
Did you know that during the course of Philippines' colorful history, the Filipinos had their own version of blood drinking, more historical than that of Twilight's (2008)? While the motion picture depicted vampires drinking blood by packs (and soda cups) to survive, the Philippines had two chiefs drinking blood from cups to form a pact of friendship, to what the Filipinos termed as Sandugo.
Has your interest been caught yet? Welcome to Bohol's historical Sandugo Festival, where the 30th anniversary of the first treaty between Spain and the Philippines is celebrated this whole month of July at Tagbilaran City in Bohol.
2013 Sandugo Festival Street Dance with the theme, "Bountiful Harvests"
Sandugo Festival is celebrated to pay tribute to the blood compact made in March 1565 between two chiefs– Bohol's chieftain, Datu Sikatuna, and Spanish navigator, Captain General Miguel Lopez de Legazpi, whose diplomacy was said to please the native ruler greatly. Despite animosity from other neighboring villages in the Philippines, Legazpi was able to gain Sikatuna's trust, sealed through their blood compact.
To this day, the peace treaty was celebrated with a month-long festival —formerly in March and now in July. According to ABS-CBN News in a briefing with Bohol Provincial Tourism Council Chairman Lucas Nunag, among Sandugo Festival's activities this year includes the sports events, Flower and Garden show, Song festival, the most-awaited Ms. Bohol Pageant Night, and the Kuradang Street Dancing, which was said to be the highlight of Bohol's Sandugo Festival due to the reenactment of the Sandugo event between the chiefs.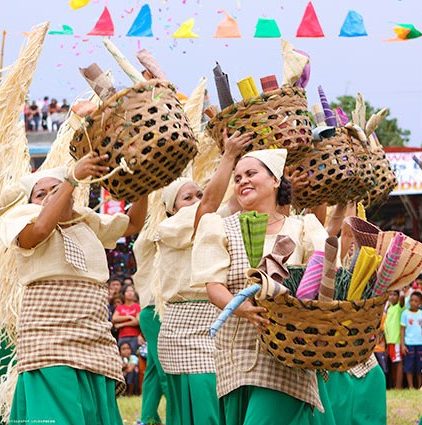 Women garbed in traditional costume, dancing to depict the harvest season
A trade and agricultural fair promoting organic products harvested by Boholano farmers will be featured this year, according to the Office of the Provincial Agriculturist of Bohol. Moreover, "Tatak Bohol" brand will also be launched to exhibit quality and food-safety approved agro-fishery products, as well as local products made by Boholanos!
Every three years, Tigum Bol-Anon Tibuak Kalibutan is also commemorated, welcoming back Boholanos, all over the world, while on Bohol Day on July 22, ten Boholanos will be recognized for their outstanding works around the world.
Meanwhile, tourists who plan to join the festivities may attend the street parties at night, as well as hop from house to house to sample Bohol's food and delicacies. This culture of Filipino hospitality will ultimately pave the way to a harmonious and exciting month-long festivity for Filipinos and foreigners alike.
---
Sources: ABS-CBN Sandugo Festival, Manila Bulletin "Tatak Bohol", GMA Network
All images courtesy of GMA Network and Bohol Tourism Office